Since its discovery in Wuhan, China, last year, the novel coronavirus (COVID-19) has reached pandemic status, infecting more than 1 million people, causing more than 50,000 deaths, and inflicting widespread economic devastation. Despite the shuttering of businesses, the distancing of civilians, and other measures taken by governments to mitigate the spread of COVID-19, the dairy industry has persisted as one of the nation's critical industries in producing, processing, packaging, transporting, selling and serving fresh, safe, and nutritious dairy products to the nation and the world. #Essential dairy industry employees show up to work every day—despite the challenges posed by the virus—to continue to serve fellow citizens.
IDFA members are managing preparedness within their companies and organizations to the best of their ability. IDFA has compiled the following resources related to workforce, supply chains, travel, and other issues, and is communicating daily with the industry at-large to relay best practices, guidance, and other updates related to the crisis.
Below, you'll find these resources, daily updates, and ways to remain informed and engaged. Please email us at coronavirus@idfa.org with any questions, and sign up to receive IDFA communications via the link below.
Jump to: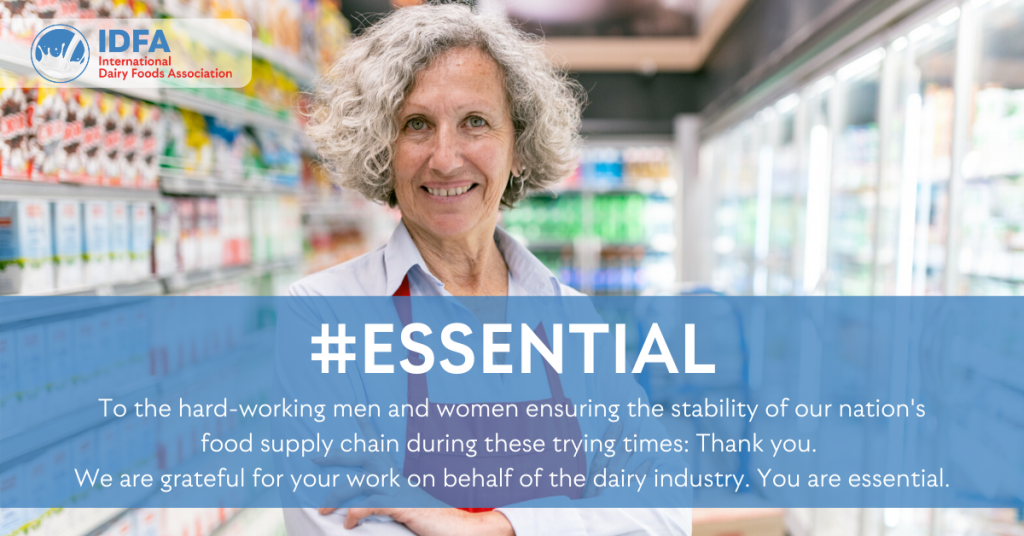 #Essential
IDFA launched the #Essential campaign to recognize and thank the men and women working tirelessly through the Coronavirus outbreak to provide consumers with fresh, safe, nutritious dairy products. Learn more.
Latest Updates
April 8, 2020
April 7, 2020
April 6, 2020
April 3, 2020
April 2, 2020
April 1, 2020
Updates from March 2020
What We Know about Coronavirus (COVID-19)
According to the World Health Organization, coronaviruses (CoV or COVID-19) are a large family of viruses that cause illness ranging from the common cold to more severe diseases.
According to CDC and WHO estimates, there are more than 1.4 million cases worldwide, including more than 419,000 cases and 14,400 deaths reported in the United States.
IDFA recommends members regularly review the most recent guidance issued by the U.S. Centers for Disease Control and Prevention (CDC) and the World Health Organization (WHO):
The CDC recommends all Americans wash hands often with soap and water for at least 20 seconds; avoid touching your eyes, nose or mouth with your hands; avoid close contact with people who are sick; and avoid gatherings of 10 or more people.
Guidance to Employers
Preparedness
The CDC instructs all employers to prepare to implement strategies to protect their workforce from COVID-19 while ensuring continuity of operations. During a COVID-19 outbreak, all sick employees should stay home and away from the workplace; respiratory etiquette and hand hygiene should be encouraged; and routine cleaning of commonly touched surfaces should be performed regularly. CDC recommends employers should:
Ensure the plan is flexible and involve your employees in developing and reviewing your plan.
Conduct a focused discussion or exercise using your plan, to find out ahead of time whether the plan has gaps or problems that need to be corrected.
Share your plan with employees and explain what human resources policies, workplace and leave flexibilities, and pay and benefits will be available to them.
Share best practices with other businesses in your communities (especially those in your supply chain), chambers of commerce, and associations to improve community response efforts.
For companies that want to review or refresh pandemic preparedness plans, the WHO provides the Pandemic Influenza Preparedness and Response manual, free of charge.
FDA & Industry Guidance to Employers
The FDA has issued specific guidance to employers who have questions about what to do when an employee is positive with COVID-19. FDA emphasizes that the primary responsibility of food companies with an infected worker is to take appropriate actions to protect other workers and people who may have come into contact with the ill employee. FDA advises that if an employee in a food processing facility or farm tests positive for COVID-19, facilities should take the following steps to ensure the foods they produce are safe:
What To Do When an Employee Tests Positive: The following document shares a recommended protocol for the food industry to use when an employee or visitor tests positive or comes into close contact with someone with COVID-19. This protocol has been reviewed by the FDA. Review the protocol here.
How to Screen Employees and Visitors to Reduce Risk of Exposure: As community transmission of COVID-19 is spreading rapidly to other regions, dairy food companies should consider implementing employee screening programs to evaluate staff and visitors for symptoms of COVID-19 or possible exposure prior to entering company facilities. The following guidance discusses factors that companies should consider when deciding if employee/visitor screening is appropriate and how best to implement it. Review guidance here.
Physical or Social Distancing Protocol: In order to manage COVID-19 risks to employees, it is critical for food manufacturing facilities to closely review current policies and procedures relative to current knowledge of the risks. The following guidance is based on our current knowledge of the virus and designed to help companies review and amend current policies. This protocol was developed by a coalition of food industry associations, including IDFA, with the best available guidance from FDA, CDC, and other authorities. Download the protocol.
Food Industry Protocol for New Face Covering Guidance from CDC: CDC now recommends, based on new evidence, that everyone should wear a facial covering in public settings, especially in areas of significant community-based transmission. CDC states, "Recent studies found that a significant portion of individuals with coronavirus lack symptoms ('asymptomatic') and that even those who eventually develop symptoms ('pre-symptomatic') can transmit the virus to others before showing symptoms. This means that the virus can spread between people interacting in close proximity - for example, speaking, coughing, or sneezing - even if those people are not exhibiting symptoms." Please review the food industry's protocol for face coverings.
General Guidance on Human Resources, Wages & Benefits
Labeling & Nutrition Resources & Guidance
Become an Approved USDA Vendor
To be eligible to submit offers, milk processors must meet the AMS vendor qualification requirements. Deliveries are expected to be to various locations in the U.S. on an FOB destination basis. Bids, modifications, withdrawals of bids, and price adjustments shall be submitted using the Web-Based Supply Chain Management (WBSCM) system. If you have any questions, please reach out to Taylor Boone at IDFA (TBoone@IDFA.org) or Melissa Malcolm-Cullison (MMalcolm@MilkPEP.org). In preparation for these bids, please review all documents as they pertain to this program, including the latest: NEW Master Solicitation (as of October 1, 2019) Economic Price Adjustment Clause (*this bid solicitation will include a monthly economic price adjustment (EPA) to accommodate monthly escalation and reduction of raw milk costs that more closely resembles what is used in the commercial marketplace) Bid Certification Questions Fluid Milk Q&A UPDATED Commodity Requirements Document (CRD) for Fluid Milk Commercial Item Description Fluid Milk Product New Vendor Qualification Requirements and Checklist.
How to Become an Approved Vendor: As only USDA-approved vendors can participate in the bidding process, it is critical for fluid milk processors who are not approved to apply now as the approval process can take several weeks. Potential new vendors can contact the USDA for questions at NewVendor@ams.usda.gov. Milk processors can also contact IDFA and MilkPEP directly for more information. You can also access links to AMS, vendor approval guidance and webinar recordings for more information at MilkPEP.org.
Food Safety, Safe Operations & Inspections
Food Is Safe: It is important to note that no public health authority has advised of any concern that this illness can be transmitted or has been known to be transmitted via food or drink. The FDA states: Currently there is no evidence of food or packaging being associated with transmission of COVID-19. IDFA is confident that dairy foods produced and processed in the United States are safe and wholesome and the system in place to ensure the safety and integrity of dairy foods is working as intended.
Dairy foods produced and processed in the United States are some of the most highly regulated and safest foods available to consumers. For example, the milk in your glass was tested up to 17 different times before it reached you. Milk and dairy foods must undergo several safety and quality procedures, such as pasteurization, to make sure they are safe and wholesome for you to consume.
With recent food-borne illness outbreaks and questions about the transmission of novel coronavirus (COVID-19), people are concerned about the safety of their food now more than ever. FDA and other regulatory agencies establish processes and protocols that all food must go through to ensure that it is safe for consumers to eat. All milk and dairy products must undergo multiple safety, quality and sanitation tests and procedures on the farm, in transit and at the processing plant to ensure their safety. Preserving the quality and safety of milk begins at the farm and follows through to the refrigerator.
The U.S. government continues to monitor U.S. ports of entry, shipping channels, processing facilities, and the food supply to ensure the safety and integrity of U.S. food and beverages. At this time, there is no heightened concern for the safety of food produced and processed in the United States, including dairy foods. Moreover, the supply of food remains plentiful. The U.S. government, the WHO, as well as the governments of Canada, the EU, and others, recommend consumers adhere to standard, proper food safety practices when handling and preparing all foods. Please see FDA's statement: https://www.fda.gov/news-events/press-announcements/coronavirus-covid-19-supply-chain-update
Transportation & Trucking
Update on Truck Weight Limits: The $2 trillion CARES Act, signed into law on March 26 by President Trump, included language that allows states to issue permits for trucks to operate at weights over the current 80,000 lb limit. IDFA encourages dairy companies and suppliers to check with the states that are relevant to your company's movement of freight over the highways. Some states may issue a general order lifting weight limits and may not require a permit. Others may be more detailed, lifting limits only to specified levels and for certain types of trucks. Still others will require a permit. If a permit is required, there will be a fee. For a list of state waivers and permitting requirements, visit the Federal Highway Administration, State Oversize/Overweight Load Permit Contacts: https://ops.fhwa.dot.gov/Freight/sw/permit_report/index.htm#obt
Guidance to Truck Drivers Supporting Relief Efforts: To implement the President's nationwide emergency declaration, the Federal Motor Carrier Safety Administration (FMCSA) expanded its March 13, 2020 emergency regulatory relief declaration from Parts 390-399 to ensure that commercial motor carriers and drivers directly supporting relief efforts can immediately transport essential supplies, equipment and persons, including food, fuel and medical care. The following relief categories relate to the food sector: food, paper products and other groceries for emergency restocking of distribution centers or stores; immediate precursor raw materials, such as paper, plastic or alcohol, that are required and to be used for the manufacture of these items; and fuel. FMCSA released the following Questions and Answers guidance to help companies understand the FMCSA Emergency Declaration of March 19: https://www.fmcsa.dot.gov/emergency/frequently-asked-questions-related-fmcsa-emergency-declaration-03192020
Self-Certification Form: To ensure our dairy industry is able to do its job in service to the nation, IDFA suggests your company use this form to self-certify your employees or shipments as part of the nation's critical infrastructure. Print the form on official company letterhead (your own or that of your transportation provider), print a copy, sign the document where indicated, and ask the employee or driver to keep it on-hand to provide to authorities should they stop individuals or vehicles from carrying out their duties. Download the form here.
On March 20, FDA said that any food company having problems moving food or getting food through areas that have curfews and restrictions because of the coronavirus, should contact the FEMA National Business Emergency Operations Center at NBEOC@fema.dhs.gov. This is a 24/7 operation and they can assist in directing your inquiry to the proper contact.
On March 24, the United States and Canada recognize it is critical we preserve supply chains between both countries. These supply chains ensure that food, fuel, and life-saving medicines reach people on both sides of the border. Supply chains, including trucking, will not be impacted by this new measure, report both governments. Read the joint statement on US-Canada Joint Initiative: Temporary Restriction of Travelers Crossing the US-Canada Land Border for Non-Essential Purposes.
Events & Conferences
The health and welfare of IDFA members and attendees of IDFA events is our most important consideration. IDFA is closely monitoring the potential impact on travel related to coronavirus (COVID-19) and will provide updates as necessary. At this time, the CDC and local and state public health officials have advised individuals to avoid gatherings of more than 10 people. Additionally, many U.S. states and municipalities have declared states of emergency or stay-at-home orders, preventing travel and movement for anything other than essential purposes.

On March 13, IDFA announced that we are postponing the Ice Cream Technology and Yogurt & Cultured Innovation conferences scheduled for March 31 – April 1 at the Miami Marriott Biscayne Bay in Miami, Fla. IDFA is working with the hotel property to determine a suitable date to reschedule the events, and as soon as we have these details, we will communicate them directly to members and participants. IDFA is grateful for your understanding as it works to ensure your health and safety.
On April 1, IDFA announced that we are moving the Regulatory RoundUp event scheduled for June 9-10 at the Wink Hotel in Washington, DC, to a webinar event rather than an in-person event. IDFA will provide additional details for registration soon. IDFA is grateful for your understanding as it works to ensure your health and safety.
We encourage all travelers to use safe travel practices as shared by the CDC: https://www.cdc.gov/coronavirus/2019-ncov/travelers/faqs.html
For future IDFA-hosted events, IDFA is working with our hotels to increase cleaning of public areas including elevator buttons, railings, door handles, public bathrooms, etc., for our guests and conference attendees. Additionally, sanitizing and disinfecting products will be made available for hotel guests and conference attendee at IDFA-hosted events.
IDFA will update guests and attendees of IDFA-hosted events about any disruptions in travel should they occur.
Travel Guidance & Restrictions
IDFA recommends that companies align with guidance from the WHO and CDC, as well as local governments, on travel restrictions and other guidance to help keep our people and our communities safe and healthy. In some cases, companies may decide to use tighter restrictions based on risks to the business and supply chains. Many companies are assessing or implementing contingency plans, including engaging backup suppliers/carriers where necessary, and IDFA encourages you take these steps.
Travel: Frequently Asked Questions by the CDC: https://www.cdc.gov/coronavirus/2019-ncov/travelers/faqs.html
The United States has limited non-essential travel to Canada.
Industry Sign-On Letters to Congress, Administration
As part of IDFA's advocacy on behalf of the dairy industry, we sometimes co-sign letters with other trade associations, organizations, and coalition partners to demonstrate unity on an issue and to push for changes that are in the best interest of our members and the dairy industry. Here are the letters we've signed to Members of Congress and the Administration related to the COVID-19 outbreak.
- - Please watch this space for updates. - -