Please consider taking two minutes to support IDFA's advocacy by emailing your members of Congress on the IDFA Campaign Center.
IDFA believes a well-crafted agricultural guest-worker program is an essential piece of an adequate and legal workforce, including non-seasonal, skilled immigrant workers. The legislation must cover dairy manufacturing jobs and allow longer-term visas in recognition of the industry's significant investment of time and money for training employees. Read IDFA's immigration policy here.
While comprehensive currently remains elusive, the U.S. House of Representatives has twice passed the Farm Workforce Modernization Act. The program would:
Allow agricultural workers in the United States to earn legal status through continued agricultural employment and contributions to the U.S. agricultural economy;
Provide more flexibility for employers with year-round labor needs, while ensuring critical protections for workers;
Establish a mandatory, nationwide E-Verify system with a structured phase-in that allows companies to confirm employees are eligible to work; and
Guarantee due process for authorized workers who are incorrectly rejected by the system.
What the current version of the legislation is missing is inclusion of dairy manufacturing jobs. IDFA is currently working with U.S. Senators to include dairy processing jobs in its version of the bill, and we're encouraging all members of Congress to support the legislation when it is brought to the U.S. House and Senate floors for a vote.
Please consider taking two minutes to support IDFA's advocacy by emailing your members of Congress on the IDFA Campaign Center.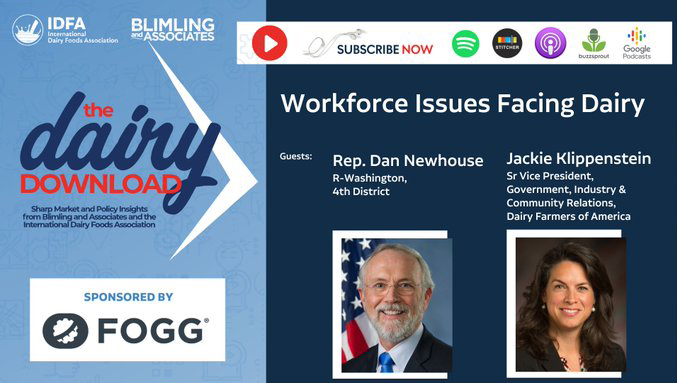 Workforce Deep Dive
From worker shortages to wage pressures, employers across the country are facing labor challenges – and the agricultural industry is no exception. On a recent episode of The Dairy Download, we speak with two guests on the forefront of today's workforce struggles.
IDFA Policy
IDFA supports a federal guest-worker program with the following criteria:
No provisions, known as touchback, that require employees to return to their countries for 60 days or more because they disrupt farm and plant operations. If touchback is necessary, IDFA supports shorter periods to minimize disruptions.
An E-Verify system allowing companies to confirm employees are eligible to work in the United State and to receive "safe harbor" protection if employees provide incorrect information.
Flexibility for at-will employment, allowing workers to remain for the duration of their authorized work period if work ends with one employer and begins with a different U.S. employer.
Wage requirements based on state or federal minimum wages, not prevailing-wage calculations from the Department of Labor.
Employer options to provide housing and transportation for workers without additional mandates and offer benefits based on the local labor market.
Flexible sign-up process for immigrants currently employed in the United States that doesn't require them to leave the country.
Temporary legal status for spouses and minor children so workers won't have to return home for visits.
Immigration Task Force
IDFA's Immigration Task Force develops policy recommendations to address worker availability issues and analyze immigration legislation affecting the dairy processing industry. IDFA Members interested in joining the committee should reach out to Donald Grady at dgrady@idfa.org, and Cindy Cavallo at ccavallo@idfa.org.
For more information on IDFA advocacy related to workforce issues, contact Donald Grady, IDFA director, legislative affairs, at dgrady@idfa.org.
Promoting Best People Practices
IDFA is committed to working with our members and the broader dairy industry to address one of our most critical resources—our people. Through our People Strategy, IDFA is working to develop the workforce of the future, cultivate the next generation of leaders, and empower and support diversity in leadership roles.
IDFA in the summer of 2020 created the HR Leaders in Dairy group to convene our industry's top human resource leaders to exchange freely and openly on important topics related to engaging and developing the dairy workforce of the future. HR Leaders in dairy convenes virtual and in-person gatherings, networking opportunities, webinars and other learning and sharing experiences for its members.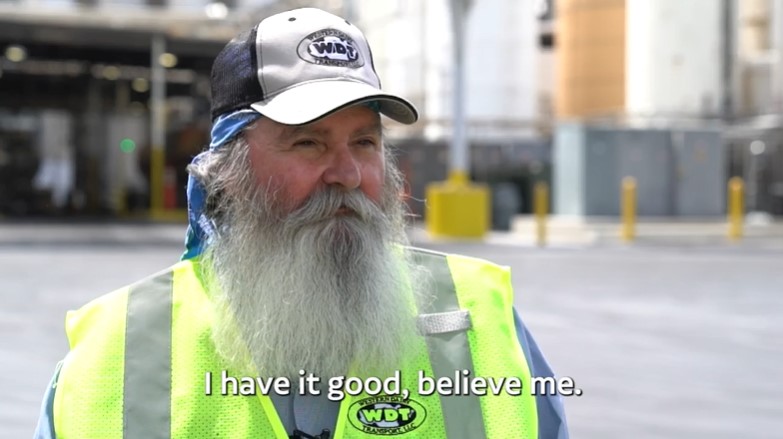 Careers in Dairy Video Series
IDFA in 2022 produced a video series for dairy businesses to utilize in the recruitment of employees for a wide variety of fields, including trucking and transportation, warehouse, research and development, quality assurance, and much more! Download the videos via the link below.
For more information on the IDFA People Strategy, contact Mia Mulrennan, Psy.D., chief people officer at IDFA at mmulrennan@idfa.org.