Visit this page to get the latest resources and information on COVID-19, including messaging and tools to encourage vaccination among the workforce, as well as other information to support health and safety measures in the dairy industry.
The dairy industry works tirelessly to keep its most valuable asset—the nearly 1 million men and women working in dairy processing plants—safe and healthy on the job. The industry has always maintained a strong culture of workplace safety, and U.S. dairy will continue proving it long after the pandemic ends.
U.S. dairy actively and proactively develops innovative approaches to improve workplace safety, resulting in a consistent decrease in total recordable case (TRC) rates of occupational injuries or illness over the past 15 years. The dairy product manufacturing industry nearly halved its TRC rate from 2004 to 2018.
It's also a key reason why U.S. dairy was prepared to continue operating during the COVID-19 pandemic without sacrificing the health and well-being of those on the frontlines. We're proud of the industry's efforts, and we look forward to making more progress in the years to come.
IDFA created this resource center to highlight the industry's efforts and communicate safety guidelines and updates to help create the safest work environments as possible. We encourage you to share your progress with us on IDFA's Twitter and LinkedIn with the hashtag #SafetyIsEssential. Campaign graphics are available for you to download and customize in the #SafetyIsEssential Graphics section.
---
COVID-19 Resources
U.S. Government COVID-19 Vaccination Resources and Messaging Guidance
The U.S. Food and Drug Administration, the U.S. Centers for Disease Control and Prevention and the National Institutes of Health provide useful, reliable and up-to-date public health information guidance. Here are some of the most helpful for the dairy industry:
FDA
CDC
NIH
Non-Profit COVID-19 Resources and Guidance
IDFA is a member of the COVID-19 Vaccine Education and Equity Project, which is partnering with leading public health and community organizations to provide information about the clinical trials process, regulatory review, distribution of and access to COVID-19 vaccines in a way that promotes equity and trust. The website offers a variety of resources for employers.
The Ad Council is leading a COVID-19 Vaccine Education Initiative meant to reach vaccine hesitant rural Americans. All materials were created based on extensive research with diverse Americans and in collaboration with people who self-identify as members of each key community. All assets--social media graphics, videos, customizable materials, PSA assets, and more--are free and downloadable. Visit https://ruralvaccinetoolkit.org/ to learn more.
U.S. Government Workplace Safety and Health Resources
This document digests the resources on OSHA's webpage and those of several other agencies and organizations. It includes a list of general COVID-19 resources grouped by agency, including those on the OSHA Emergency Temporary Standard and updated enforcement policies, and sections on reopening workplaces, cloth face coverings and respiratory protection, vaccines, and additional industry-specific COVID-19 resources grouped by industry. It is intended as a resource and is not comprehensive.
OSHA ETS on COVID-19 Vaccination and Testing
On Friday, Nov. 5, the federal Occupational Safety and Health Administration (OSHA) officially issued the COVID-19 Emergency Temporary Standard (ETS). Here are the highlights:
The ETS covers private businesses with 100 or more employees across the entire business.
Mandatory vaccination OR at least weekly testing option – excludes teleworkers and work exclusively outdoors.
Employers must establish the vaccination status of each employee.
Employers must pay for employees to take time off to get vaccinated and recover from vaccine-related sickness.
Employers are not required to pay for testing. Employees pay for testing and must provide documentation to employer.
More information on the OSHA ETS can be found here.
Status of OSHA ETS on COVID-19 Vaccination and Testing
As of November 22, 2022, a number of states and private entities have challenged the OSHA ETS. At present, the 5th Circuit Court of Appeals stayed the ETS and banned OSHA from taking steps to implement/enforce the ETS until there is further court order. OSHA acknowledged that the stay is nationwide. All the lawsuits have been consolidated into the 6th Circuit Court of Appeal. It is possible that the December and January deadlines could be extended because of the stay and the ongoing litigation, but companies will not know until a court issues an order. IDFA encourages companies to remain focused on December and January deadlines should parts of the ETS be uphold by the courts. IDFA will continue to update members on the status of the OSHA ETS as information becomes available. Other resources:
OSHA Workplace Coronavirus Guidance
As required by a January 21, 2021 Executive Order, OSHA issued new guidance for employers in non-healthcare settings on how to implement a coronavirus protection program and better identify risks which could lead to the spread of the virus in the workplace. It outlines 16 steps for creating a safer, healthier workplace. See all guidelines here.
COVID-19 Employee Testing Strategies
As our industry continues to grapple with COVID-19, dairy food companies are implementing new best practices and strategies to limit transmission of the virus and ensure the safety of their workforce. In this one-hour webinar, testing specialists, a former high-ranking FDA official, and a leader from the dairy industry joined IDFA's subject matter experts explore how food manufacturers can better test employees before, during, or after occurrences of illness to both prevent further spread of the disease and limit its impact on manufacturing. Watch it now.
OSHA COVID-19 National Emphasis Program
National Emphasis Programs (NEPs) are temporary programs that focus OSHA's resources on particular hazards – most recently made to include COVID-19. This program helps ensure employees in certain industries are protected from contracting the coronavirus. It includes protocols for complaints, referrals, and severe incident reports. Access it today.
EEOC COVID-19 Technical Assistance
The U.S. Equal Employment Opportunity Commission (EEOC) in May posted updated and expanded technical assistance related to the COVID-19 pandemic, addressing questions arising under the federal equal employment opportunity (EEO) laws. The EEOC also posted a new resource for job applicants and employees, explaining how federal employment discrimination laws protect workers during the pandemic. These publications are provided to help employees and employers understand their rights and responsibilities at work during the pandemic. Read more.
---
SAFETY FEATURE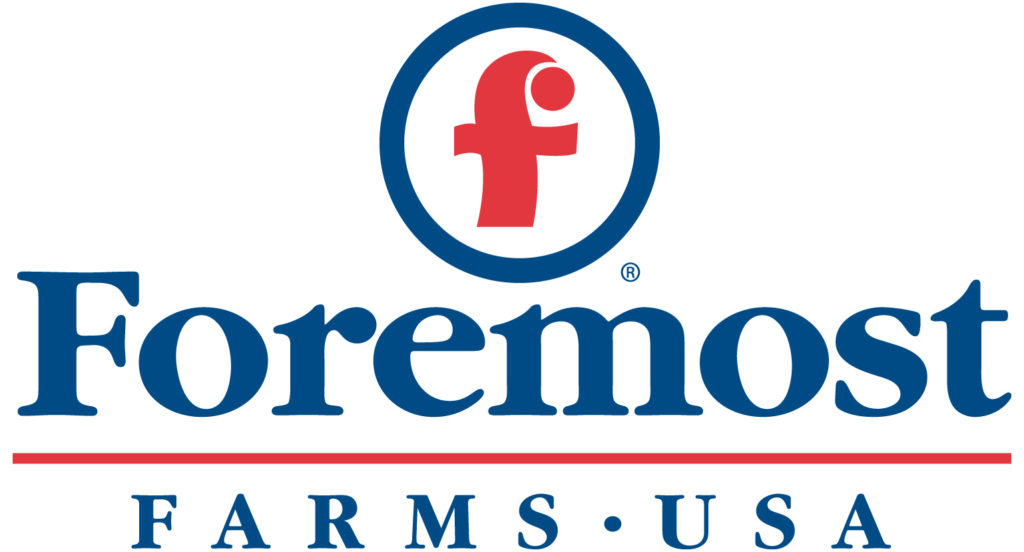 Foremost Farms USA Appleton Plant Reaches 1 Million Hours Without A Lost Time Incident
Foremost Farms believes in a proactive approach to all aspects of health and safety. It consistently maintains programs to engage employees in the safety processes across all its facilities. Achieving 1 million hours without a lost time incident in Appleton is one of many safety awards and acknowledgments the cooperative has earned in its 11 locations.On July 24, 2021, the cooperative's Appleton, Wisc. facility reached 1 million hours worked without a lost time incident.
---
Safety Resources
Apply for the IDFA Safety Recognition Awards
The annual Dairy Industry Safety Recognition Awards program, co-sponsored by IDFA and Dairy Foods magazine, honors U.S. dairy facilities and trucking operations for outstanding worker safety. Now in its 18th year, the program continues to demonstrate that safety is the dairy industry's number one priority. Applications were due April 30, 2021 and this year's recipients will be announced this summer.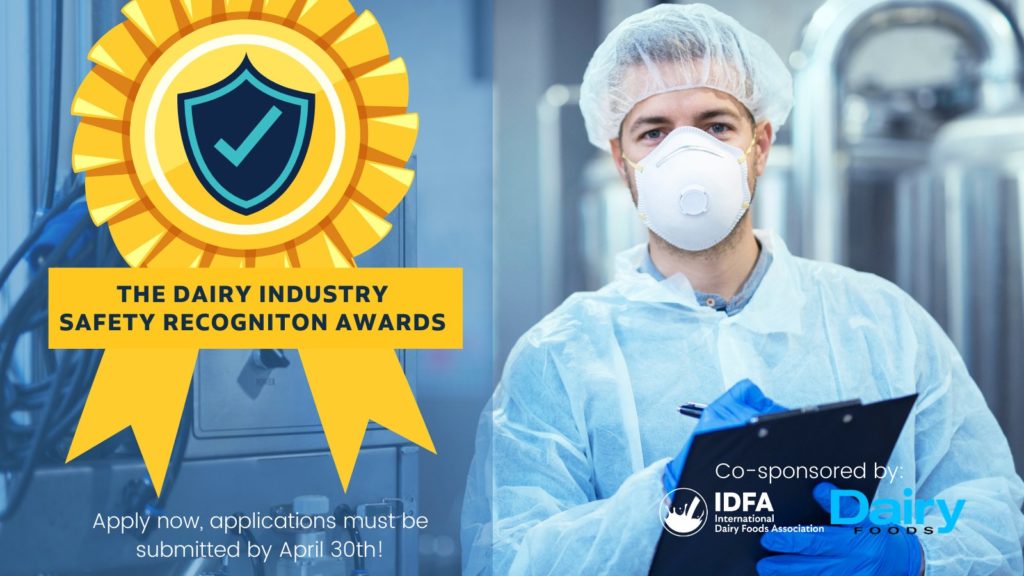 Join the IDFA Environment, Sustainability and Safety Committee
IDFA's Environment, Sustainability and Safety Committee develops IDFA positions and resources related to environmental, transportation, worker safety and health regulations and policies. This Committee also focuses on sharing and discussing efforts at improving sustainability. Participation is open to Dairy Processor members and Gold Business Partners who have expertise in these areas. To participate on IDFA committees, a person must be appointed by the company's membership representative. Please contact Cindy Cavallo, IDFA senior director of membership, at ccavallo@idfa.org for assistance.
OSHA National Emphasis Programs
National Emphasis Programs (NEPs) are temporary programs that focus OSHA's resources on particular hazards – most recently made to include COVID-19 – and high-hazard industries. Existing and potential NEPs are evaluated using a combination of data, reports, peer-reviewed literature and other information sources. NEPs related to the dairy industry include:
OSHA Safe + Sound Week
Safe + Sound Week is a nationwide event held each August that recognizes the successes of workplace health and safety programs and offers information and ideas on how to keep America's workers safe. However, Safe + Sound resources are shared year-round. Learn more.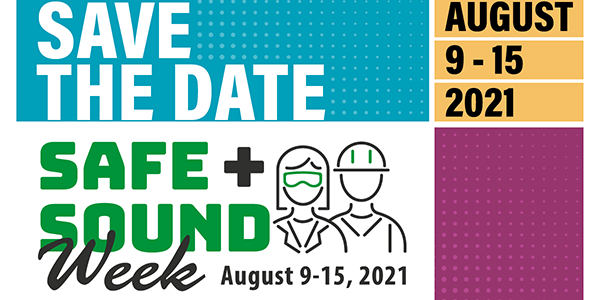 ---
Social Media Graphics