Global Trade is Vital for the Growth of the U.S. Dairy Industry
Trade has helped the U.S. dairy industry grow markets and create American jobs. U.S. dairy processors have benefited greatly from the free trade agreements (FTAs) the U.S. holds with 20 countries, but the growth that's still possible is immeasurable.
In 2018, the United States exported almost $5.5 billion worth of dairy, from cheese to whey to ice cream to skim milk powder to everything in between. Every state exports dairy and as such, every state benefits from the jobs that dairy exports create. For every $1 billion worth of dairy exported, 20,000 American jobs are created.
The United States' current FTA partners represent 55 percent of U.S. dairy exports. Mexico alone represents more than 24 percent of all American exports of dairy. Due to the implementation of the North American Free Trade Agreement (NAFTA), U.S. dairy companies export to Mexico duty-free. But there are many countries where American dairy does not receive such favorable market conditions.
The European Union is working tirelessly to expand their network of agreements with vital U.S. dairy trading partners, while the U.S. is missing opportunities to create new relationships with growing dairy markets. These forces are combining to limit U.S. competitiveness in the global dairy market. The only way to protect and grow the future of American dairy is through the recommitment to current agreements, such as NAFTA, and the creation of new FTAs.
Click on the links below to learn more about free trade, the international trade system, or how to contact your representatives to remind them of trade's value to dairy.
Resources
U.S. Dairy Exports Top 10 Partners
Free Trade
What is a Free Trade Agreement?
How Free Trade Helps Dairy
Trade Agreements Open Dairy Markets and Create American Jobs
Pending and Recent Trade Deals
The International System
The WTO and Dairy
NAFTA: Priorities for Renegotiation
Tariffs
Global Tariff Schedules
Section 232 & Section 301
China Tariffs
Tools
Sample Letter to Congress-Company
Sample Letter to Congress-Employee
Sample Letter to Congress-Supplier
Graphics
Free Trade and Dairy Poster
NAFTA Infographics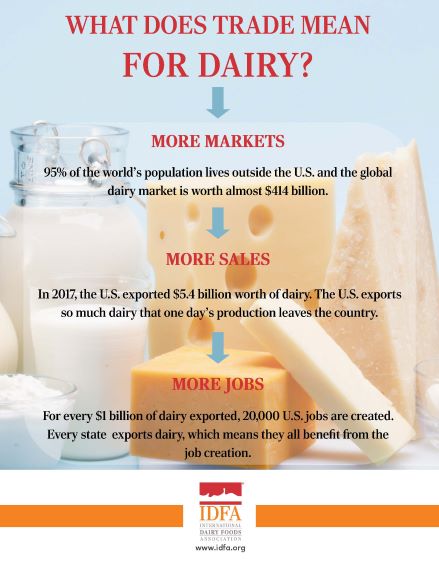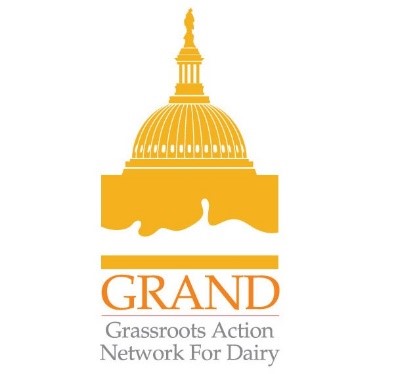 Stay engaged on Trade by joining IDFA's advocacy program the Grassroots Action Network for Dairy (GRAND).
Joining GRAND is an effective way for IDFA members to learn about priority dairy issues, advocate on those issues to Congress and cultivate strong relationships with legislators. The core elements of GRAND include educating dairy company employees on the issues affecting the industry and ultimately their jobs, communicating on the issues to elected officials in Congress and building relationships with lawmakers.
Involvement in GRAND is more important than ever as IDFA works to promote the benefits of trade for the dairy processing industry.
Join today and help strengthen our industry grassroots network to ensure that sound dairy policies are enacted.
Sign up for GRAND (Grassroots Action Network for Dairy).
For more information on IDFA's political advocacy efforts, please visit www.dairycounts.org or contact Colin Newman, at cnewman@idfa.org.