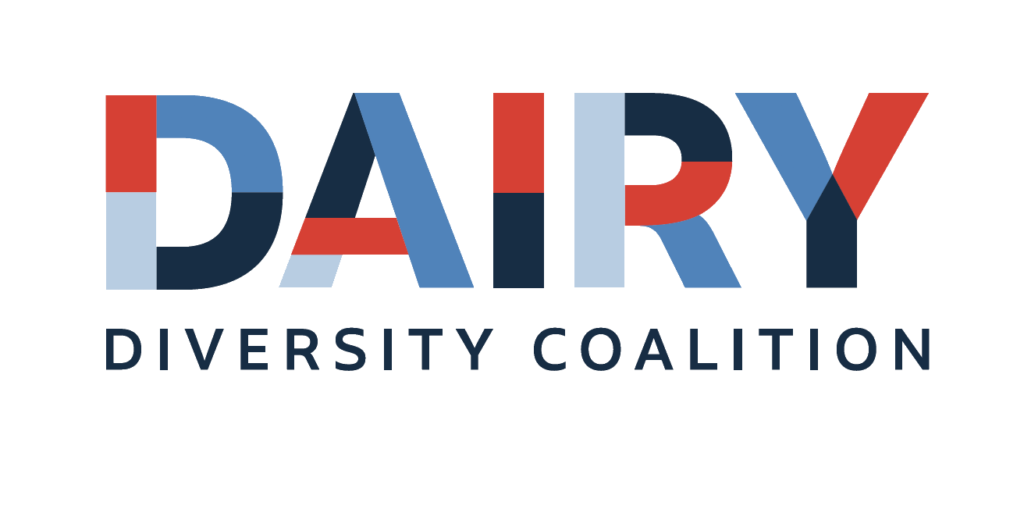 IDFA's Dairy Diversity Coalition is committed to increasing diversity, equity, and inclusion in the dairy industry. Our members are prioritizing our people and our workforce to foster continued growth and enhance dairy's global competitiveness. 
IDFA is committed to working with our members and the broader dairy industry to address our most valuable assets – our people – and creating a diverse and inclusive workforce is an important component of that. The IDFA Dairy Diversity Coalition, formed in partnership with IDFA members and Egon Zehnder, will:
Share best practices to build inclusive cultures through information sharing and transparency
Empower industry collaboration to increase Diversity, Equity, and Inclusion in the dairy industry
Build a workforce that looks like, and is reflective of, the communities and consumers we serve
How to Join
For more information on joining IDFA's Dairy Diversity Coalition and gaining access to the community's member-only resources and programming, please contact Taylor Boone at tboone@idfa.org
---
Participating Companies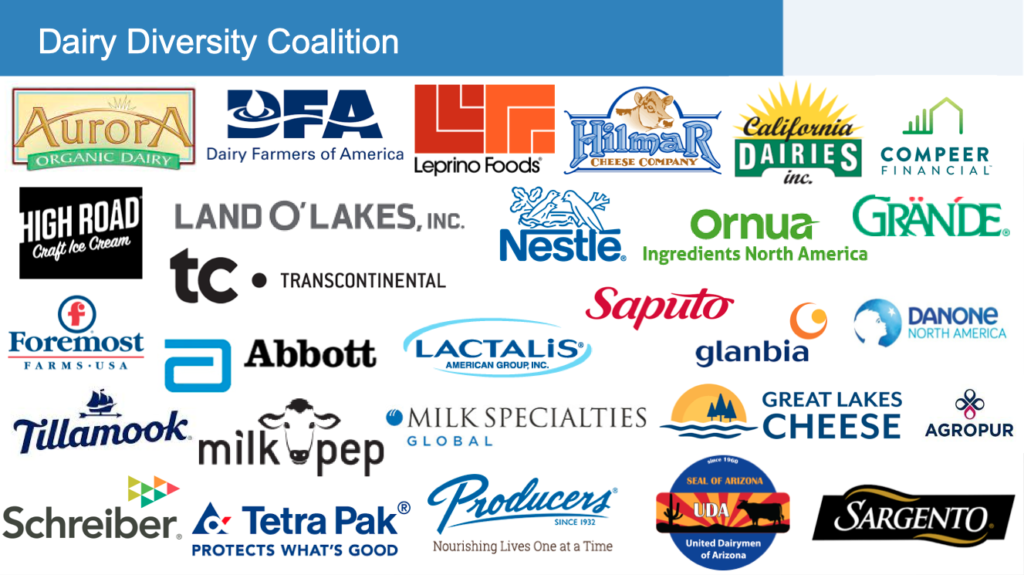 ---
Dairy Diversity Coalition Members
Gustavo Acosta, Director Global Purchasing, Dairy, Abbott
Jeff Allar, Senior HR Business Partner, Ornua Ingredients North America
Shawn Athay, Senior Vice President, Human Resources, California Dairies, Inc.
Cindy Bauman, SVP Human Resources, TC Packaging Sector, TC Transcontinental Packaging, a division of TC Transcontinental Inc.
Cherrese Belt, Director-Diversity & Inclusion, Dairy Farmers of America, Inc.
Renee Bilyeu, VP Human Resources, Hilmar Cheese Company
Allison Bolet Cafaro , Manager of Diversity, Equity and Inclusion, Great Lakes Cheese
Dave Coble, Sr. Vice President, Human Resource, Schreiber Foods, Inc.
Mitchell B. Bowling, Associate Director, Global Dairy Operations, Abbott
Barbara Gregorich, Senior Vice President, Human Resources, Leprino Foods Company
Terrance Irizarry, Chief Inclusive DiversityOfficer, Danone North America
Mara Kamat, Vice President of Human Resources, Great Lakes Cheese
Robin Kane, Chief People Officer, Aurora Organic Dairy
Amey Kennedy, Director, Talent Acquisition, Human Resources, Saputo
Nadia King, Vice President, HR Operations, Glanbia
Tanzy Lawhorn, Sr. Director Diversity Inclusion & Organizational Development, Sargento Foods
Dacia Liszka , Senior Manager, Corporate HR, Milk Specialties Global
Kristen McCarthy, Vice President of Human Resources, United Dairymen of Arizona
Sue Melvin, Vice President, Human Resources, Lactalis Heritage Dairy
Jennifer Montgomery, HR Country Services Representative – US & Canada, Tetra Pak Inc.
Beatrix Muededonck, Sr. Manager, D&I and Leadership Development, Leprino Foods Company
Sheila Murty, Executive Vice President, People and Culture, Tillamook County Creamery Association
Anuradha Nigam, MS, BBA, HCIS & Reporting Manager, Agropur US Operations
Kelly Norton, Sr. Director, Culture & Communication, Grande
Stacey Pexa Lodden , Vice President, Human Resources, Milk Specialties Global
Erin Porter, SPHR, Senior HR Business Partner, Compeer
Courtney Raines, PHR, SHRM-SCP, Director of Human Resources, High Road Craft Ice Cream, Inc.
Yin Woon Rani, CEO, Milk Processor Education Program (MilkPEP)
Mihir Sainani, Director – R&D (SAI & Tech Services), Sargento Foods Inc.
Philomena Morrissey Satre, Director, Diversity & Inclusion and Strategic External Relationships, Land O'Lakes
Lori Wall, SVP and Chief Human Resources Officer, Foremost Farms
Brandi Williams, Chief People Officer, Producers Dairy Foods, Inc.
Angie Wiltz, Vice President, Human Resources, Dairy Farmers of America, Inc.