School Milk Processors Have Pledged to Reduce Added Sugars Ahead of USDA Proposed Standards
WASHINGTON, May 16, 2023—According to an article in the Wall Street Journal, top officials with the U.S. Department of Agriculture remain fixated on banning chocolate milk from elementary and middle school cafeterias despite widespread opposition from parents, school meal professionals, and the federal government's own Dietary Guidelines for Americans (DGA) report. In April, 37 school milk processors representing more than 90% of the school milk volume in the United States jumped ahead of USDA's proposed guidelines with the Healthy School Milk Commitment, a pledge to offer nutritious school milk options with no more than 10 grams of added sugar per 8 fluid ounce serving by the 2025-2026 school year.
The Journal reports that "the issue has divided parents." However, neither the Journal article nor the USDA's comments in the Journal feature thoughts from parents of school-aged children. In a Morning Consult poll of more than 500 parents with children in public schools conducted March 17-19, 90% of parents expressed agreement that non-fat or low-fat flavored milk should remain an option in public school meals in their community. In October 2022, a similar poll found support among parents for low-fat flavored milk to be 84%--meaning support among voting parents with children in public schools continues to increase.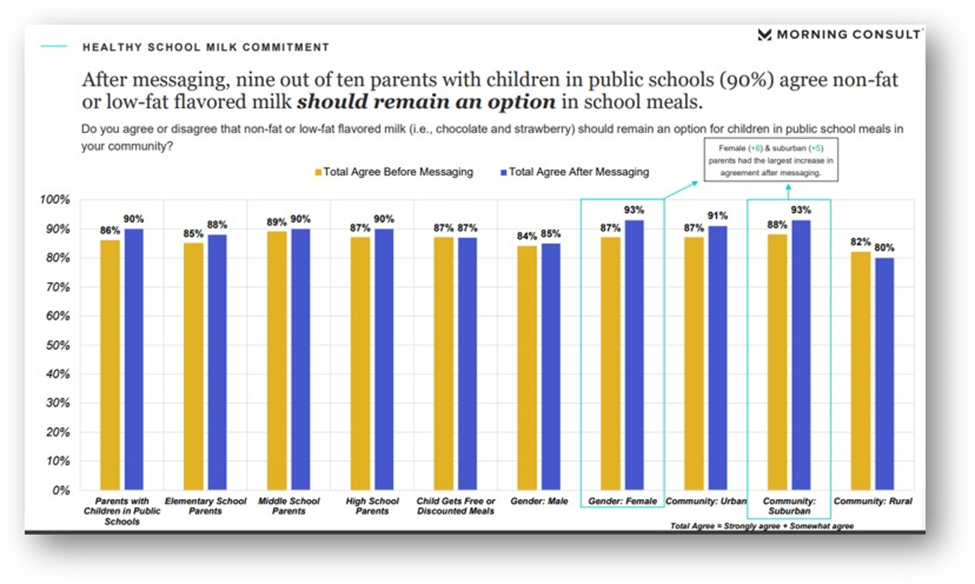 The average serving of chocolate milk in public schools today is a healthy option for most children, as it offers 13 essential nutrients children need for development, including high-quality protein, calcium, vitamin D, and potassium, as well as health benefits including better bone health, better mental health, and lower risk for type 2 diabetes and cardiovascular disease. It is unclear if federal officials are moved by the overwhelming support of parents for flavored milk in schools. USDA's standards for school milk have shifted constantly over the past decade, throwing supply chains into constant uncertainty and creating headaches for schools—which have trouble sourcing foods and beverages for their students that meet the evolving standards—and for school milk processors that must reformulate and repackage milk options each time a change is made by USDA.
The School Nutrition Association, which represents the nation's school meals professionals, says the USDA's proposed meal standards may bankrupt schools across the country. In their formal comments to USDA on the proposed standards, SNA wrote: "With no end in sight to supply chain and labor challenges, most school meal programs nationwide simply lack the capacity to meet these proposed nutrition mandates and exceed transitional standards."
"What are we trying to prove?" asks Katie Wilson, executive director of the Urban School Food Alliance, which represents 18 of the largest school districts in the country. "We want to take a product that most kids like and that has nine essential nutrients in it and say, 'You can't drink this, you have to drink plain?'" Wilson's comments were featured in the Journal article.
"We really do want to encourage children to consume milk and we also recognize the need to reduce added-sugar consumption," added Cindy Long, administrator of USDA's Food and Nutrition Service, which oversees federal school meals standards. Long did not mention that flavored milk served in schools today contains 53% less added sugar per serving than it did 15 years ago.
According to the Journal, several school districts saw meal participation decrease when flavored milk was removed from the menu, a phenomenon that has played out to the detriment of child health in municipalities across the country. Jessica Gould, the director of nutrition services for Littleton Public Schools in Colorado, said that her school district's consumption of milk "significantly decreased" when it experienced problems procuring chocolate milk during the Covid-19 pandemic. "Do we want kids to get the calcium, the protein, the additional nutrients that are part of milk?" she asked. "Because when we were only providing white milk, we did see a significant amount of students didn't take milk in general." Gould's comments were featured in the Journal article.
"The Healthy School Milk Commitment goes above and beyond federal nutrition guidelines, ensuring that all children in grades K-12 continue to have access to the milk they enjoy with fewer calories and less added sugar," said Michael Dykes, D.V.M., IDFA president and CEO. "School meals are incredibly important to the health and welfare of our children, and milk is a central building block in school nutrition programs. Milk is the leading source of calcium, vitamin D, and potassium for American children ages 2 to 18, and that is why milk processors continue to step up by providing wholesome, healthy, and nutritious white milk and flavored milk options with 13 essential nutrients that students will consume."
The 2020-2025 DGA highlights that between 68% and 76.2% of school age males and between 77.4% and 94.3% of school age females fail to meet recommended levels of dairy. In other words, children are not receiving enough essential nutrients for growth, development, healthy immune function, and overall wellness. Healthy milk and dairy options in school meals—including lactose-free and reduced-lactose options—are the most important opportunity of the day for children to get the critical nutrients they need. Milk is the number one source of protein in the diets of children ages 2 to 11. Flavored milk options, such as chocolate, vanilla and strawberry milk, are the most consumed beverages within the school meals program, leading to higher program participation, less plate waste, and greater consumption of essential nutrients children need to grow and thrive in school and life.
The 33.8 million meals served each day in public schools provide a variety of healthy foods and beverages, including milk and dairy. Flavored milk is a good or excellent source of the same 13 essential nutrients as unflavored milk, including calcium, vitamin D and potassium – nutrients of public health concern that many kids are not consuming enough in their diets. In addition, flavored milk contributes only 4% of added sugars in the diets of children 2-18 years and is not associated with an increased BMI.
IDFA's resources on school milk are here:
# # #
The International Dairy Foods Association (IDFA), Washington, D.C., represents the nation's dairy manufacturing and marketing industry, which supports more than 3.3 million jobs that generate $41.6 billion in direct wages and $753 billion in overall economic impact. IDFA's diverse membership ranges from multinational organizations to single-plant companies, from dairy companies and cooperatives to food retailers and suppliers, all on the cutting edge of innovation and sustainable business practices. Together, they represent 90 percent of the milk, cheese, ice cream, yogurt and cultured products, and dairy ingredients produced and marketed in the United States and sold throughout the world. Delicious, safe and nutritious, dairy foods offer unparalleled health and consumer benefits to people of all ages.