Read the latest issue of The Dairy Bar, a bi-weekly report from IDFA partner Ever.Ag. The Dairy Bar features spotlight data, key policy updates, and a one-minute video that covers timely topics for the dairy industry.
The Dairy Bar: More Americans Dining Out Despite High Prices; EU Food Inflation Looms Large; and The Job Market in a Minute!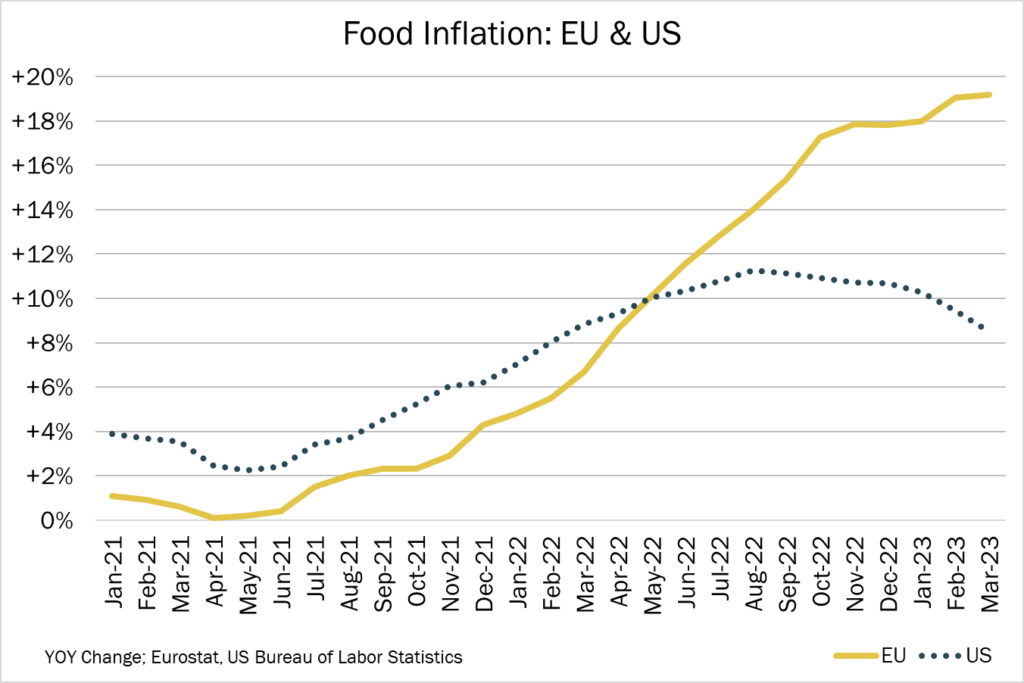 Quick Bites: EU Food Inflation Looms Large
Rampant food inflation is taking a bite out of consumer wallets in the EU. In April, headline inflation across the 20 countries using the Euro jumped 7% year-over-year. Food played a big role in driving the overall numbers, with prices up 16.2% year-over-year — down from more than 19% in March but way ahead of U.S. food inflation at +7.6% for the month.
Inflation is hitting certain regions harder than others. Food prices in the UK, for example, reached a 45-year high in April, jumping 19.1% year-over-year. Prices for certain staples are also rising higher than others. A study by Bloomberg shows costs for an average basket of ingredients, including eggs, bread and milk, increased roughly 23% over the last year. Prices for milk, cheese and eggs, in particular, increased 28.4% versus the prior year.
Officials across the EU are considering measures to ease the impacts of inflation, particularly in the food prices. Portugal and Spain are cutting taxes on essential items, while Hungary has implemented caps on certain items. The European Central Bank is also evaluating further interest rate hikes to control overall price escalation. The bank increased its deposit rate by 3% in April to the highest point since October 2008.
Today's Special
Even as they monitor higher prices, consumers are still heading out to eat. In the most recent quarter, studying 20 publicly traded food service companies, same-store sales largely outpaced prior-year levels.
When Americans don't want to dirty dishes, pizza remains a popular choice. Dominos reported global retail sales growth of 5.9% during the first quarter, with U.S. same-store sales up 3.6%. Pizza Hut, a division of Yum! Brands, also saw same-store sales increase 5% globally and +8% in the U.S. But the way Americans consume pies is changing. Dominos says it's relying on carryout more as the popularity of delivery wanes. And amid menu price inflation, Yum! Brands notes consumers are increasingly ordering off its value menus.
The return of in-service dining is buoying earnings at fast-casual eateries. Shake Shack reported a same-store sales increase of 10.3% in Q1 and identified growth potential for more licensed restaurants. Similarly, Chipotle bucked 10% higher prices to log a 10.9% gain in same-store sales and a 4% increase in traffic.
Full-service and fine-dining chains are also benefiting from a rebound in foot traffic. For the third quarter of the fiscal year, Darden Restaurants reported same-store sales up 12.3% at Olive Garden and +10.8% at Longhorn Steakhouse. Bloomin' Brands, parent company of Outback Steakhouse, also saw 5.1% same-store sales growth in Q1.
Still, Americans are finding plenty of time to zip through drive-thrus. McDonald's same-store sales climbed 12.6% during Q1 as traffic rose for the third consecutive quarter. Carrols Restaurant Group also reported same-store sales grew 11.7% at Burger King and 9.5% at Popeyes for the quarter.
Could this strong performance continue? The outlook is unclear. In March, restaurant foot traffic declined 6.6% versus 2019 levels, per data by Placer.ai. In April, seated diners at U.S. restaurants also fell 4% versus prior-year levels, according to analysis by OpenTable.
Something Sweet: The Job Market in a Minute