Read the latest issue of The Dairy Bar, a bi-weekly report from IDFA partner Blimling and Associates, Inc., a dairy research and consulting firm based in Madison, Wisconsin. The Dairy Bar features spotlight data, key policy updates, and a one-minute video that covers timely topics for the dairy industry.
The Dairy Bar: Shipping Costs Easing, Workplace Automation on the Rise, and Consumer Spending in a Minute!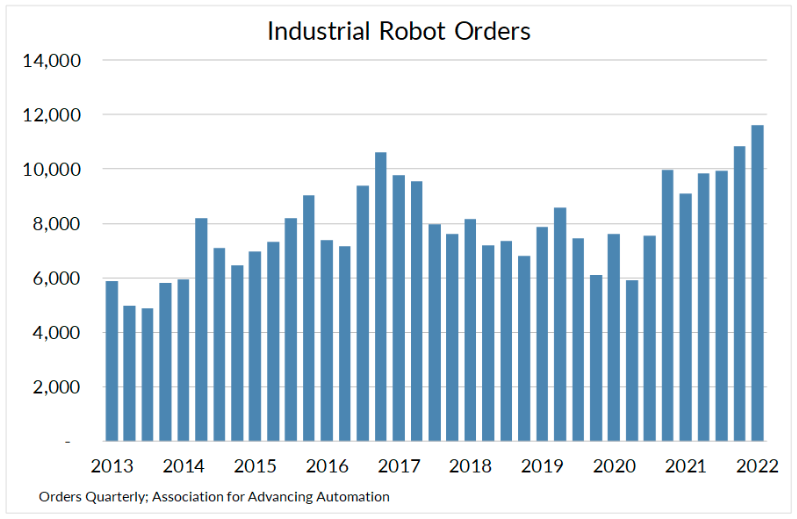 Quick Bites: Automating the Workplace
Amid labor shortages, companies are increasing their reliance on robotics. Data by the Association for Advancing Automation (A3) showed North American businesses purchased 11,595 robots at a value of $646 million during the first quarter of 2022. That was a gain of 28% in units and 43% in spending year-over-year, and the largest volume on record.
A variety of industries, from agriculture to retail and hospitality, are placing orders for robots. In Q1, the metals sector led growth, with orders rising 40% year-over-year. Plastics and rubber operations placed 29% more orders, semi-conductors rose by 23%, food and consumer goods sector increased 21% and life sciences/pharmaceuticals climbed 14%.
More orders are likely ahead, A3 reported. As robots become more affordable, the association expects adoption will rise in every industry. Advancements in robotics are also making machines more customizable and easier to implement.
Today's Special
While they remain historically high, costs to ship – by land or sea – are easing. DAT Freight & Analytics reported month-to-date spot reefer rates at $3.06 per mile, down from a record high of $3.59 per mile reached in January and easing 2% year-over-year. Similarly, spot dry van rates reached $2.68 per mile by mid-July, down from January's peak of $3.10 per mile and declining 1% versus prior-year levels. Still, reefer and dry van costs remain well above average 2019 levels of $2.20 and $1.86 per mile, respectively.
At the same time, ocean shipping costs are lowering versus last year's record highs. The Drewry World Container Index, a composite of eight major shipping lanes, was at $7,051 per 40-foot container during the week ending July 7. That's down 0.2% from the same period in 2021 and -32% from the peak of $10,361hit in September, but well above 2019, when rates stayed below $1,500.
Additional relief may be ahead. The Cass Freight Index showed shipment volume decreased 2.6% year-over-year in June, following a decline in demand for consumer goods. Shipping activity out of China is also slowing amid the country's new Covid restrictions. Meanwhile, capacity is loosening, with 27,300 new trucking jobs added in May and June and more than 2 million twenty-foot equivalent units in ocean containers on order.
On the other hand, higher fuel prices are supporting rates. During the week ending July 9, U.S. diesel averaged $5.68 per gallon, more than double last year's prices. But crude oil markets are under pressure from demand concerns and decent supplies, allowing costs at the pump to ease.
Demonstrations and negotiations are creating shipping uncertainty. Over the last two weeks, truckers have staged protests at California ports in response to the state's Assembly Bill 5, which requires independent workers – including truck owner-operators – to pass a three-part test. Discussions also continue among West Coast dockworkers after a labor contract for 22,000 employees expired at the end of June, and President Biden on July 18, 2022 established a Presidential Emergency Board to help rail worker union negotiations, temporarily abating any potential rail strike for 60 days.
Something Sweet: Consumer Spending in a Minute