Read the latest issue of The Dairy Bar, a bi-weekly report from IDFA partner Blimling and Associates, Inc., a dairy research and consulting firm based in Madison, Wisconsin. The Dairy Bar features spotlight data, key policy updates, and a one-minute video that covers timely topics for the dairy industry.
The Dairy Bar: Workforce Woes as More Americans Leave Their Jobs, Restaurants Face New Challenges With Omicron, and China Milk Powder Demand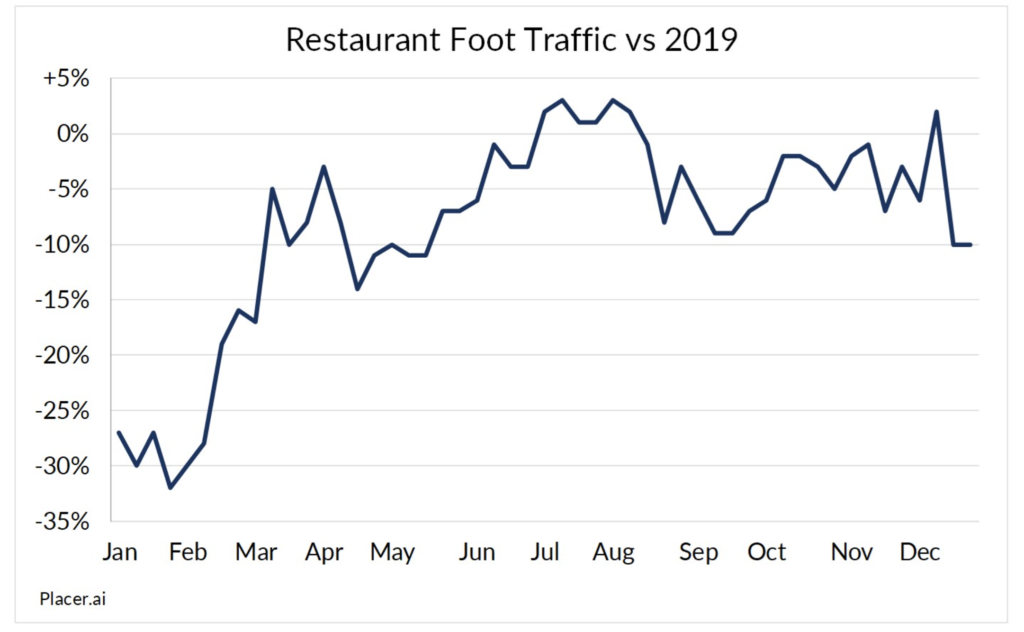 Quick Bites: Restaurants Face New Challenges
The restaurant industry is facing new challenges amid rising cases of the Omicron variant. After rallying last summer, restaurant foot traffic is declining again, falling 10% on a two-year basis during the last week of 2021. While vaccine availability and a lack of restrictions are keeping activity well above 2020 levels, restaurants are reporting increasing numbers of last-minute reservation cancellations.
The variant is also impacting restaurant staffing as restaurant workers test positive or quit at an increasingly high rate. Restaurants are responding by reducing hours or shutting down completely while sorting out staffing issues. Companies like Starbucks and Rally's reported temporary closures and altered hours at locations across the country.
But U.S. consumers are still spending on food service. The December retail sales report showed restaurant and bar sales jumped 41.3% year-over-year, though higher prices and case counts brought purchases down 0.8% from November.
Today's Special
Americans are leaving jobs in record numbers, with the Labor Department reporting 4.5 million quits in November. The leisure and hospitality industry led the way, with a record-setting 1 million resignations, followed by health care and transportation. Many economists point to job dissatisfaction connected to low pay and high stress as the main culprits.
Meanwhile, employers are adding new positions and struggling to find staff. Job openings totaled 10.6 million in November, outpacing 6.8 million unemployed workers. Pandemic stimulus payments have padded many Americans' bank accounts, allowing them to remain out of the workforce or to start their own businesses. The U.S. Census Bureau reported that December business formation applications increased 20.6% year-over-year. Analysts expect employers to continue increasing wages and employee incentives to attract more workers in the coming months. The average hourly pay for December was $31.31, a 4.7% increase from 2020.
Amid uncertainty around vaccine mandates and the return to in-office work, the Supreme Court last week reinstated a stay of the mandate requiring all private businesses with 100 or more employees to enforce vaccinations or weekly negative COVID-19 tests. The decision temporarily alleviates the threat of a vaccine and testing mandate by the federal government that would have applied to nearly 80 million U.S. workers.
Analysts say the ruling won't have a significant impact on U.S. workers, as companies are unlikely to unveil new vaccine requirements. The decision may also encourage unemployed and unvaccinated Americans to return to the workforce.
For additional information on IDFA's legislative priorities, please contact Donald Grady, director, legislative affairs, at dgrady@idfa.org.
Something Sweet: China Milk Powder Demand