Read the latest issue of The Dairy Bar, a bi-weekly report from IDFA partner Blimling and Associates, Inc., a dairy research and consulting firm based in Madison, Wisconsin. The Dairy Bar features spotlight data, key policy updates, and a one-minute video that covers timely topics for the dairy industry.
The Dairy Bar: School Milk Lifts Declining Fluid Milk Sales, Online Grocery Shopping Remains Hot, and the Macro Minute!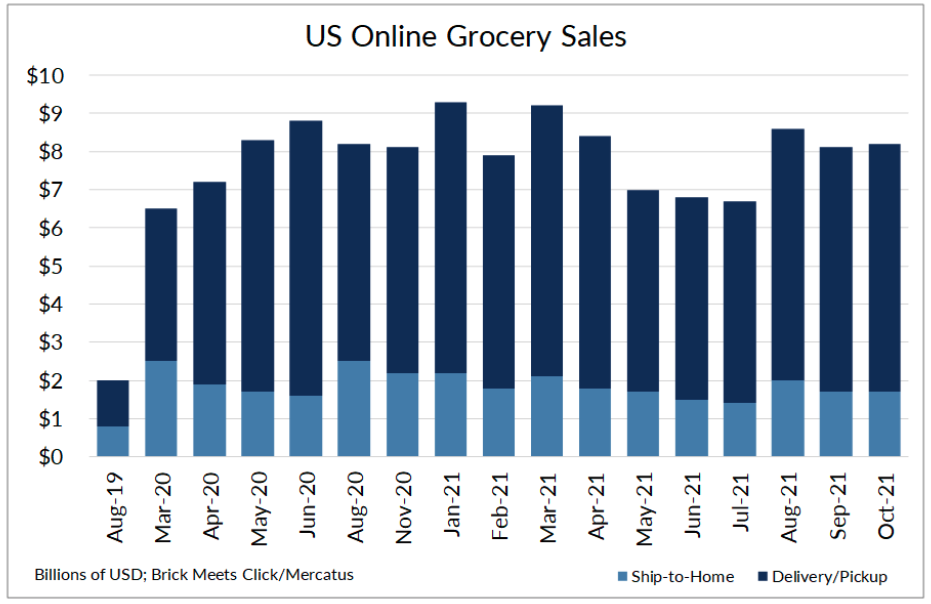 Quick Bites: Click, Ship, Collect
Ordering online remains a popular option among grocery shoppers, and the trend is expected to continue into 2022, according to research by Brick Meets Click.
U.S. online grocery sales totaled $8.1 billion in October, up 1.3% month-over-month and well above pre-pandemic levels. About half of all households shopped for groceries online, and monthly active users placed an average of 2.74 orders for the month, relatively steady with the recent pace but up 32% over 2019.
Americans still prefer picking up their online groceries. Click and collect comprised nearly 38% of total online sales in October. Delivery, meanwhile, captured about 30% and ship-to-home accounted for roughly 33%.
Most households using online grocery options plan to continue in the coming months. Over half – 57.2% – of current users told Brick Meets Click that they will place orders in November. And many aim to increase their order frequency. A study by Acosta found 23% of online shippers expect to do more e-commerce grocery shopping within the next year, while 64% will maintain current levels. Only 1% reported plans to stop using online options.
Today's Special
School milk provided a small lift for fluid milk sales in September, though activity remains well below last year's activity. USDA reported volume at 3.6 billion pounds for the month, down 1.4% year-over-year, the best showing in 2021. Year-to-date activity added up to 32.5 billion pounds, down 4.6% versus prior-year levels, but improving from a 5.0% decrease through August.
More recent scanner data shows continued weakness in the category. October retail sales declined by an average 6% year-over-year and -7% versus the same period in 2019. Purchases during the first two weeks of November also fell 7% from 2020 and -8% on a two-year basis.
Meanwhile, milk production is declining. U.S. output totaled 18.52 billion pounds in October, down 0.5% year-over-year. That's due in part to a smaller herd. Cow numbers fell to 9.40 million head, down 22,000 head from the previous report (including a revision to September data).
But fluid sales comprise a shrinking portion of U.S. milk flows. During the first nine months of the year, purchases made up 19.0% of all output. By comparison, sales comprised 20.3% of production during the same period in 2020. The lost volume adds up to 1.56 billion pounds of milk, enough to make an additional 90 truckloads of cheese or 100 loads of nonfat dry milk each week.
Something Sweet: Macro Minute