Wednesday, May 27, 2020
1:00 p.m. Eastern
Overview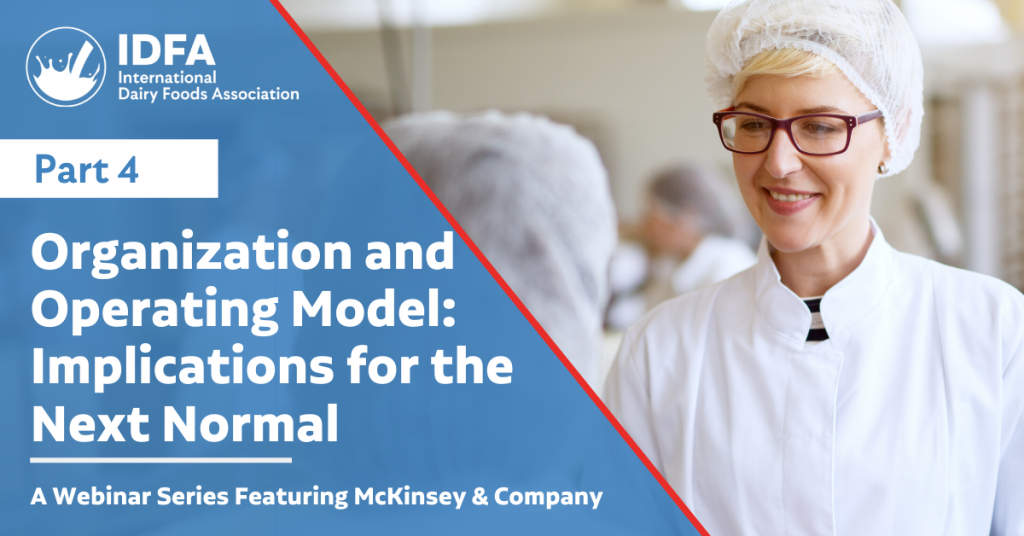 The COVID-19 pandemic has affected many people around the world, and moreover, it is continuing to impact the global economy. The implications for dairy businesses have been profound. To help our industry navigate this new reality, IDFA has invited McKinsey & Company to offer their insights and perspectives to dairy business leaders on the evolving COVID-19 situation and its implication for their companies.
In Part 4 of the series, McKinsey & Company will discuss implications for the "next normal." In any "next normal" scenario, operating models and organizations will need to evolve. McKinsey & Company will offer perspective on how retailers and consumer packaged goods companies can shape their organization and operating model of the future.
A Webinar Series Featuring McKinsey & Company
Registration
IDFA is offering this webinar for free to IDFA members.
Questions: If you have questions or need assistance with the registration process, please contact IDFA at 202-737-4332 or registrar@idfa.org.