Members of the Women in Dairy Network can view "Women in Dairy Fireside Chat - Isabelle Marcoux, Chair of the Board, TC Transcontinental". If you are a member and can not see the video and slides below, please refresh your session by logging out and logging back in to the IDFA website via the red button in the top right corner of your screen.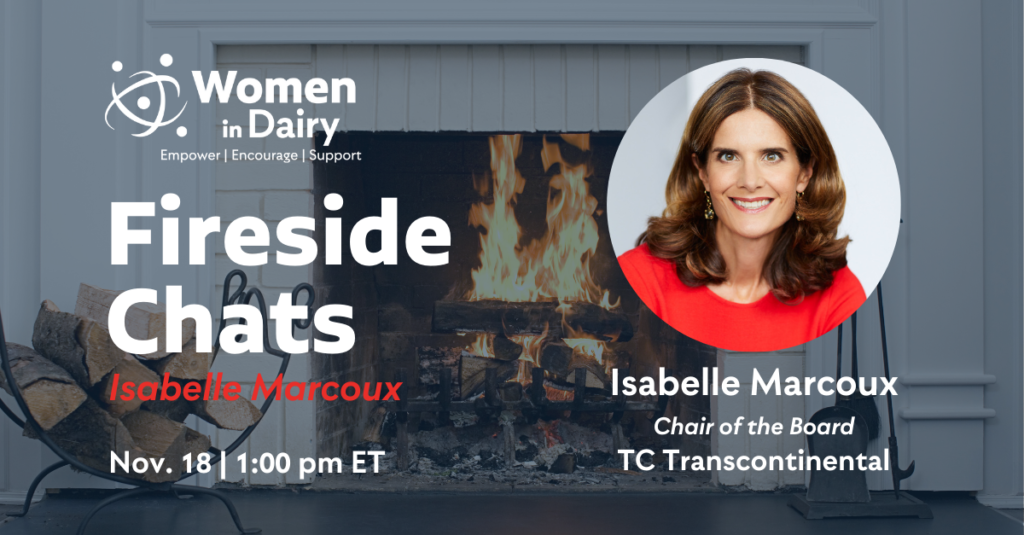 IDFA's Women in Dairy is pleased to present a special fireside chat with Isabelle Marcoux, the Chair of the Board for TC Transcontinental.
Enjoy Marcoux and IDFA Women in Dairy Director Tracy Boyle for an engaging, interactive question and answer session recorded Wednesday, November 18. Marcoux discussed her career journey, her leadership at TC Transcontinental, and the importance of mentorship and advocacy for fellow women in the dairy industry.
Isabelle Marcoux has been with TC Transcontinental since 1997 and has been Chair of the Board since 2012. She has been recognized with numerous awards and accolades for her work in business and in her community, including an induction into the Women's Executive Network Hall of Fame, the Visionary Award for Strategic Leadership from the global WomenCorporateDirectors Foundation, and the Medal of the National Assembly of Quebec for her continuous community involvement. Ms. Marcoux holds a Bachelor's degree in Political Science and Economics, and a Bachelor's degree in Civil Law, both from McGill University. She has been a member of the Quebec Bar since 1995. She is married to François Olivier and they are the parents of two children.
Featuring
Hosted By