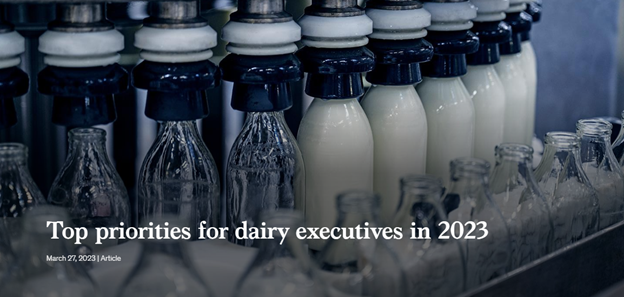 McKinsey & Company – March 2023
By focusing on growth, resilience, and sustainability, dairy processors have an opportunity to leverage momentum and engage consumers and customers with a unified story.
In the third quarter of 2022, IDFA and McKinsey & Company jointly surveyed more than 100 executives and leaders of companies in the dairy industry. After the survey, we augmented our research with about 50 interviews of industry leaders in the fourth quarter of 2022. Participating companies come from around the world and represent a range of organization types and sizes, including public and private companies; cooperatives, dairy processors, producers, packagers, and retailers; and companies with last-year revenues ranging from $100 million to more than $30 billion.
Find the link to the report below. Members must be logged in to access the report.