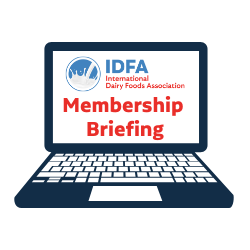 IDFA presents the June 2021 Membership Briefing to learn the many ways IDFA is working to make a difference for dairy by reducing or improving regulation, impacting legislation and policy affecting the dairy industry, or working to expand markets in the United States and abroad.
Membership briefings are scheduled three times a year to provide updates on issues that are, or will be, affecting your business. All members are welcome to participate. IDFA's subject matter experts and member services staff will outline timely issues, their impact on dairy companies, IDFA's action steps and ways members can participate in shaping the outcome.
We encourage employees in all job functions to view because the briefings offer an excellent opportunity to engage on the issues that are important to you and your company. You can get answers to questions immediately, using the chat function.
The agenda for this Membership Briefing can be found here.