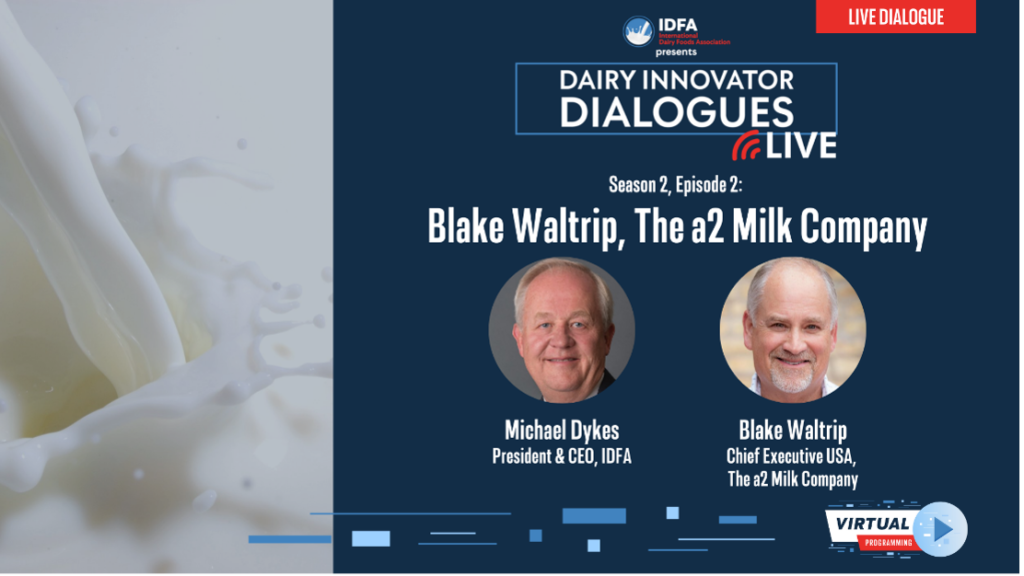 Dairy Innovator Dialogues LIVE returned for a special session with Blake Waltrip, chief executive of the USA region for The a2 Milk Company.

Waltrip joined IDFA President and CEO Michael Dykes for a 60-minute, interactive discussion on The a2 Milk Company's growth story, the business's focus on health and wellness, and where Waltrip sees potential for international trade.

Blake Waltrip joined The a2 Milk Company in May 2016, assuming the role of Chief Executive of the USA region. Blake is responsible for leading a2's Northern American liquid milk business as well as managing its supply chain partnerships and performance for this region. Blake has a strong marketing and general management skill set. Blake was previously the CEO of Quinoa Corporation Inc, (The Ancient Harvest Brand) based in Boulder, Colorado. His previous roles have included VP and CMO of the beverage division of the Hain Celestial Group, Managing Partner of a marketing services and strategy group, Growth Ventures, President Americas of Lowe Alpine, and an earlier extensive marketing career with Nestlé USA beverage brands.

IDFA members are encouraged to view this special session.
Featuring
Hosted By