IDFA members can view this episode of Dairy Innovator Dialogues Live. If you are a member and can not see the video and slides below, please refresh your session by logging out and logging back in to the IDFA website via the red button in the top right corner of your screen.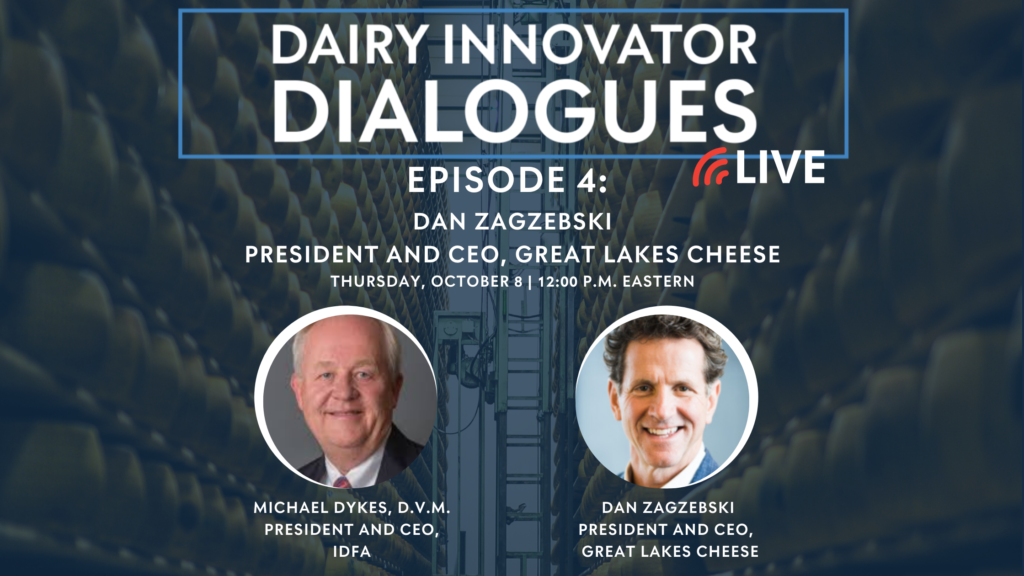 Dairy Innovator Dialogues returned in October with a special, live question and answer session with IDFA's very own Executive Council Chair, and President and CEO of Great Lakes Cheese, Dan Zagzebski.
Zagzebski and IDFA President and CEO Michael Dykes have a 60-minute, interactive discussion on the growth of Great Lakes Cheese in Zagzebski's 17 years with the company, how the dairy industry has responded to the significant disruption caused by the COVID-19 pandemic, and how Great Lakes Cheese is building infrastructure and an empowered workforce to prepare for dairy's bright future. Dan Zagzebski has served as the President and CEO of Great Lakes Cheese, the nation's largest natural cheese packager, since 2015. Great Lakes Cheese is family and employee-owned by the Epprecht family and 3,300 dedicated employee-owners.
Featuring
Hosted By