By Jessica Campbell, PhD, Senior Nutrition Manager, General Mills
Happy Dairy Month! We've long known that dairy is an important part of a healthy dietary pattern, and this is especially true for children. Dairy foods, like yogurt, can help children get essential nutrients and provide nutrient dense foods throughout childhood - all in a great tasting, affordable and accessible package! Establishing healthy dietary patterns that include dairy foods early on in childhood is an important step to encourage a healthy dietary pattern throughout all life-stages.
The 2015-2020 Dietary Guidelines for Americans (DGA) recommended that fat-free or low-fat dairy, including yogurt be included as part of a healthy eating pattern and noted that "[t]he dairy group contributes many nutrients including calcium, phosphorus, vitamin A, vitamin D, riboflavin, vitamin B12, protein, potassium, zinc, choline, magnesium, and selenium." Furthermore, it was noted that fat-free or low-fat milk and yogurt is a nutrient dense dairy choice because it contains less saturated fats and sodium and more potassium, vitamin A and vitamin D compared to other dairy products, such as cheese. (1)
Unfortunately, about 1 in 4 children are not meeting the DGA recommendations for dairy.(2) Dairy foods like fortified low-fat milk and yogurt are key nutrient dense foods in the dairy food group that have been shown to help children meet intakes for several key nutrients of public health concern including calcium, vitamin D and potassium. For example, only 14% of children who ate yogurt were below the recommended intake level for calcium, whereas almost half (47%) of children who didn't eat yogurt were below the calcium recommendation. In children 2 to 17 years, yogurt contributes to 8% of energy intake, but 18% of vitamin D, 18% of calcium, 12% of protein, and 12% of potassium intake to the diets of yogurt eaters. At the same time, it contributed only 6% to saturated fat intake, 3% to daily sodium intake, and 6% to added sugar intake. Dairy foods should continue to be encouraged as part of healthy dietary patterns, given their unique package of nutrients and particularly those that support bone growth and maintenance across the lifespan. Additionally, as yogurt is often better tolerated than other dairy products, it can be an important source of calcium for people who are lactose intolerant.
As noted in 2015-2020 DGAs, yogurt is also a key complementary food, one of the foods or beverages fed to infants and toddlers other than infant formula or breastmilk. Not only is it nutrient dense, it's easy and delicious to eat and often easier on the tummy! Additionally, dairy foods, including yogurt continue to be nutrient dense food choices in federal nutrition programs such as Women Infant and Children (WIC) and school meal programs, helping to provide key nutrients of public health concern.
Across the total population, data from NHANES 2001-2002 through 2015-2016, show a decrease in fluid milk consumption, which may contribute to the dairy gap in Americans. Meanwhile, yogurt intake has slowly increased across the population, which could help fill the dairy gap and get children and adults to the recommended number of dairy servings per day!
Figure 1. Prevalence of Milk Consumption and Yogurt Consumption by Year in the Population 2 Years and Older, NHANES 2001-2002 to 2015-2016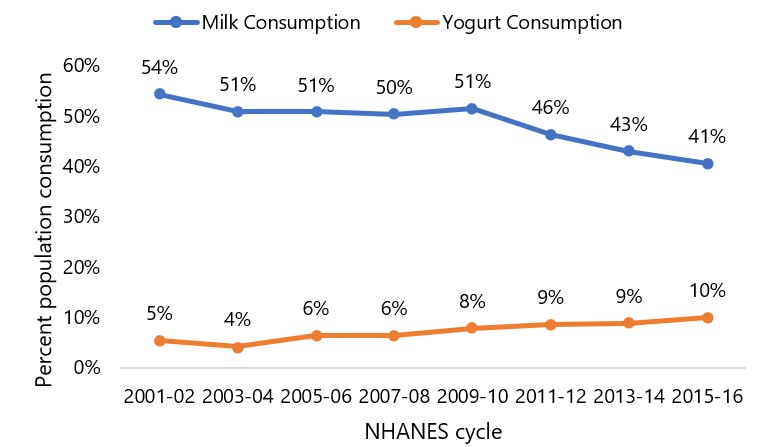 Last week, the federal Dietary Guidelines Advisory Committee (DGAC) released its draft conclusions for the 2020-2025 Dietary Guidelines for Americans, which included new, more detailed recommendations for pregnant and lactating women as well as for children birth through 24 months of age (B-24). The recommendations stressed complementary foods for infants and toddlers that offer more calcium, potassium, protein and vitamin D. One such recommendation for children ages 6-12 months included ¼-½ cup-equivalents of cheese or yogurt per day.
Inclusion of low-fat and fat-free yogurt should be encouraged across the lifespan as part of healthy dietary patterns to help Americans meet dairy intake recommendations. Low-fat and fat-free dairy foods, like yogurt, are nutrient dense, affordable, accessible and provide important nutrients of public health concern, including calcium, vitamin D (if fortified), and potassium, plus a source of high-quality protein.
References:
1. U.S. Department of Health and Human Services and U.S. Department of Agriculture. 2015 – 2020 Dietary Guidelines for Americans, 8th Edition. December 2015. Available at http://health.gov/dietaryguidelines/2015/guidelines/
2. Centers for Disease Control and Prevention (CDC). National Center for Health Statistics (NCHS). National Health and Nutrition Examination Survey Data. Hyattsville, MD: U.S. Department of Health and Human Services, Centers for Disease Control and Prevention, 2013-2016. Available at https://wwwn.cdc.gov/nchs/nhanes/default.aspx
---
Throughout the month of June, IDFA will continue to present facts, information, and stories about how dairy is contributing to the health and nutrition of people everywhere. Please follow IDFA's LinkedIn, Twitter, and Facebook pages, the #DairyNourishes campaign on social media platforms, and the IDFA website, www.idfa.org/dairynourishes, for updates.