Read the latest issue of The Dairy Bar, a bi-weekly report from IDFA partner Ever.Ag. The Dairy Bar features spotlight data, key policy updates, and a one-minute video that covers timely topics for the dairy industry.
The Dairy Bar: Restaurant Prices Climb; Conflict in Middle East Disrupts Crude Oil Markets; and Halloween Spending in a Minute!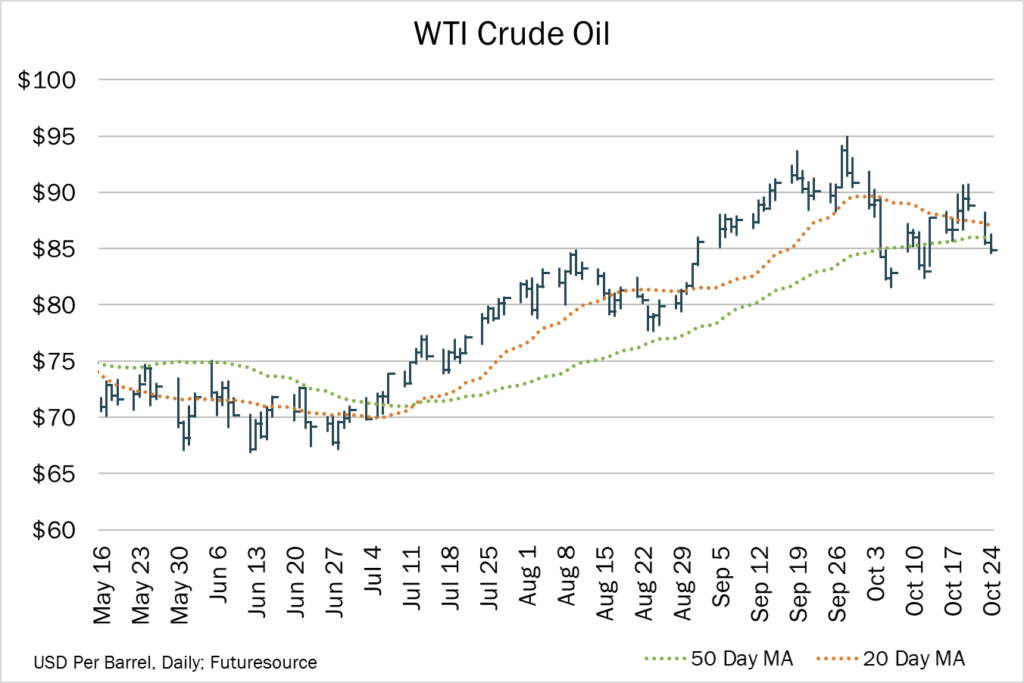 Quick Bites: Crude Oil Worries
Eyes are on crude oil markets as conflict in the Middle East threatens to further disrupt supply and pressure fuel prices.
Global markets rose to nearly $100 per barrel this summer after Saudi Arabia and Russia announced combined production cuts of 1.3 million barrels per day through the end of the year. While Israel isn't a significant oil producer, there are concerns that the conflict could spread regionally, worsening the existing supply deficit and sending prices surging anew.
But consumer fuel costs have yet to feel the pinch amid weak demand. Gas and diesel usage in China remains sluggish as the country's consumers spend less. Analysts also suggest U.S. fuel demand has already peaked and is unlikely to return to pre-pandemic levels. As a result, the average gas price in the U.S. reached $3.58 per gallon as of the week ending October 21, 30 cents lower compared to 2022 levels. And diesel prices dropped to $4.44 per gallon during the same period, down 78 cents on the year. Analysts expect the current winning streak to continue for the time being, but once the Federal Reserve stops raising interest rates and if a long-expected U.S. recession begins, the dollar could soften again.
That's good news for dairy producers as they pay less to produce milk. Lower energy bills also free up disposable income for consumers to spend elsewhere.
Today's Special
Fewer Americans can afford to skip the stovetop and after-dinner dishes as restaurant prices climb. Food-away-from-home inflation rose 6.0% year-over-year in September, outpacing food-at-home prices (+2.4%) for the sixth consecutive month.
Analysts expect the gap to cut into dining out demand over the second half of the year, even at quick-service chains. Data by the Bureau of Labor Statistics shows prices for limited-service meals (fast-food and fast-casual dining) have risen 6.4% over the past year, while prices for full-service meals (full-service dining) climbed 5.1%.
But grocery shopping and at-home meals are offering little relief. Prices for consumer-packaged goods increased 4.9% between July 2022 and the same period this year and are up by an average of 20% compared to 2019, per data by Circana. Dairy is a somewhat affordable exception, with retail natural cheese prices down roughly 3% year-over-year in September, while butter prices declined 4% and milk prices dipped 5%
How are consumers responding? Not necessarily by buying less. Retail unit sales are down versus prior-year levels, but still well above pre-pandemic levels, according to Circana. However, shoppers are opting for less expensive options, with 31% swapping for lower-cost brands. Of that number, an estimated 23% are buying value brands, while another 26% are opting for store brands.
Diners are also trading down, but not out. As of August, 78% of respondents to a Circana survey reported using a restaurant within the previous few weeks. But most are shifting when and where they eat. Analysis shows quick-service chain sales are outpacing full-service dining, while morning meals are more popular than lunch and dinner.
Something Sweet: Halloween Spending in a Minute