Read the latest issue of The Dairy Bar, a bi-weekly report from IDFA partner Ever.Ag. The Dairy Bar features spotlight data, key policy updates, and a one-minute video that covers timely topics for the dairy industry.
The Dairy Bar: Despite Inflation, Cheese Competing With Other Proteins; Holiday Spending Expected to Be Down; and Ice Cream in a Minute!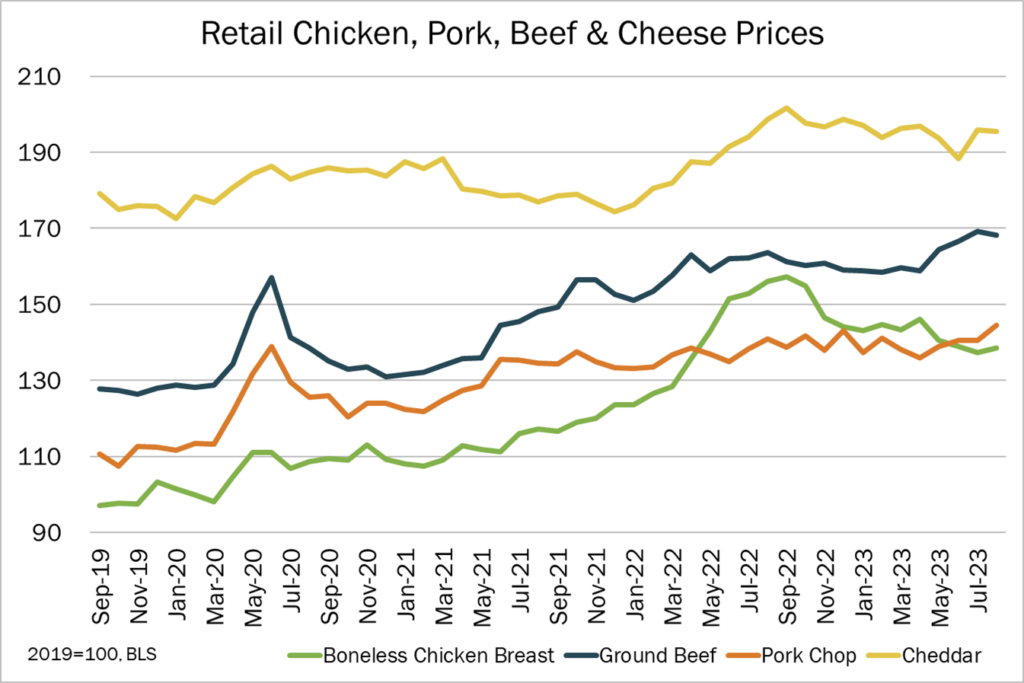 Quick Bites: Pass the Protein
Consumers are paying more for burgers at the grocery store, with retail ground beef reaching an average of $5.08 per pound in August, up 3% year-over-year and +68% over the post-pandemic inflationary stretch. In contrast, chicken breast prices at retail averaged $4.18 per pound last month, down 11% on the year and up 39% post-pandemic.
Americans are picking up more poultry as a result. This year, per capita chicken consumption is expected to reach 100.9 pounds, up 1.6% year-over-year, per data by USDA. A poll by Morning Consult also found 41% of U.S. adults said they're eating more chicken.
Still, beef is finding its way into shopping carts and onto plates. Per capita beef consumption is expected to be relatively flat year-over-year in 2023, while 16% of Americans say they plan to eat more red meat. Restaurant executives also claim diners are turning to beef dishes – from burgers to rib eyes – as a way to indulge.
What does that mean for dairy demand? Presumably, less beef means fewer cheese slices for burgers or shreds for casseroles. But retail natural cheese sales are healthy, even as inflation sends prices higher. In August, purchases climbed nearly 3% over prior-year levels and +2% on a two-year basis.
Today's Special
With the 2023 holiday season approaching, U.S. consumers say they may spend a bit less this year amid higher interest rates and the return of student loan payments. Analysts with Bain are calling for U.S. retail sales to increase 3.0% year-over-year from November to January, compared to an increase of 7.6% in 2022. Retailers are also prepared for slower spending, as Macy's announced plans to hire 3,000 fewer workers for seasonal positions than last year. Meanwhile, Target and Kroger plan to hire in line with 2022 numbers.
While sales will grow at a slower rate, analysts from Deloitte suggest a healthy labor market will keep holiday purchases relatively robust. With higher wages putting more income in consumers' pockets, experts predict total sales to reach between $1.54 trillion to $1.56 trillion from November to December, versus the previous year's $1.49 trillion for the same period. Deloitte estimates $287 billion to $284 billion of that revenue to come from e-commerce sales, up 10.3% to 12.8% year-over-year.
Technology is expected to make up a significant portion of holiday shopping, with forecasts calling for a 6.0% increase in electronic purchases compared to 2022. But consumers seem less interested in apparel and jewelry items, with sales expected to rise just 1.0% and decline 0.3%, respectively.
Meanwhile, holiday meals are expected to pick up despite higher food costs. According to Numerator, 88% of consumers plan to purchase food for Thanksgiving celebrations and 78% plan to shop for Christmas meals. In response, restaurant sales are expected to increase 5.4% year-over-year and grocery purchases will climb 3.9%, per data from Mastercard.
Something Sweet: Ice Cream in a Minute