Read the latest issue of The Dairy Bar, a bi-weekly report from IDFA partner Ever.Ag. The Dairy Bar features spotlight data, key policy updates, and a one-minute video that covers timely topics for the dairy industry.
The Dairy Bar: Restaurant Sales Up Amid Inflation; American Wages and Income on the Rise; and Back-to-School Spending in a Minute!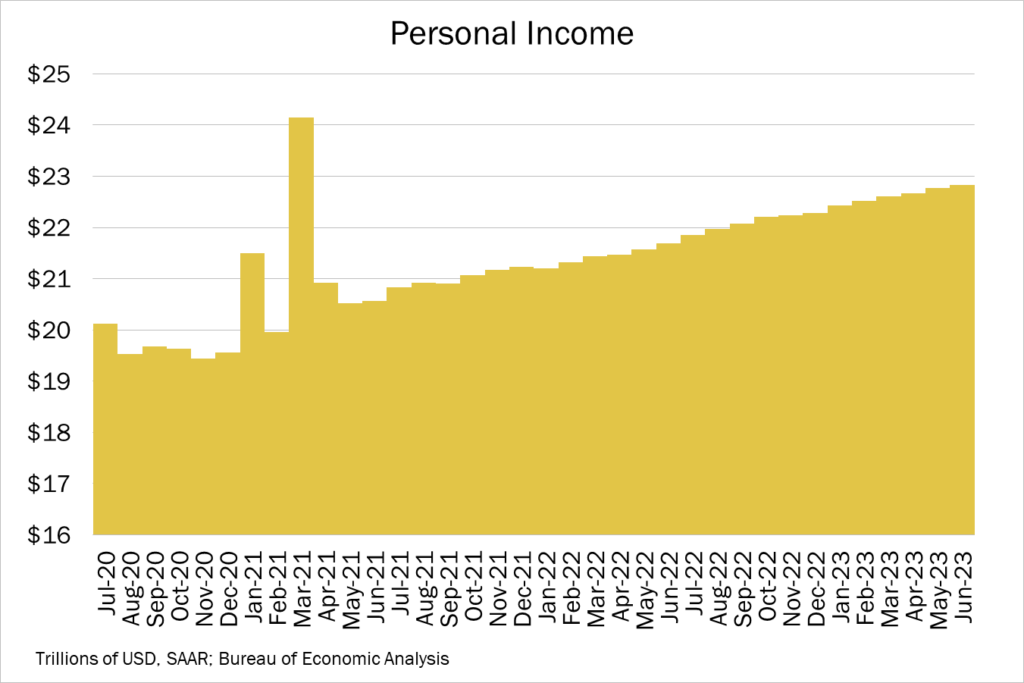 Quick Bites: Income Under Pressure
Americans' wages and incomes are growing, offering a bit of relief amid lingering inflation and compounding expenses. According to the U.S. Bureau of Labor Statistics, average hourly pay rose to $35.58 in June, up 0.4% versus May and +4.4% year-over-year, though barely keeping up with the pace of consumer price increases. For the same month, personal income increased 0.3% month-over-month and +5.3% on the year.
Some Americans are tucking away their earnings. The personal savings rate in June reached 4.3%, down on the month but above 2.7% in June 2022. Data by JP Morgan Chase and The Washington Post also shows consumers across all income quartiles – generally speaking – have bank balances that top pre-pandemic levels.
But expenditures are mounting. Inflation climbed 0.3% on the month in June and +3.0% from the previous year. At the same time, personal consumption expenditures rose to $18.38 trillion, up 0.5% on the month and +5.4% over prior-year levels.
Additional expenses are ahead. When student loan payments resume in October, 46 million Americans will owe an average of $203 per month according to data from Nerd Wallet. And with gas prices climbing, consumers can expect to pay more at the pump in the coming weeks.
Today's Special
Americans continue to dine out, creating room in their budgets for what Darden CEO Rick Cardenas recently described as an "affordable luxury." According to data from U.S. Census Bureau, sales at restaurants climbed 8.5% year-over-year in June, ahead of the food-at-home inflation rate of +7.7%.
Restaurant companies – especially quick-service chains – are benefiting. Sales at Yum! Brands, parent company of KFC, Taco Bell and Pizza Hut, increased 3% in Q2. Both Pizza Hut and Taco Bell's same-store sales also rose 4%. McDonalds' Q2 earnings, meanwhile, topped expectations, with same-store sales rising 11.7%.
Sales at fine-dining chains, meanwhile, are less strong. According to data by GuestXM, fine dining same-store traffic growth declined 2.5% year-over-year in June. Some chains are faring better, including Darden Restaurants, the parent company of Olive Garden and Longhorn Steakhouse. In its fiscal year Q4 earnings, the company reported same-store sales increased 4.0%.
Data from Open Table shows traffic at restaurants that take reservations running about 3% behind year-prior levels. While that's soft, recent performance is better than that seen earlier this year.
More Americans are also dining out – at home. Door-Dash's Q2 revenue jumped 32% year-over-year, and the company reported total profits of $2.13 billion.
Something Sweet: Back-to-School Spending in a Minute