Read the latest issue of The Dairy Bar, a bi-weekly report from IDFA partner Ever.Ag. The Dairy Bar features spotlight data, key policy updates, and a one-minute video that covers timely topics for the dairy industry.
The Dairy Bar: Dollar and Discount Stores Continue to Expand, Strong Consumer Spending and Exports Boost Economy, and China Update in a Minute!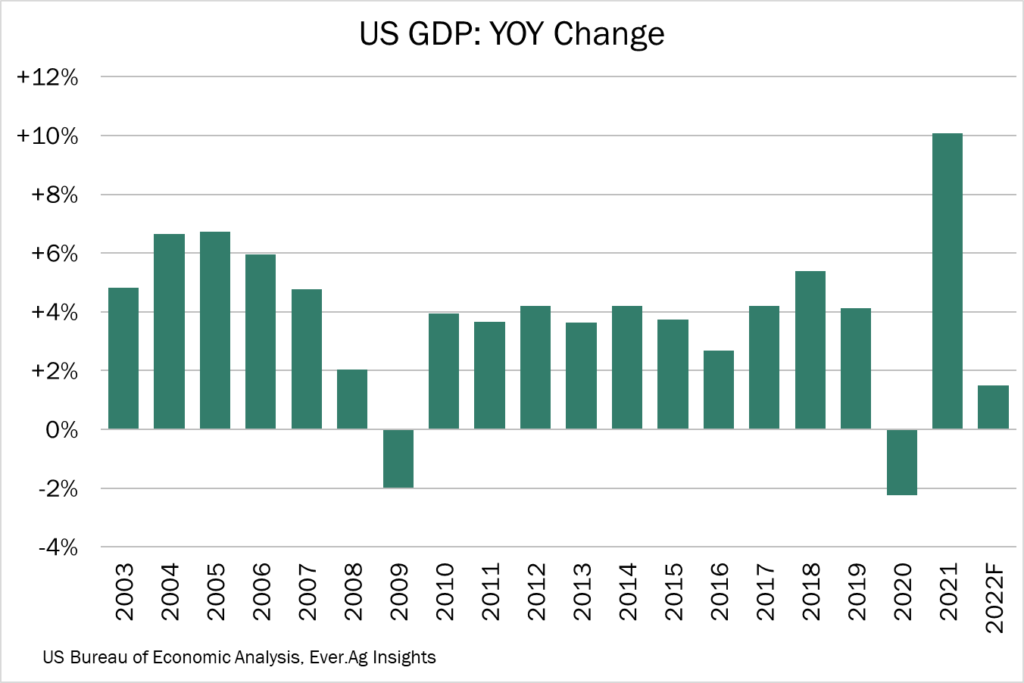 Quick Bites: U.S., World Under Economic Pressure
Robust consumer spending and healthy export activity helped the U.S. economy expand 3.2% year-over-year in the third quarter. That pace was revised up from previous estimates of +2.9% and followed two consecutive quarters of declines.
Analysts with the Federal Reserve Bank of Philadelphia expect GDP to rise roughly 1% during the fourth quarter as Americans continue to make purchases and employers expand payrolls. But many economists expect the U.S. to dip into a recession next year as consumers and businesses confront lingering inflation as well as higher interest rates. One recent example: Housing investments plunged 27.1% versus prior-year levels in Q3 due to higher mortgages and rate hikes.
Meanwhile, the global economy is expected to slow significantly. The International Monetary Fund forecast 2022 growth to ease to 3.2%, down from 6% in 2021. This year, international GDP is expected to slide again to +2.7%, the weakest expansion since 2001. Consumers around the world continue to grapple with inflation and the impacts of economic weakness in China.
Today's Special
Dollar and discount stores continue to expand their foothold – especially in rural areas. The two largest dollar-store chains in the U.S., Dollar General and Dollar Tree, expect to have opened 1,300 new locations by the end of the fiscal year ending in January. Estimates suggest Dollar General's footprint already includes 18,800 stores across the U.S., up from 5,000 in 2001, while Dollar Tree has more than 16,000 locations.
As the chains proliferate, they're becoming increasingly popular options for food spending. Surveys by CoreSight show Dollar General and Dollar Tree now compete with Walmart, Target, Amazon and Kroger for grocery dollars. Dollar General offers fresh produce in about 3,000 stores and plans to expand to another 2,000 locations in 2023.
To better compete with big-box retailers and grocers, dollar stores are opting to grow their footprints outside of urban areas. This also allows discount chains that don't offer e-commerce options to attract customers living outside of the scope of delivery and pickup services like Amazon Fresh. One published report shows that, as of 2021, 75% of Americans live within five miles of a Dollar General store.
As the Federal Reserve works to tame inflation, high prices are expected to continue driving shoppers to discount stores. CoreSight estimates sales in discount channels rose 10% year-over-year in 2022, compared to total grocery sales growth of roughly 8.2%. That trend is expected to continue into 2023 and beyond, analysts say.
Something Sweet: China Update in a Minute