Read the latest issue of The Dairy Bar, a bi-weekly report from IDFA partner Ever.Ag. The Dairy Bar features spotlight data, key policy updates, and a one-minute video that covers timely topics for the dairy industry.
The Dairy Bar: Private Label Sales Rise as Inflation Looms Large; Weakening Dollar May Support Dairy Exports; and Truck Freight in a Minute!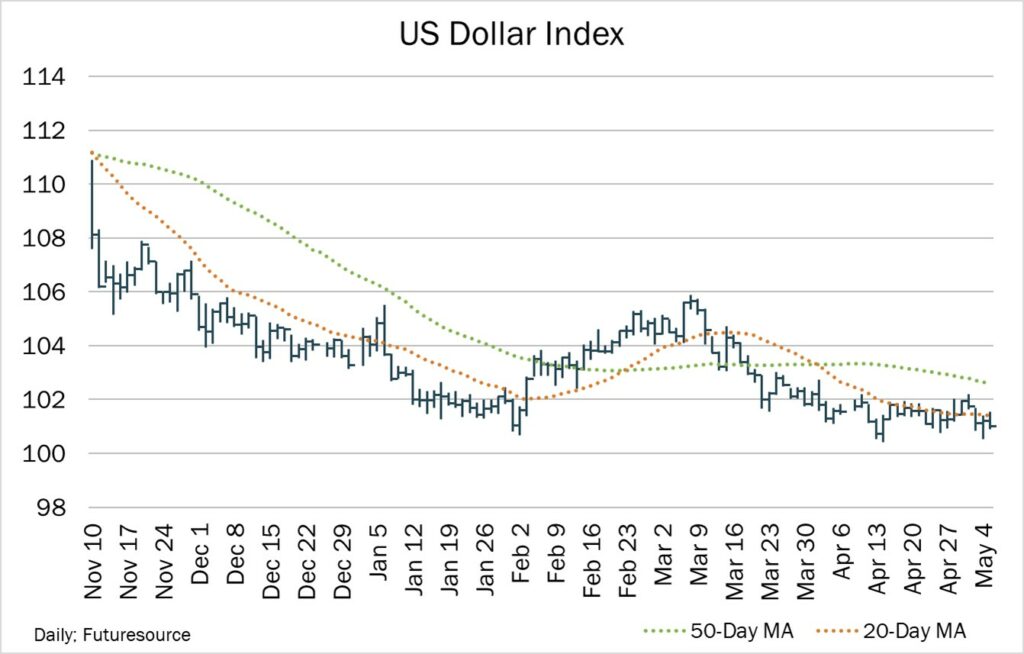 Quick Bites: Greenback Pain
After a banner 2022, the presumptive end of interest rate increases, turmoil in the banking industry and concerns about the U.S. debt ceiling are weighing on the U.S. dollar. The greenback got its weakest start to the year since 2018 and, as of early May, the U.S. Dollar Index - a measure of the dollar in comparison to a basket of six foreign currencies - was down more than 8% from last year's peak.
A weaker dollar may bode well for U.S. exports – including dairy. Outbound cheese volume for the first three months of the year rose 4.1% versus 2022, while milk powder exports rose 3.1% on the year. In March, outbound NDM and SMP volume to Mexico reached 93.5 million pounds, the highest monthly volume on record.
Historically, weak dollar situations tend to be short-lived, and analysts are already predicting the greenback will gain strength as the year progresses. But evolving economic situations in Europe and China, along with the possibility of global recession, are keeping the future strength of the U.S. dollar somewhat up in the air.
Today's Special
With inflation still looming large, data shows more consumers are switching to private label options at the grocery store. In 2022, sales of store brands increased 11.3% year-over-year to a record $228.6 billion across all U.S. retailing channels, according to the Private Label Manufacturers Association. Comparatively, sales of national brands rose 6.1% to $981.1 billion.
That trend continued through the first quarter of 2023, with store brand revenues up 10.3% year-over-year. That compares to a gain of 5.6% across national brands. Private label is also grabbing more market share. Store brands accounted for 19.1% of dollars spent and 20.8% of unit sales in Q1. At the same time last year, private label accounted for 18.5% of dollars and 20.3% of units.
The switch to store brands seems popular in dairy and cooler aisles, in particular. Store brand dollar sales in refrigerated departments increased 15.5% year-over-year during the first quarter. Deli cheese was a standout, with purchases rising 9%.
Changing brands isn't the only way consumers are battling higher food prices. In a survey by PYMNTS, 67% of shoppers said they choose their go-to retailer based on price. Of that number, 50% prefer Costco, 45% shop Walmart and 25% visit Kroger due to pricing.
Analysts expect trends toward discounted options to continue, especially as consumer sentiment remains uncertain. Data by PYMNTS found 61% of shoppers are expressing high levels of concern around the near-term economy, while 57% expect a recession to occur soon.
Something Sweet: Truck Freight in a Minute