Read the latest issue of The Dairy Bar, a bi-weekly report from IDFA partner Ever.Ag. The Dairy Bar features spotlight data, key policy updates, and a one-minute video that covers timely topics for the dairy industry.
The Dairy Bar: More Summer Travel Could Be Good for Dairy; Dairy Prices Expected To Remain High; and Cheese Market in a Minute!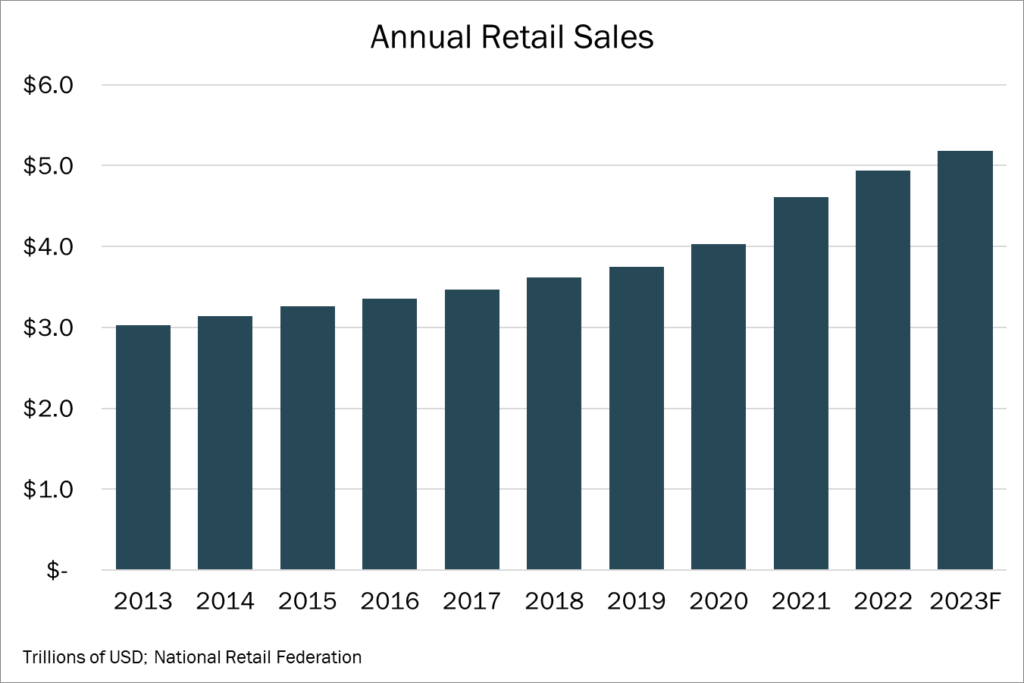 Quick Bites: Retail Dairy Outlook Uncertain
U.S. retail sales are expected to climb higher. According to estimates by the National Retail Federation, 2023 spending is set to reach roughly $5.13-$5.23 trillion, up 4-6% over prior-year levels. While that's down from a growth rate of 7% in 2022, it's above the pre-pandemic average of +3.6%.
Job market strength and associated wage growth are expected to fuel spending this year as are higher prices themselves. And while those high prices remain a watch factor, retailers are making budget-friendly strides by promoting discounts and product mix.
But outlooks aren't as favorable for dairy, as analysts suggest inflation is taking a significant toll on refrigerated aisles. According to scanner data, purchases of cheese reached $997 million in January, up 4.7% on the year, though unit sales fell below prior-year levels.
Dairy prices are expected to remain high this year, outpacing inflation in other grocery categories. Analysis by IRI suggests companies will favor promotional activity over price decreases, leading consumers to look for bargains.
Today's Special
More Americans will be packing bags and heading to airports this summer. Per analysis by Expedia, flight searches for June through August are already up 25% versus 2022, with particular interest in international travel to Europe and Asia. That could be due to cheaper ticket prices - looking at the summer travel period, average airfare costs drop by a whopping $125 between peak season and July through August.
While more vacationers take to the skies, fewer may hit the open road – at least in a brand-new RV. During the first two months of the year, RV sales dropped nearly 58% versus prior-year levels. The unemployment rate in Elkhart-Goshen, Indiana – known as theRV Capital of the World – also ticked up to 3.7% in February.
Higher fuel prices may also keep Americans off highways. Crude oil markets rose in early April after OPEC+ announced surprise production cuts. That's created some uncertainty for diesel and unleaded gas. Though retail diesel is below levels seen prior to Russia's invasion of Ukraine, unleaded gas is rising. As of the week ending April 22, gas prices reached levels last seen in mid-November.
This year's vacation activity could be good for food service activity, and, presumably, dairy consumption. In survey by Deloitte, 37% of respondents said they planned to spend more on restaurants during their next leisure trip. That's on top of already-improving restaurant activity. In March, restaurant foot traffic dipped just 6.6% versus 2019 levels, thebest performance since October, according to Placer.ai.
Something Sweet: Cheese Market in a Minute