Read the latest issue of The Dairy Bar, a bi-weekly report from IDFA partner Ever.Ag. The Dairy Bar features spotlight data, key policy updates, and a one-minute video that covers timely topics for the dairy industry.
The Dairy Bar: Inflation Shows Signs of Improvement; Easter Spending Reaches Historical High; and Grain Roundup in a Minute!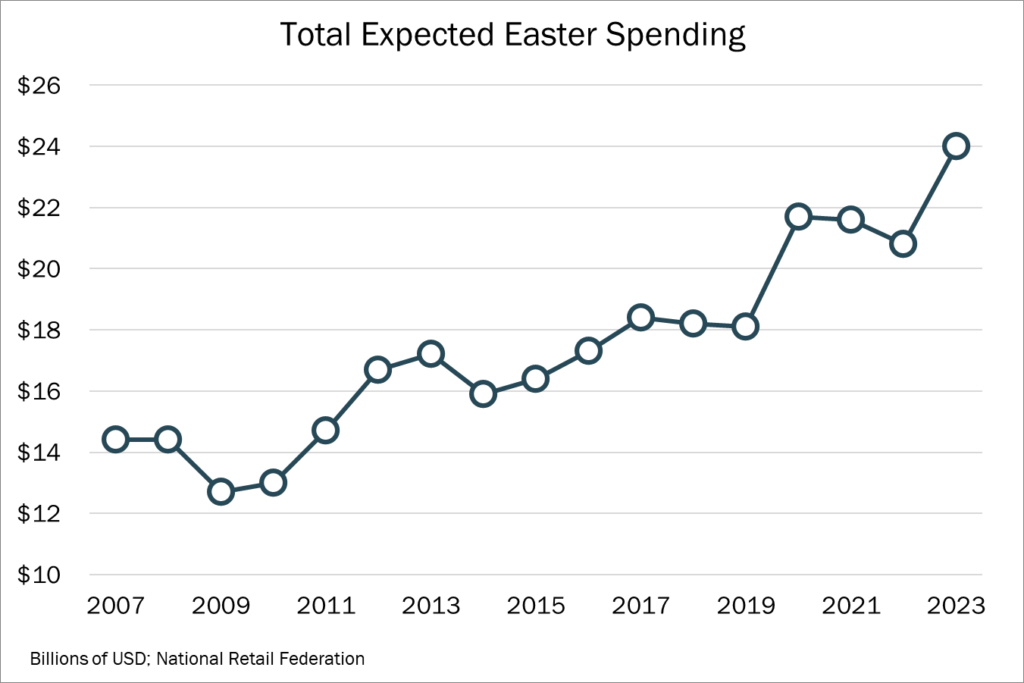 Quick Bites: A Bigger Easter Basket
Easter spending likely reached a historical high this year – and inflation may not deserve all the credit. Forecasts by the National Retail Federation pegged total dollars at $24 billion, ahead of the previous record of $21.7 billion reached in 2020. On average, NRF expected Americans to spend an average of $192, a new high.
Food remains a priority among those who celebrate. More than half of consumers – 56% – planned to cook a holiday meal, with total food spending expected to reach $7.3 billion. Dairy likely played a significant role at the table, with cheese purchases up roughly 1% and butter sales rising more than 14% year-over-year in the week leading up to the holiday.
Consumers also planned to spend significant amounts on clothing ($4.0 billion), gifts ($3.8 billion) and candy ($3.3 billion). Price remains top of mind, with 54% of consumers planning to look for bargains at discount stores, though that was relatively in line with previous years. Department, local/small and specialty stores, as well as online retailers, were also top shopping destinations.
Today's Special
After elevated prices slowed consumer spending last year, inflation – and grocery sales – are showing some signs of improvement. In March, food-at-home prices decreased 0.3% month-over-month, the first drop in more than two years. Dairyinflation also dipped 0.1% on the month.
The slowdowns may have tempted consumers to put a few more dairy products in their shopping carts. Persons familiar with scanner data suggest retail butter purchases in March increased 8% year-over-year as average promotional prices tumbled more than 13% on the month.
Cheese sales were slower, rising less than 1% versus prior-year levels as prices increased 8% on the year. Ice cream sales declined more than 3% year-over-year in March as prices more than doubled, per scanner data.
But high prices continue to beleaguer sales of more indulgent items. According to persons familiar with scanner data, retail milk and ice cream purchases each declined more than 1% year-over-year during the first three weeks of March. But sales of cheese and butter rose roughly 1% and 5%, respectively, over prior-year levels.
Meanwhile, fewer retailers are promoting dairy products. The number of stores advertising butter averaged 4,763 in March, down 6% on the month and -33% on the year. An average of 11,115 stores promoted shredded cheese in March, up 6% versus February, but down 3% on the year.
Something Sweet: Grain Roundup in a Minute