Read the latest issue of The Dairy Bar, a bi-weekly report from IDFA partner Ever.Ag. The Dairy Bar features spotlight data, key policy updates, and a one-minute video that covers timely topics for the dairy industry.
The Dairy Bar: U.S. Grain Markets Remain Strong; Inflation Hitting Grocery Prices; and Passport to South America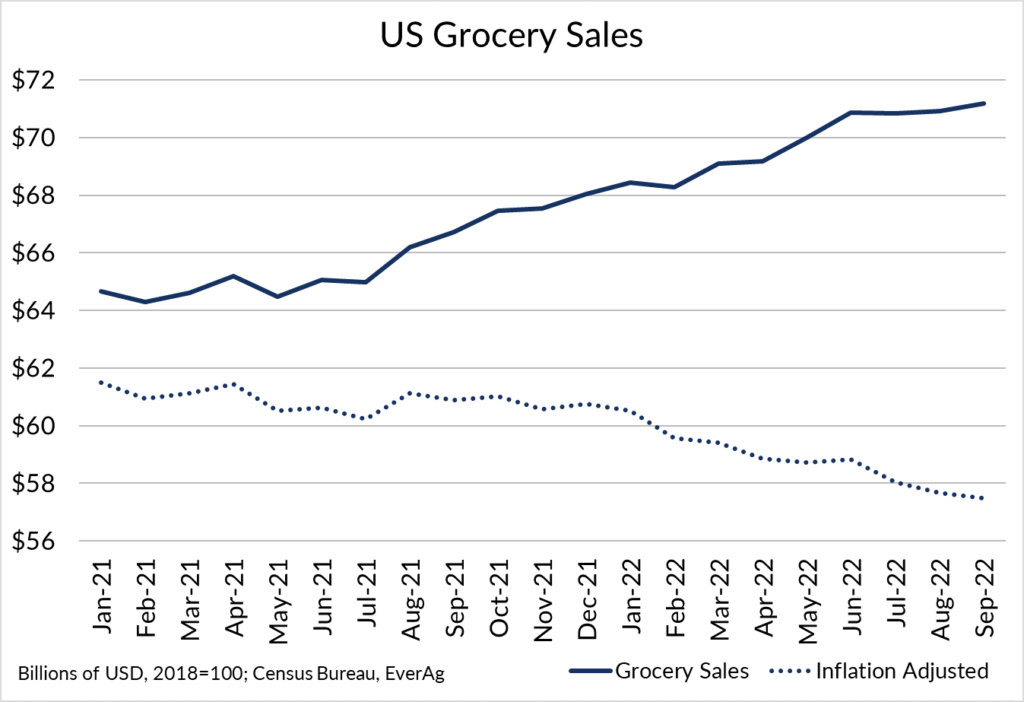 Quick Bites: Buying Less, Paying More
While data shows retail grocery sales are rising in dollar terms, a closer look shows consumers are paying more while putting less in their carts. The U.S. Census Bureau reported grocery sales in September at $71.2 billion, up 7% year-over-year. But that trailed rate of food-at-home price inflation, which rose 13% on the year during the same period.
The dairy aisle hasn't been immune to rising prices, with inflation there increasing nearly 16% over prior-year levels in September. In particular, costs for butter, margarine and similar spreads jumped more than 32% versus the previous year.
Higher prices may not be deterring consumers from food service channels. Food-away-from-home inflation increased almost 9% year-over-year last month, while food service sales increased more than 11% versus the year before. Some contacts in the restaurant industry say that they tend to do comparatively well when menu prices are climbing at a slower rate than grocery store prices.
Today's Special
U.S. grain markets remain relatively strong. In its latest World Agricultural Supply and Demand Estimates, USDA pegged corn yields at 171.9 bushels per acre and ending stocks at 1.17 billion bushels, within expectations. Soybean yields were estimated at 49.8 bushels per acre, on the lower end of estimates, while ending stocks of 200 million bushels fell within forecasts.
But moving those crops is increasingly difficult. With the Mississippi River nearing historically low levels, regulators are restricting the number of barges pulled by tows. As a result, barge freight rates are pressing higher, with October 2022 costs more than doubling prior-year rates. Though some grain is moving via rail lines, capacity there remains tight, and uncertainty lingers as rail unions have yet to agree on a labor contract.
Meanwhile, Brazil is on track for record crops. According to CONAB forecasts, new-crop soybean production could reach 152.35 million tons, up 21% on the year, while total corn production is expected to reach 126.94 million tons, up nearly 13%. On the other hand, months-long drought is expected to hurt Argentina's crops. The Buenos Aires Grains Exchange recently lowered its corn acreage estimates to 7.3 million hectares (roughly 180.39 million acres), down from its previous forecast of 7.5 million hectares (about 185.33 million acres).
Uncertainty also lingers around Ukraine's grain production amid continued conflict. The country's agriculture ministry reported grain exports during the first 17 days of October declined 2.4% year-over-year. Russian actions, backlogged exports and high fuel and seed prices caused Ukrainian farmers to plant fewer acres during the 2022-23 season, Reuters reported. Experts also highlight uncertainty in global grain markets as a negotiated deal between Russia and Ukraine to allow grain exports nears its November 19 expiration date.
Something Sweet: Passport to South America