Read the latest issue of The Dairy Bar, a bi-weekly report from IDFA partner Ever.Ag. The Dairy Bar features spotlight data, key policy updates, and a one-minute video that covers timely topics for the dairy industry.
The Dairy Bar: Brick and Mortar Stores on the Rise; Inflation and Slow Sales Hitting Global Exports; and Per Capita Dairy Consumption in a Minute!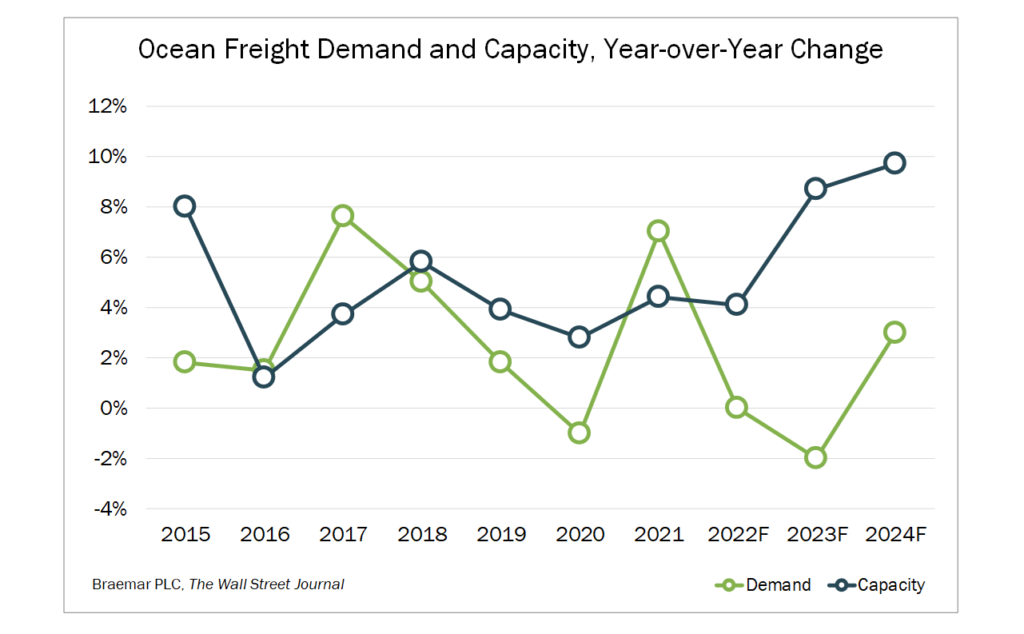 Quick Bites: Shippers Float New Capacity
Note: This article previously misstated that sailings had been cancelled from the U.S. to Asia. The sailings had been cancelled from Asia to the U.S. Additionally, the article misidentified ocean carriers as exporters. The text has been updated below to reflect the correct information.
Less cargo is leaving global ports as inflation and slower economic growth cut into consumer spending globally. During the two weeks beginning October 3, ocean carriers cancelled about 40 scheduled sailings from Asia to the U.S. West Coast as well as 21 sailings from Asia to the East Coast, according to reports by The Wall Street Journal. Typically, ocean carriers cancel just two to four sailings per week during this time of year.
In the meantime, ocean freight rates are dropping. Costs to move a 40-foot container reached $3,688.75 during the week ending October 6, according to the Drewry World Container Index, which encompasses eight major shipping routes. That was down 63.6% versus the same period last year and puts freight rates closer to pre-pandemic levels.
Looking ahead, ocean carriers placed orders for roughly 1,056 new ships over the past two years, so capacity is slated to jump 4.1% year-over-year in 2022, followed by an 8.7% increase in 2023 and a 9.7% gain in 2024. At the same time, demand is expected to decline 2% next year before increasing 3% the year after.
Today's Special
More brick-and-mortar stores opened than closed last year – a net total of 2,600 -- marking the first increase since 1995, a trend analysts expect to continue even as recession fears mount. The additions occupied roughly 23 million square feet, according to estimates from Brookfield Asset Management, pressuring already-tight retail real estate availability. In the second quarter, retail vacancies dropped to 6.1%, the lowest level in at least 15 years, per data by Cushman & Wakefield.
A lack of space is leaving business owners to consider other options. Restaurant operators, in particular, are pivoting away from newly built spaces in favor of acquiring and remodeling closed locations. Some are also looking at nontraditional spaces, such as shuttered travel plazas and hotels.
Among retailers and restaurants who do occupy new spaces, many are paying much higher rents. High prices of building materials, labor shortages and supply chain snarls are driving up construction costs. And landlords are passing them along to tenants. Typically, rents increase by roughly 10% every five years. But inflation is pushing landlords to implement larger hikes at faster rates.
The space squeeze is likely to continue as less than 150 million square feet of retail construction has come online annually since 2010. But rising inflation, recessionary fears and increased interest rates could weigh on retail sales and create vacancies.
Something Sweet: Per Capita Dairy Consumption in a Minute