Read the latest issue of The Dairy Bar, a bi-weekly report from IDFA partner Blimling and Associates, Inc., a dairy research and consulting firm based in Madison, Wisconsin. The Dairy Bar features spotlight data, key policy updates, and a one-minute video that covers timely topics for the dairy industry.
The Dairy Bar: Warehousing Demand on the Rise; Butter and Cheese Consumption Easing; and Passport to New Zealand!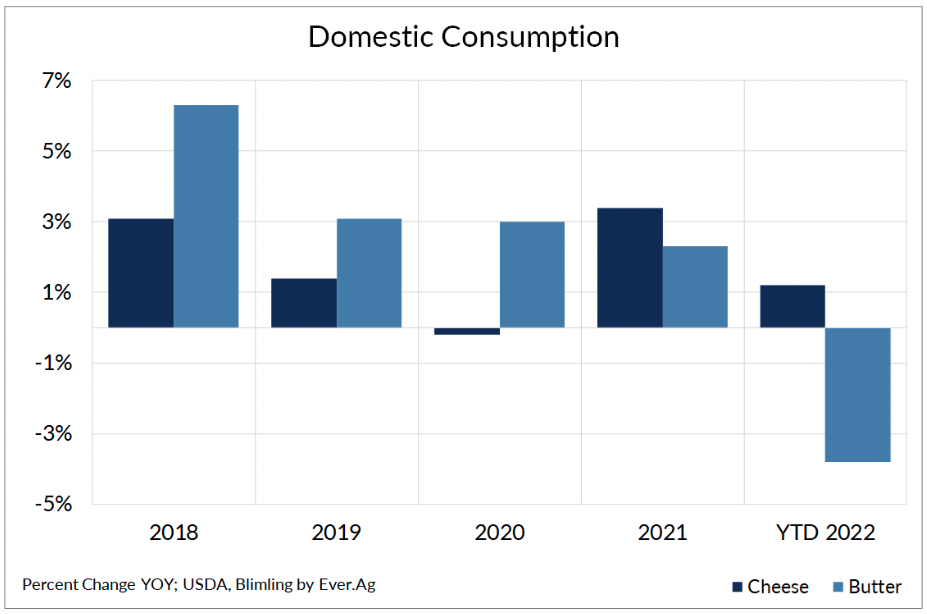 Quick Bites: Easing Dairy Demand
Butter and cheese consumption faltered in June, dropping 8.3% and 0.9%, respectively, year-over-year. That took first-half butter demand down 3.8% versus prior-year levels. Cheese usage rose 1.2% during the first half of 2022 but softened from a gain of 1.6% during the first five months of the year.
Declining retail sales are partially to blame. According to persons familiar with scanner data, butter volume fell by an average of 3% between January and June, while cheese sales declined by 1% versus the same period in 2021.
Higher prices – for dairy and other products – are likely taking a toll. Retail cheese prices rose nearly 10% year-over-year in June, while butter prices jumped roughly 25%. New data from the Bureau of Labor Statistics also suggests inflation continued to pressure food prices in July, with total food inflation up almost 11% year-over-year, helped by a 14.9% gain in the dairy aisle.
Today's Special
Warehousing demand is burgeoning. Prologis Inc., the world's largest owner of warehouse space, estimates an additional 800 million square feet is needed in the short-term, with about 300 million square feet already leased. Among its 5,800 customers, that equates to roughly 138,000 square feet each.
Currently, a record 626.6 million square feet of warehouse space is under construction, though materials and labor shortages are hampering progress. CBRE reported developers finished 78.6 million square feet in the second quarter, down 6.9% from Q1. Phoenix is a top spot for new industrial construction due to its low vacancy rate and increased leasing rates. Roughly 19.8 million square feet was under development in the region as of Q2, with 16 million square feet leased.
Swelling retail inventories are spurring a need for additional space. On the back of strong consumer spending in 2020 and 2021, retailers like Walmart, Bed Bath & Beyond and Best Buy bulked up inventories. But rising inflation is keeping consumers from filling shopping carts. Companies are looking to move excess stock for storage or liquidation, and businesses like Liquidity Services are using warehouse space to pick up extra product and sell it at a discount.
As demand for space increases, warehousing costs are rising. According to the Logistics Managers Index, warehouse prices reached a reading of 76.2 in July, above an average of 75.4. Data by Globest also indicates industrial rents rose 15.2% between fourth quarter 2021 and Q1 2022 to a record high $7.89 per square foot.
Meanwhile, companies are enhancing their warehouses with robots and other automation. Kroger announced in June the opening of two automated warehouses in Texas and Michigan, which use digital and robotic technology to fulfill grocery orders.
Something Sweet: Passport to New Zealand