Read the latest issue of The Dairy Bar, a bi-weekly report from IDFA partner Blimling and Associates, Inc., a dairy research and consulting firm based in Madison, Wisconsin. The Dairy Bar features spotlight data, key policy updates, and a one-minute video that covers timely topics for the dairy industry.
The Dairy Bar: Staffing Remains A Struggle, Ice Cream Sales Down from 2021, and U.S. Milk Production in a Minute!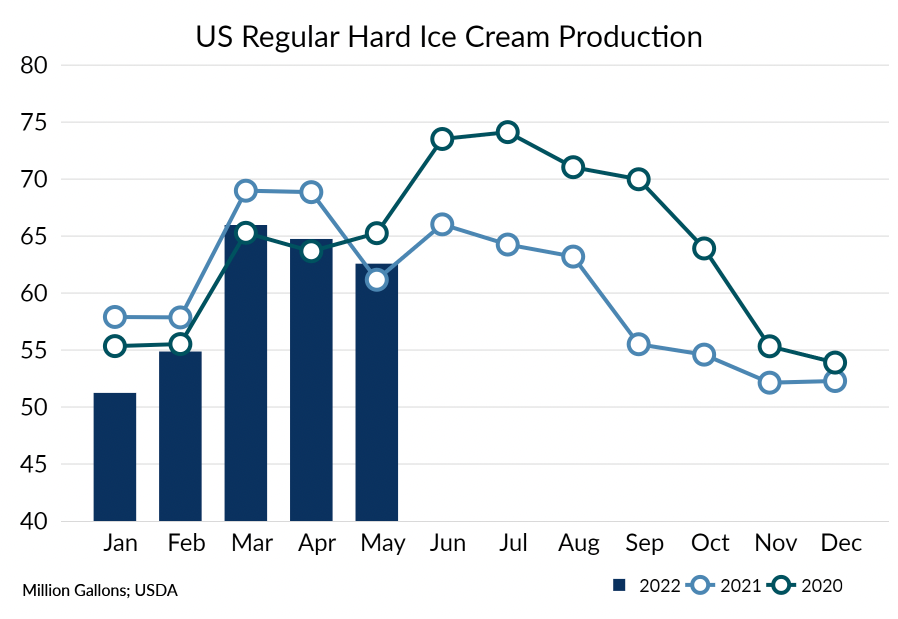 Quick Bites: Who Screams for Ice Cream?
Regular hard ice cream output reached 62.58 million gallons in May, up 2.3% year-over-year, but down 3.3% versus April. Year-to-date production of 299.41 million gallons also lagged 2021 by 4.9%.
Not coincidentally, grocery store sales of frozen treats have been sagging. Persons familiar with scanner data say that, as of mid-May, ice cream sales were down 5.5% year-to-date, with frozen novelty sales down 0.4%.
A report by Mordor Intelligence forecasts global ice cream sales will rise by nearly 2.9% between 2022 and 2027, buoyed by demand for new flavors, dairy-free options and health-conscious products.
An International Dairy Foods Association survey released in June pointed to "price of ingredients" as the most impactful factor affecting the ice cream and frozen novelty industry. View the full results here.
Today's Special
Staffing remains a struggle. The U.S. unemployment rate dipped to 3.6% in May, near a 50-year low reached in early 2020. And the gap between available workers and available jobs is large – only 5.94 million unemployed for 11.40 million job openings.
As a result, employers are still scrambling to attract and retain workers. Trucking and warehousing companies, in particular, continue to try to fill positions and keep operating at full capacity. And contacts in the dairy sector continue to report problems in keeping processing plants fully staffed.
Small businesses, unable to compete with bigger companies when it comes to wages and benefits, are finding themselves falling behind in the race. In a June survey by The Wall Street Journal, 63% of small business owners said their inability to hire workers was affecting their performance.
Payrolls do continue to expand, though, with another 390,000 jobs added in May. That brought the gap versus pre-Covid employment levels down to 841,000 jobs compared to -7.4 million a year earlier. Meanwhile, the Federal Reserve is raising interest rates in part hoping to cool the "unsustainably hot" job market.
Some larger companies are beginning to pull back or reverse hiring trends in reaction to higher interest rates and changes in consumer spending patterns. Twitter enacted a hiring freeze, while Carvana and Netflix cut existing staff. Real estate company Redfin joined a list of companies that recently began rescinding previously made job offers.
Something Sweet: U.S. Milk Production in a Minute