Read the latest issue of The Dairy Bar, a bi-weekly report from IDFA partner Blimling and Associates, Inc., a dairy research and consulting firm based in Madison, Wisconsin. The Dairy Bar features spotlight data, key policy updates, and a one-minute video that covers timely topics for the dairy industry.
The Dairy Bar: Planting of Crops Speeds Up After Historically Slow Start, Consumer Sentiment Continues to Decline, and U.S. Ports in a Minute!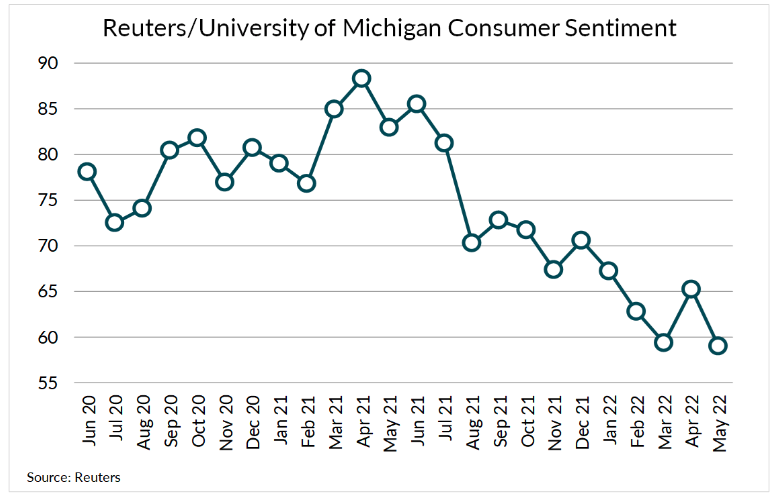 Quick Bites: An Uneasy Outlook
Consumer sentiment continues to decline as Americans fret over inflation and personal finance. The University of Michigan's Surveys of Consumers dropped 10.4% between April and May, and is hovering at the lowest level since 2011. The Conference Board's index measuring consumer confidence also decreased to a three-month low.
Analysts with the University of Michigan attributed much of the lower readings to concerns around buying conditions for homes and durable goods. Existing home prices hit a record high in April, while sales cooled. Durable goods orders, meanwhile, rose marginally in April.
Rising inflation is also to blame. As food, energy and other prices increase, consumers are dipping into savings and loading up their credit cards. Consumers expect more pressure ahead. Most see prices climbing more than 7% over the next year, according to the Conference Board.
The reports did offer some glimmers of hope. Less than a quarter of respondents expect to be worse off financially in a year, and most expect their financial situations to improve over the next five years, the University of Michigan reported.
Today's Special
Planting progress is speeding up after a historically slow start. Rain and cooler temperatures hindered sowing activity in key growing states in April and early May. But recent heat and wind – particularly in the Midwest – are encouraging farmers to put more crops in the ground.
This corn year's planting is just ahead of the five-year average pace, while soybeans are slightly behind. As of the week ending June 5, U.S. corn planting progress reached 94%, behind a rate of 98% last year but up from 92% over the past five years. Soybean progress reached 78%, compared to 89% at this point last year and an average of 79% between 2017 and 2021.
Meanwhile, ongoing conflict is preventing farmers in Ukraine from putting crops in the ground. As of May 10, about 75% of all crops had been planted. But analysts expect just 14.4 million hectares – roughly 35.6 million acres – to be sown this year. That's just 85% of the acreage planted in 2021. Ukraine is a key producer of wheat, barley, corn and sunflower oil.
Brazil's corn is also under threat from heat and drought conditions. Analysts say last week's rains were likely too late for the safrinha crop. But timely fertilizer imports likely salvaged soybean planting.
Sluggish planting activity, smaller crops and variable weather could slow the flow of grain across the globe. USDA expects global coarse grain exports to fall by 3.7% during the 2022-2023 marketing year, primarily due to smaller Ukrainian shipments. Millions of tons of wheat are currently stuck in the country as Russia's military operations hamper movement across the Black Sea. Ukraine has said it will look at alternate routes to move food staples.
Something Sweet: U.S. Ports in a Minute