Read the latest issue of The Dairy Bar, a bi-weekly report from IDFA partner Blimling and Associates, Inc., a dairy research and consulting firm based in Madison, Wisconsin. The Dairy Bar features spotlight data, key policy updates, and a one-minute video that covers timely topics for the dairy industry.
The Dairy Bar: Infant Formula Shortages Continue, Housing Market Cools, and Retail Sales in a Minute!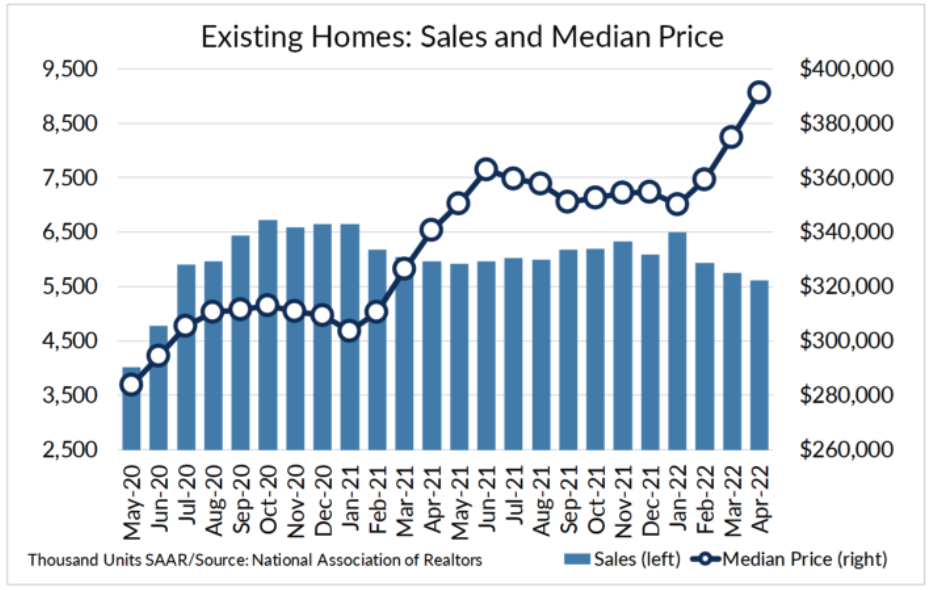 Quick Bites: Record Home Prices, Cooling Sales
Skyrocketing prices and rising interest rates are cooling the U.S. housing market. Existing home sales fell 2.4% between March and April to the slowest pace in nearly two years. And early data suggests the declines are persisting into May. During the week ending May 13, mortgage applications dropped 12% week-over-week and -15% from the previous year.
Analysts attribute slowing sales in part to higher housing costs. In April, homebuyers paid an average of $391,200, up 14.8% year-over-year to a new record. They're also facing increased mortgage bills. The average rate on a 30-year, fixed-rate mortgage increased to 5.25% as of mid-May, compared to 3% last year.
Tight inventories are also restricting sales. In April, home availability totaled 5.61 million units, the lowest rate since June 2020. But more homes have since hit the market, with active listings rising 5% year-over-year during the week ending May 14, the largest jump since 2019.
As those factors cut into sales, analysts expect prices will ease, too. Increased supply – due in part to additional building activity – will likely bring prices down further.
Today's Special
Parents across the U.S. are struggling to find infant formula amid an acute shortage. An analysis by IRI shows that in early May, roughly 20% of the nation's top-selling formula products were out of stock.
A combination of factors is to blame. Covid-related supply chain issues are hampering the flow of goods to retailers. A voluntary recall and plant closure in Sturgis, Michigan, also stymied the availability of popular formulas, causing consumers to stock up on other brands.
Government officials are rolling out a number of initiatives aimed at putting products back in consumer hands. The Food and Drug Administration last week announced it would streamline regulatory approvals on imported baby formula. It could take a little time to get everything lined up, but the White House said it would expedite the review process and work with commercial cargo airlines to bring in formula from overseas. Some shipments have already arrived.
FDA approval could also reopen the closed Michigan plant by the first week in June, according to reports.
Additionally, the Biden administration invoked the Defense Production Act, which requires suppliers to ship ingredients to formula manufacturers before other customers. The White House is also ordering federal agencies to provide logistical support to major retailers and taking steps to prevent price gouging.
At the same time, formula manufacturers are working to increase supply. Reckitt Benckiser, which holds the second-largest market share with the Enfamil brand, is boosting production by 30% and making more frequent deliveries to stores. And Nestle, the third-largest manufacturer with its Gerber brand, announced it would fly in extra product from Switzerland and the Netherlands.
With these efforts underway, an end to the shortage may be in sight. The FDA said last week that conditions would improve within days and be "back to normal" this summer.
Something Sweet: Retail Sales in a Minute