Read the latest issue of The Dairy Bar, a bi-weekly report from IDFA partner Blimling and Associates, Inc., a dairy research and consulting firm based in Madison, Wisconsin. The Dairy Bar features spotlight data, key policy updates, and a one-minute video that covers timely topics for the dairy industry.
The Dairy Bar: Restaurant Demand Returns And Increases Need For Labor; Supply Chains Still Under Pressure; and the Grain Roundup in a Minute!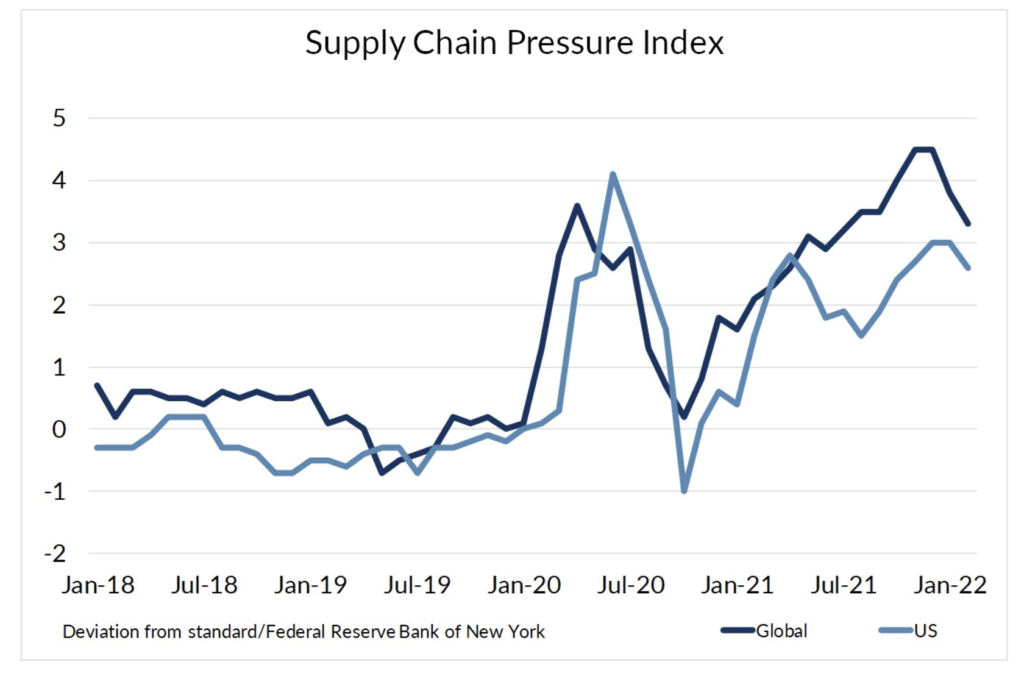 Quick Bites: Supply Chains Under Pressure
Barely a day goes by without another story about supply chain disruptions. By now, most people are familiar in one way or another with short staffing, lockdowns, skyrocketing demand, product shortages, empty spots in store shelves and soaring prices.
At first glance, the Federal Reserve Bank of New York's new Global Supply Pressure Index shows prospects for relief. The gauge, which combines global transportation costs and supply chain components from the Purchasing Managers' Index, shows conditions easing through the first couple of months of 2022. Global strain in February 2022 measured 3.3 over the standard level, down from a December 2021 high of +4.5.
But that's still well above pre-pandemic levels. Fed analysts point out that pressure is still very high and anecdotal evidence suggests problems persist. Supply chain disruptions are likely to increase as the war in Ukraine continues and China's zero-tolerance covid policies force more shutdowns.
In response to recent turmoil, governments and businesses are pivoting, with many beginning to turn away from globalization and look to rebuild more local supply chains. More work is being repatriated to domestic shores, or in some cases Mexico, to reduce dependence on ocean freight carriers and ports. After decades of building complicated international supply webs, the unraveling process will not happen overnight.
Today's Special
With COVID on the wane, restaurants are kicking back in high gear, but they're struggling, particularly when it comes to labor. In a recent CNBC survey, 17% of responding businesses in accommodation and food services pointed to labor shortages as the biggest risk to their business. How do you attract and keep workers without raising wages so high you destroy all profits? Many businesses are turning to a new answer: robots.
While robots are not cheap, they're not as expensive as they once were. Some self-ordering kiosks cost roughly the same as a year's pay for an entry-level employee. That's valuable when, in some markets, staffing costs are 20-40% higher than they were last year. Some companies offer robots for rent or subscription service, often at 40-50% of a human salary. So, across food sales and service industries, businesses are implementing robotic alternatives at almost every stage of the customer-facing process.
Some restaurants are experimenting with special self-ordering, on-site kiosks to smooth the ordering process and cut down on mistakes, particularly helpful for restaurants with complicated menus. Marco's pizza chain started using robots to take phone orders, using artificial intelligence to mimic conversation, while Checkers and Krystal are adding voice technology to drive-thrus. That also frees up available staff for food preparation.
Meanwhile, some chains are moving robots into the kitchen to speed food preparation, where simple, but labor-intensive tasks can be performed by intelligent, well-trained robots. Chipotle is testing an automated chip-making process and White Castle has "Flippy 2," the burger-flipping robot.
When it comes time to pay, consumers are finding they can simply scan a QR code with their phones rather than handing over a card or cash to an employee.
Automation is not only making headway in food service. Walgreens is testing automated hubs for filling prescriptions, with plans to open 22 more facilities across the country.
"Even before the pandemic, labor was a growing concern for many of our clients," said Phil Plourd, President of Blimling and Associates. "Covid obviously created more impetus. At the end of the day, where companies don't see a return of workers to various tasks, they are going to increasingly lean on technology for solutions."
Interested in learning more about the technological innovations that will disrupt the dairy industry in the next 5 years? Register now for the inaugural DairyTech conference May 18-19 in Austin, Texas.
Something Sweet: Grain Roundup in a Minute