Read the latest issue of The Dairy Bar, a bi-weekly report from IDFA partner Blimling and Associates, Inc., a dairy research and consulting firm based in Madison, Wisconsin. The Dairy Bar features spotlight data, key policy updates, and a one-minute video that covers timely topics for the dairy industry.
The Dairy Bar: Russia's Invasion of Ukraine Causing Market Volatility, U.S. Wages Rise to Counter Inflation and Struggles to Attract/Retain Talent, and Prices and Promotions in a Minute!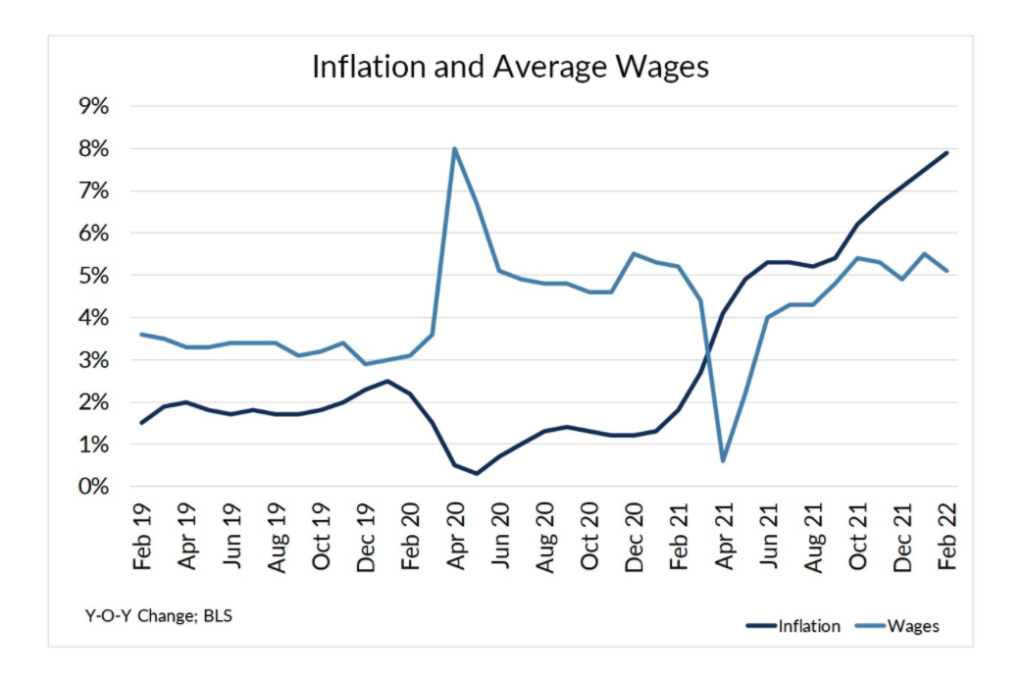 Quick Bites: Wages and Inflation Climb
U.S. employers continue to increase wages amid struggles to attract and retain workers. The Bureau of Labor Statistics reported average earnings rose to $26.94 per hour in February, up 5.1% year-over-year and +15.3% on the five-year average.
Pay raises were particularly high in the leisure and hospitality industry, one of the hardest hit by worker attrition, with wages up 11.2% on the year. The transportation/warehousing and retail industries followed, with gains of 7.7% and 7.1%, respectively.
Higher pay may not have much positive impact for the workforce as inflation continues to soar. The Consumer Price Index jumped 7.9% year-over-year in February, the steepest increase since 1982. As a result, real average hourly earnings fell 2.6% on the year, according to the Bureau of Labor Statistics.
Some companies, like Amazon and Target, announced base pay raises in an effort to keep up with inflation and draw in new employees. Other businesses may follow suit as costs continue to rise and the job market remains tight.
Today's Special
Volatility and anxiety surrounding Russia's invasion of Ukraine is stirring up market uncertainty and sending grain prices higher, a situation that has direct impact on the dairy industry.
Ukraine and Russia, often referred to as "the breadbasket of Europe," export roughly a third of the world's wheat. Ukraine also exports about 15% of global corn supplies. But those crops are now in jeopardy as reports indicate ships loaded with cargo are stranded in the Black Sea by the conflict and farmers are afraid to go in their fields. Outbound shipments ceased last week as the Ukrainian government banned exports of most foodstuffs to ensure it could feed its own people.
The prospective supply deficit is driving up grain prices, which were already at the highest level since 2011. Nearby corn futures reached as high as $7.65 per bushel, while wheat markets leapt roughly 50% in just two weeks.
Grain growers in other countries are also feeling impacts from the conflict. Government ministers in Russia, a key exporter of fertilizer, recommended reducing or cutting off exports. With prices soaring – urea costs have tripled in the last year – farmers in key grain-growing regions like South America and the U.S. will face difficult decisions about which crops to plant based on fertilizer costs and availability. Reports indicate farmers in Brazil are already running short on fertilizer, risking reduced yields from the next harvest. Meanwhile, some countries are buying up whatever grain supplies they can find to stockpile ahead of anticipated shortages.
As grain prices rise, U.S. dairy farmers are paying more for feed. Dairy Margin Coverage estimates peg feed costs for the first half of 2022 at $14.47, up from $11.98 the six months prior. But milk prices are rising even faster than feed, helping keep farm profits healthy. Margins for the first half of the year are estimated at $11.21, up from $7.40 during the second half of 2021.
Something Sweet: Prices and Promotions in a Minute