Read the latest issue of The Dairy Bar, a bi-weekly report from IDFA partner Blimling and Associates, Inc., a dairy research and consulting firm based in Madison, Wisconsin. The Dairy Bar features spotlight data, key policy updates, and a one-minute video that covers timely topics for the dairy industry.
The Dairy Bar: Inflation Continues as Housing Prices Soar, Food Delivery Sales Remained Strong in 2021, and Fluid Milk Sales in a Minute!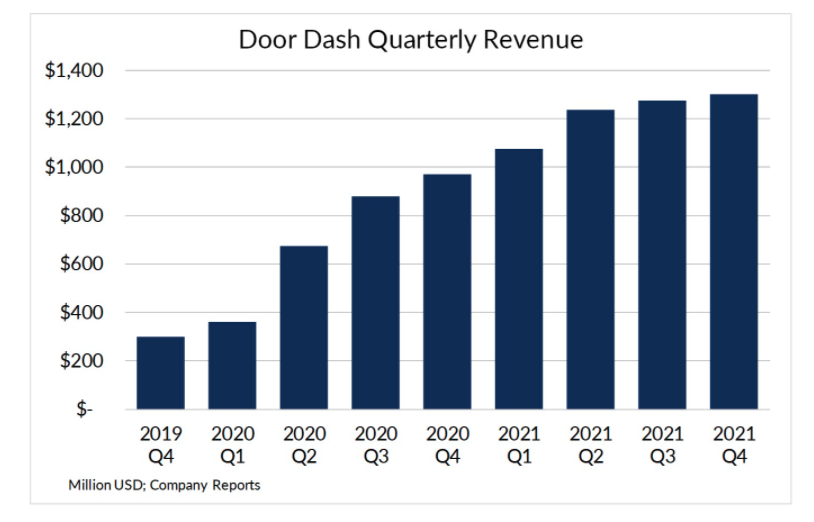 Quick Bites: Food Delivery Soars
Food delivery sales remained strong in 2021 as consumers used apps to keep a stream of burgers and pizzas flowing to their tables. DoorDash, the largest food delivery company in the U.S., reported fourth quarter revenue of $1.3 billion, up 34% from Q4 2020. Full-year revenue reached $4.9 billion, up 69% year-over-year. In addition to bringing meals to diners' doorsteps, DoorDash expanded its services – and sales – last year to include groceries, alcohol and pet food, increasing order sizes and cutting down on delivery costs.
Early data shows consumers are still deploying technology to order food in 2022. Bloomberg and Second Measure reported January delivery sales rose 7% year-over-year. DoorDash claimed the largest share of sales for the month, followed by Uber Eats and Grubhub.
Analysts expect delivery to remain a popular option, some restaurant chains are taking steps to nudge consumers away from those services because they can chip away at profits and strain workforces. Some, like Chipotle and Burger King, are adding more drive-thru lanes for easier service, while Domino's recently offered discounts for consumers who pick up their own pizza.
Today's Special
Inflation is hitting Americans close to home as housing prices continue to rise. The average cost of an existing home jumped to $350,000 in January, up 15.4% year-over-year, to the highest price for the month on record.
Supply and demand dynamics are driving increased prices. According to the National Association of Realtors, the number of homes available for sale at the end of January totaled 860,000 units, down 16.5% from the year before to the lowest number since tracking began in 1999.
New-home building is struggling to keep up. Construction began on nearly 1.6 million housing units in 2021, up 15.6% over 2020, when quarantines and material shortages slowed output. But data suggests that's not enough, as the shortage of new homes has increased to nearly 6 million units.
But higher prices aren't slowing sales. Existing home sales for January rose 6.7% month-over-month. Analysts say buyers are competing for the few homes available, with an edge going to cash buyers. Approximately 27% of home sales in January were cash transactions, up from 19% in 2021.
Experts expect more sales in February before the Federal Reserve raises interest rates in March. Analysts predict mortgage rates will continue to rise through the year. That may price out some potential buyers, though it's likely to remain a seller's market. According to Zillow data, home values in 2021 rose 19.6% over the year before, while the forecast for 2022 pegs growth at +16.4%.
Rent is more expensive, too. Labor Department data for existing rents and new listings rose 0.5% month-over-month in January, the largest increase in 20 years.
Experts point to the housing shortage for the recent upswing in rental prices. Rental vacancies in fourth quarter 2021 dropped to 5.6%, a 38-year low. Analysts say people who moved in with relatives during the pandemic are now looking for places of their own, and those unwilling to pay higher home prices are also straining the rental market.
More money spent on shelter could eventually mean less consumer discretionary spending. At what point will spiraling mortgages and rents have an impact on restaurant visits or spending on higher-end food products?
Something Sweet: Fluid Milk Sales in a Minute