Read the latest issue of The Dairy Bar, a bi-weekly report from IDFA partner Blimling and Associates, Inc., a dairy research and consulting firm based in Madison, Wisconsin. The Dairy Bar features spotlight data, key policy updates, and a one-minute video that covers timely topics for the dairy industry.
The Dairy Bar: 2021 Was a Banner Year for U.S. Dairy Exports, Consumer Sentiment Down as Inflation Rises, and the USDA Report Roundup!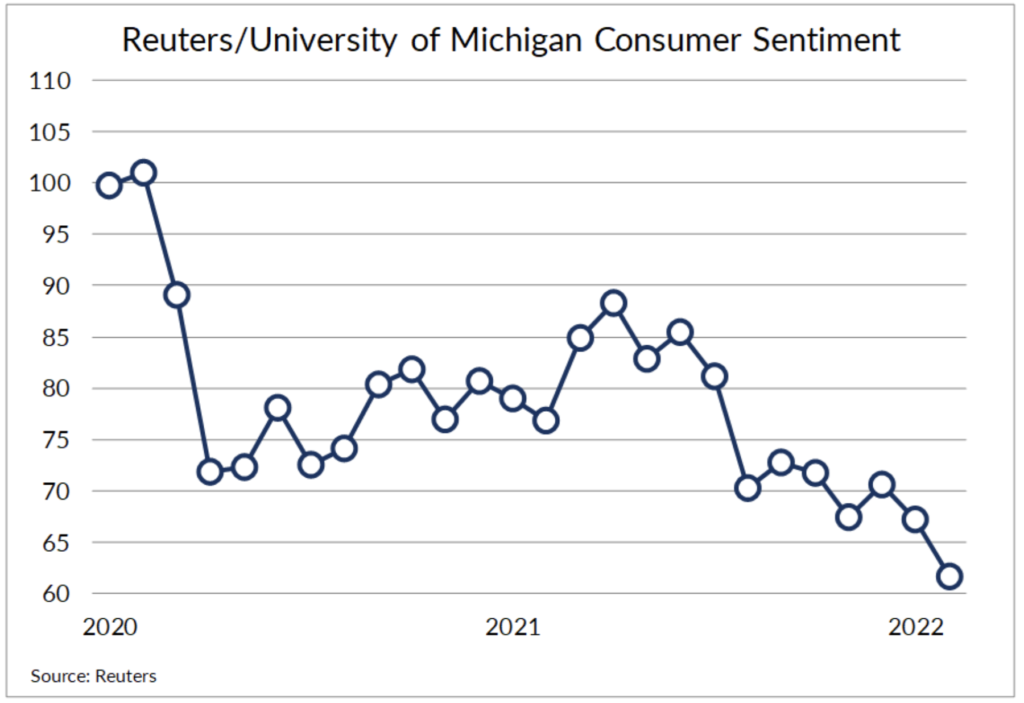 Quick Bites: Uncertainty Ahead
Consumer sentiment is plunging, reaching the lowest level in a decade, as Americans face the fastest inflation growth in 40 years. The preliminary February reading of the Reuters/University of Michigan Sentiment Survey came in at 61.7, down from 67.2 in January, 76.8 a year ago and expectations for 67.5.
A third of Americans participating in the survey said rising prices are clouding their economic outlooks. And roughly half of respondents expect their incomes to decrease in the coming year due to inflation. In January, the Consumer Price Index rose 0.6% on the month and +7.5% from the previous year.
Uncertainty – particularly around continued inflation growth – is leading some Americans to stock up. Sales growth at bulk retailers like Costco, Walmart, Sam's Club and BJ's Wholesale Club rose almost 27% on a two-year basis during the fourth quarter of 2021. Package sizes also climbed 2.1% last year when compared to 2019.
Today's Special
Despite logistics challenges, 2021 was a banner year for U.S. dairy exports. Total outbound shipments reached $7.660 billion in value, surpassing the previous record of $7.081 billion in 2014.
Cheese export volumes reached a new high. Sales totaled 68 million pounds in December, up 20% year-over-year. That brought full-year shipments to 892 million pounds, up 14% versus 2020. Top customers included Mexico, South Korea and Japan.
Even with a weak showing in December, U.S. NDM/SMP shipments climbed to a new annual record, as well. December sales eased to 127 million pounds, down 4% on the year. But full-year exports jumped to 2 billion pounds, a 10% gain versus 2020, on strong shipments to Mexico, China and Southeast Asia.
Robust demand – particularly out of Canada and the Middle East – helped push last year's butter exports to the levels last seen in 2014. Outbound shipments reached 8 million pounds in December, up 20% on the year, bringing year-to-date sales to 98 million pounds, a 110% jump over 2020.
And 2021 exports of dry whey reached seven-year highs. Though December sales fell to 32 million pounds, down 16% versus the year prior, 12-month sales increased to 497 million pounds, a 5% lift year-over-year. China remains the top global consumer of U.S. whey, followed by Southeast Asia.
Though freight and port challenges persist, export opportunities remain for U.S. product, particularly as sluggish global milk production cuts into dairy supplies.
For more information on U.S. trade dynamics or policy, please contact Becky Rasdall, Vice President, Trade Policy and International Affairs at brasdall@idfa.org.
Something Sweet: USDA Report Roundup