Read the latest issue of The Dairy Bar, a bi-weekly report from IDFA partner Blimling and Associates, Inc., a dairy research and consulting firm based in Madison, Wisconsin. The Dairy Bar features spotlight data, key policy updates, and a one-minute video that covers timely topics for the dairy industry.
The Dairy Bar: Fast Food Prices Rise as Demand Increases, Supply Chain and Labor Issues Affect Grocery Inventories, and Fuel Prices in a Minute!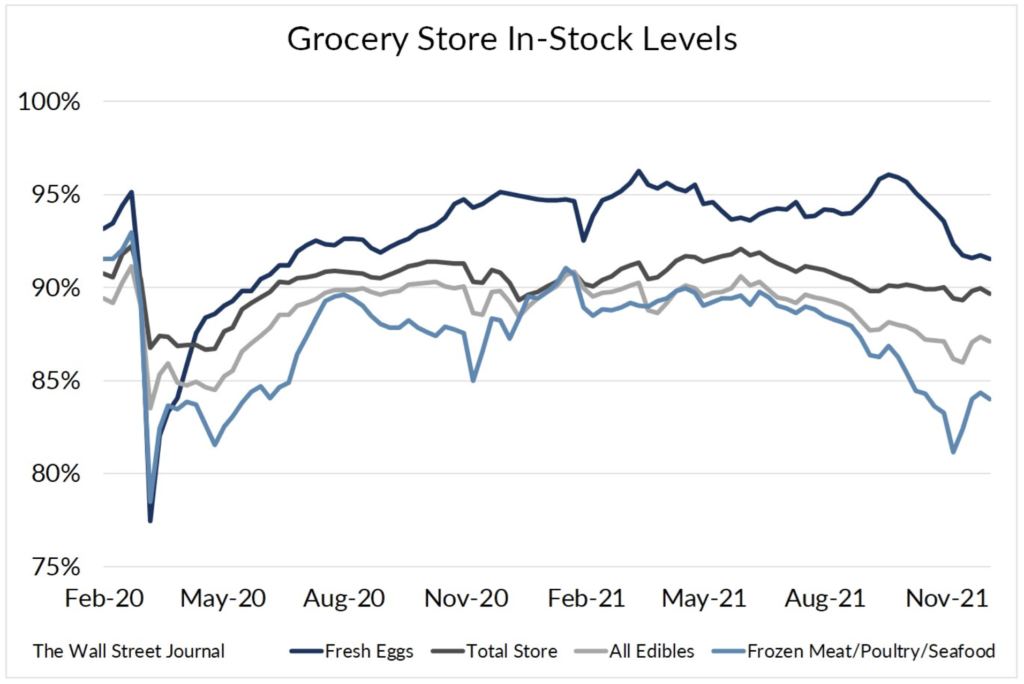 Quick Bites: Fewer Options
Supply chain, labor and COVID-related issues are leaving consumers with fewer options at the grocery store. Prior to the pandemic, store stock levels ran at over 90%, but during the week ending January 16, grocery inventory levels fell to 86%.
What's causing shelf gaps? The Omicron variant is spurring more callouts among manufacturers and retailers. According to a survey by the Consumer Brands Association, 75% of consumer-packaged goods companies reported increases in absenteeism in recent weeks. And stores themselves are seeing large numbers of workers calling out sick, leaving product sitting in back rooms with no one to stock shelves.
Staffing is also an issue. According to the Bureau of Labor Statistics, the retail quit rate for November was 4.4%. The National Grocers Association also reported that many of its members are operating with just 50% of their normal workforce.
Still, demand for both butter and cheese remains healthy. Scanner data shows butter sales for the first four weeks of January up 12% versus 2020 levels, while natural cheese sales rose 10% on a two-year basis.
Today's Special
Tired of at-home meals during the pandemic, more Americans are looking for fast, convenient, and cheap options for dinner. Fast food restaurants are benefitting. But the downside of pandemic economics is hitting the quick-service industry – and consumers' wallets.
The Bureau of Labor Statistics reported food-away-from-home costs rose 6.0% year-over-year in December, the largest one-year gain since January 1982. The limited-service sub-category alone jumped 8.0% versus prior-year levels, the biggest leap in more than two decades.
Higher ingredient and packaging prices are squeezing restaurant chains – and the results are evident on menu boards. Companies like Little Caesars and Popeyes are raising prices on traditional value meals, while Burger King and Denny's announced plans to cut back on discounted items. Domino's Pizza reduced portion sizes on high-inflation items like chicken wings.
Quick-service concepts are also feeling the strain of labor issues. In December, 6.9% of foodservice workers quit their jobs, the fastest rate of any industry. Employees are also calling in sick at a higher rate, with around 2.0% of the total foodservice workforce out sick at any given time, according to economists' estimates. As a result, diners are experiencing increased wait times and decreased operating hours. McDonald's reported its U.S. locations over the last month were open 10% fewer hours versus pre-pandemic due to short staffing.
Something Sweet: Fuel Prices