Read the latest issue of The Dairy Bar, a bi-weekly report from IDFA partner Blimling and Associates, Inc., a dairy research and consulting firm based in Madison, Wisconsin. The Dairy Bar features spotlight data, key policy updates, and a one-minute video that covers timely topics for the dairy industry.
The Dairy Bar: Dairy Sales Projected to Stay Strong in 2022, Holiday Air Travel on the Rise, and Phil Plourd's Countdown to 2022!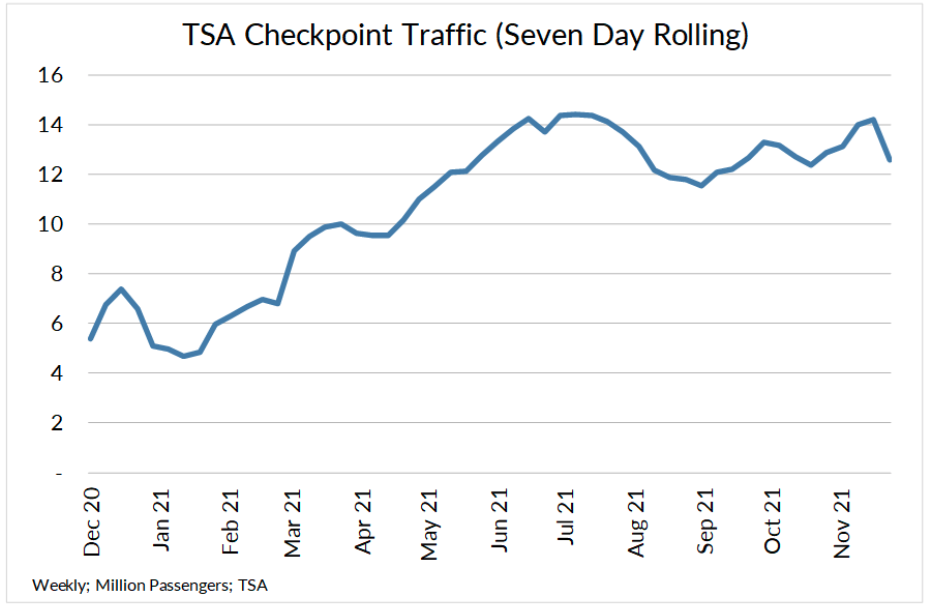 Quick Bites: Home for the Holidays? 
Whether it's quarantine fatigue or the security of vaccinations, Americans were back in the skies in a big way for the Thanksgiving holiday. According to numbers provided by the TSA, more than 16 million people passed through airports during Thanksgiving week, up over 100% from the same period in 2020. That wasn't quite back to 2019 levels, but within 10%.
Even post-Thanksgiving, figures have remained significantly higher than last year. During the week ending December 10, the TSA logged nearly 13 million travelers, up 165% year-over-year, but down 16% on a two-year basis.
A study by The Vacationer found 122 million Americans plan to travel for Christmas, Hannukah and Kwanzaa, though the new Omicron variant could disrupt those plans, especially as the U.S. and other countries impose new travel restrictions. Forbes reported that sales of travel insurance between November 26 and 30 jumped 53% compared to the previous week.
Travel is generally good for dairy demand, especially as Americans explore new restaurants. Data by placer.ai shows restaurant foot traffic increased 3% over 2019 levels during the week ending December 5. But retail could get a boost if consumers choose to celebrate at home.
Today's Special
Americans still have healthy appetites for dairy products. Using stocks, production and trade data, estimates show U.S. cheese consumption totaled 10.9 billion pounds year-to-date through October, up 2.7% versus the same period in 2020. That's an extra 281 million pounds, or enough cheese to top nearly 450 million large pizzas.
More recent reports say the strength persisted into November. During the week of Thanksgiving, retail natural cheese sales increased nearly 5% year-over-year and almost +10% on a two-year basis. And for the month of October, purchases were relatively even with prior-year levels and rose roughly 10% versus 2019. Restaurant business is also robust, particularly for processed cheese into quick-service outlets.
Butter demand is growing at a slower rate. During the first 10 months of the year, domestic consumption totaled 1.7 billion pounds, up just 1.3% over 2020. Still, that's an additional 23 million pounds, or enough to bake an extra 548 million chocolate chip cookies.
Retail butter sales are showing signs of softness, as well. Purchases during Thanksgiving week were flat with 2020 and declined 2% on a two-year basis. Sales for the full month of November fell roughly 5% year-over-year and were steady versus 2019.
Analysts expect dairy sales to remain strong in 2022 as retail business remains healthy and restaurant activity continues to pick up steam. October retail sales rose 1.7% on the month and +16.0% year-over-year as consumers spent 29.2% more in restaurants and 8.3% more on groceries than they did in 2020. But record inflation and Omicron-induced uncertainty are key watch factors going forward.
Something Sweet: Phil Plourd's Countdown to 2022