Read the latest issue of The Dairy Bar, a bi-weekly report from IDFA partner Blimling and Associates, Inc., a dairy research and consulting firm based in Madison, Wisconsin. The Dairy Bar features spotlight data, key policy updates, and a one-minute video that covers timely topics for the dairy industry.
The Dairy Bar: Shipping Demand High; Hiring and Wages Update; and U.S. Trade in a Minute!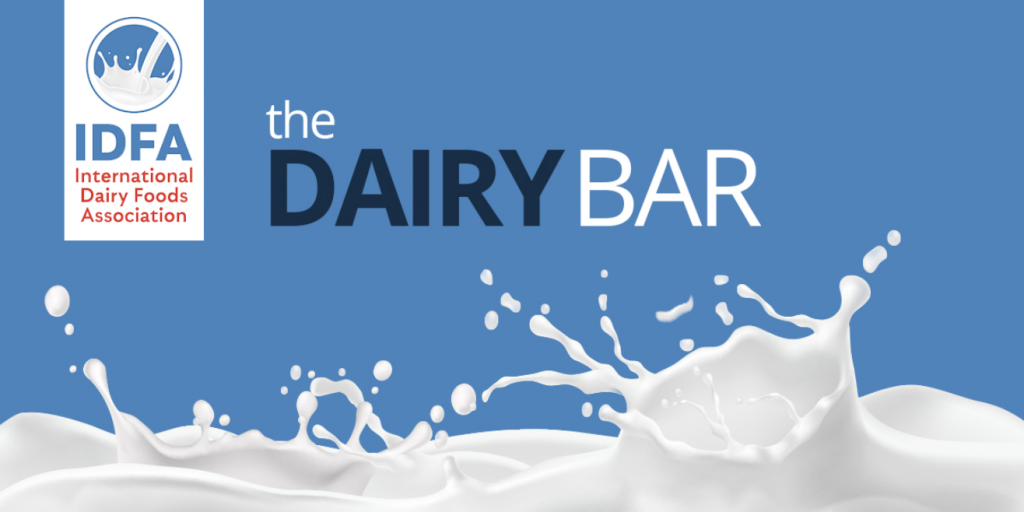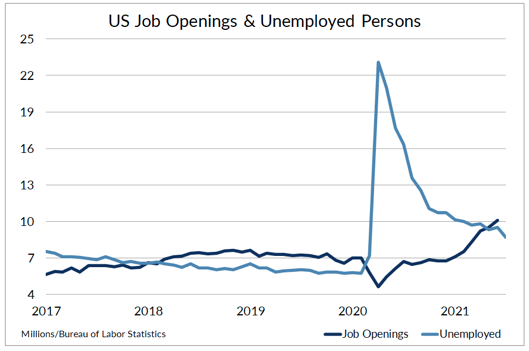 Quick Bites: Back to Work
Economic indicators suggest the U.S. is making strides on the road back to normal. But some analysts say rising cases of the Delta variant could present obstacles.
Hiring activity picked up steam in July as payrolls increased by 943,000 positions, the fastest pace in nearly a year. The leisure and hospitality industry led the way, adding 380,000 jobs, of which 253,000 came from restaurants and bars. That helped take the unemployment rate down to 5.4%, below consensus calls for 5.7%, but ahead of pre-pandemic levels of 3.5%.
Still, employers have plenty of positions available. Job openings rose to a record 10.1 million in June, up from 9.5 million the month prior. That figure surpassed the number of unemployed persons, which totaled 9.5 million for the month. Analysts say that could be a signal that issues keeping Americans out of the workforce – such as higher unemployment benefits and concerns around childcare – could be easing.
Wages are also on the upswing, rising 0.4% month-over-month in June and +4.0% over prior-year levels. That boosted Americans' personal income by 0.1% on the month. Data suggest consumers are to starting to spend more of that money, with personal expenditures rising 1.0% between May and June, while the savings rate declined 9.4%.
New surges of COVID-19 cases could, however, dampen economic recovery. Government leaders across the country are reinstituting mask mandates and other restrictions, while some businesses are delaying return-to-office plans.
Today's Special
Labor and commodity shortages continue to limit the movement of goods across the country amid persistently strong demand. In July, the Cass Freight Index, which measures the number of shipments made by rail and truck across North America, rose 15.6% year-over-year but declined 3.1% from the month prior.
Meanwhile, a lack of heavy trucks and trailers is restricting capacity. Between January and June, commercial truck sales reached 231,813 units, the third-highest total for the first six months of the year. But shortages of much-needed commodities and components, ranging from steel to semiconductor chips, are curbing the number of trucks that roll off the factory floor.
An acute driver shortage continues to add pressure. Data from the Bureau of Labor Statistics shows that as of July, the truck transportation industry is roughly 33,000 jobs shy of pre-pandemic levels. Carriers are raising wages to boost recruitment, and DAT reports those efforts are starting to pay off. However, new cases of the COVID-19 Delta variant could keep some workers from returning to the industry.
Robust demand, along with tight capacity, is pushing trucking rates to record highs. Month-to-date, spot reefer rates are at $3.18 per mile, up 30% or +74 cents over prior-year levels, according to DAT Freight & Analytics. Spot dry van rates hit $2.79 per mile, a 26% or +57-cent gain year-over-year.
Rail networks are also stretched thin, especially as shippers look to move imported products from U.S. ports. During the month of July, carloadings totaled 1.14 million, up 38% year-over-year. But analysts say activity will be inhibited in the third and fourth quarters as tariffs and commodity shortages limit the production of new chassis.
The infrastructure bill recently passed by the Senate seeks to address some of these problems. The proposal includes authorization for an apprenticeship program aimed at attracting truck drivers under the age of 21. It also establishes a board aimed at increasing the number of women in the trucking industry. Additionally, the measure earmarks billions of dollars for repairing and extending current highways and railways. However, it could be some time before the bill faces a vote in the House.
For additional information on IDFA's legislative priorities, please contact Donald Grady, director, legislative affairs, at dgrady@idfa.org.
Something Sweet: U.S. Trade Minute