Read the latest issue of The Dairy Bar, a bi-weekly report from IDFA partner Blimling and Associates, Inc., a dairy research and consulting firm based in Madison, Wisconsin. The Dairy Bar features spotlight data, key policy updates, and a one-minute video that covers timely topics for the dairy industry.
The Dairy Bar: National Cow Herd Rises to 9.51 Million Head; Cheese and Butter Stocks Rising; High Grain Prices Raising Concern; and Freight in a Minute!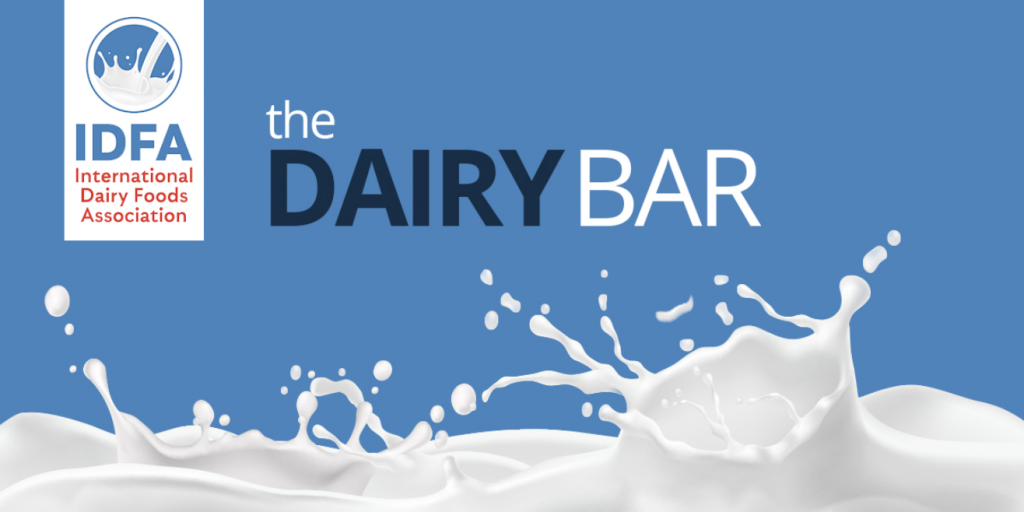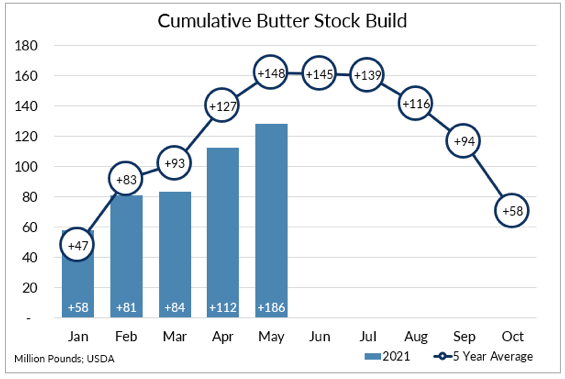 Quick Bites: Cheese and Butter Stocks Rising
Coolers across the U.S. are filling up with butter and cheese. According to USDA, total cheese stocks reached 1.465 billion pounds in May, rising 17 million pounds from April and topping the five-year average gain of 10 million pounds. That took inventories up 0.7% or 11 million pounds from May 2020 levels.
Today it appears that there's ample supply around with lots of milk finding its way to cheese plants and plenty of product finding its way to the CME.
Butter stocks, meanwhile, tripped over the 400-million-pound mark for the first time since 1993. May butter stocks increased to 402 million pounds, climbing 26 million pounds or 7% year-over-year.
Even with the sizable year-to-year gain, the cumulative butter stock build continues to track behind the typical pace. In the first five months of the year, stocks grew by 128 million pounds, 34 million pounds shy of the five-year average and the lightest build going back to 2014.
What can we expect for butter inventories going forward? May typically signals the end of the build season with limited stock movement over the June and July time period. With strong cream multiples and still solid demand, further stock expansion seems unlikely.
Today's Special
More cows make more milk. The national herd rose to 9.51 million head in May, a gain of 5,000 month-over-month. That comes on top of a +10,000 head adjustment to April's number, taking the U.S. herd up 145,000 cows versus the year prior, the largest increase since 2008.
Supported by expanding cow numbers and weak year-over-year comparison, U.S. milk production jumped 4.6% from May 2020, taking monthly production up to 19.85 billion pounds. That was the largest year-over-year increase since February 2012.
Most major producing regions saw increases. Output in the Southwest led the way, rising 7.3% year-over-year. Production in the Midwest and Mideast also outperformed expectations, increasing 6.1% and 6.0%, respectively, over prior-year levels. And output in dairy giant California increased 5.0% versus May 2020. Between the four regions, that's an extra 23 million pounds of milk produced per day.
With plenty of supply available, spot milk loads in the Midwest continue to sell at significant discounts. During the first three weeks of June, USDA reported prices at an average of $5.33 per hundredweight under class. That compares to a midpoint of +$1.58 during the same period last year, and an average of -$1.18 over the past five years.
High grain prices are raising concerns around feed costs and impacts on milk production. Recent Dairy Margin Coverage program estimates based on futures prices peg 2021 margins around $7.30 per hundredweight, down 24% from a year ago. While those factors force producers to tighten their belts, plenty of cow power suggests strong milk flows will persist in the months ahead.
June is Dairy Month. Celebrate with a new episode of The Dairy Download podcast and get the farm-level point-of-view on U.S. milk production.
Something Sweet: Freight in a Minute