Read the latest issue of The Dairy Bar, a bi-weekly report from IDFA partner Blimling and Associates, Inc., a dairy research and consulting firm based in Madison, Wisconsin. The Dairy Bar features spotlight data, key policy updates, and a one-minute video that covers timely topics for the dairy industry.
November 19, 2020: The Dairy Bar: A Special on Foodservice; Dairy Demand Not Changed Drastically Year-Over-Year; USDA Production Figures in a Minute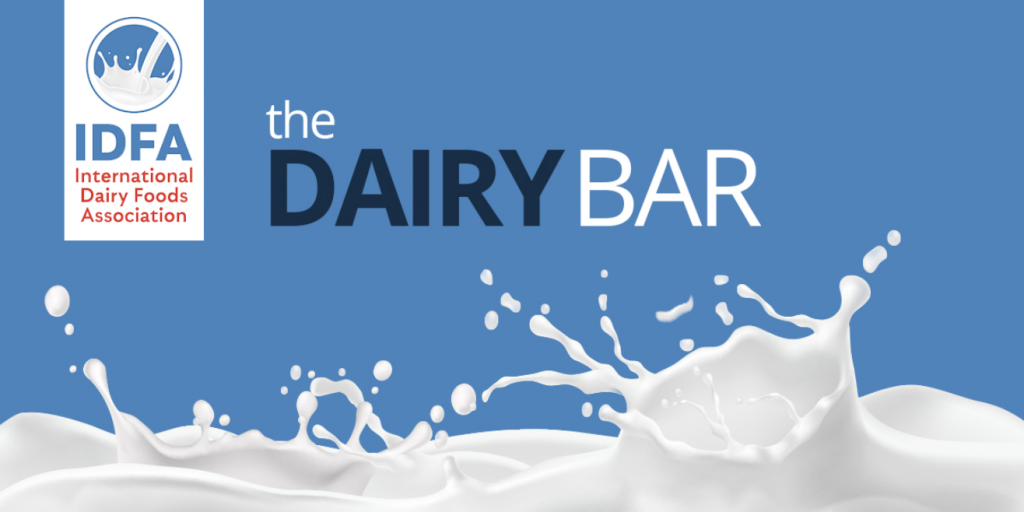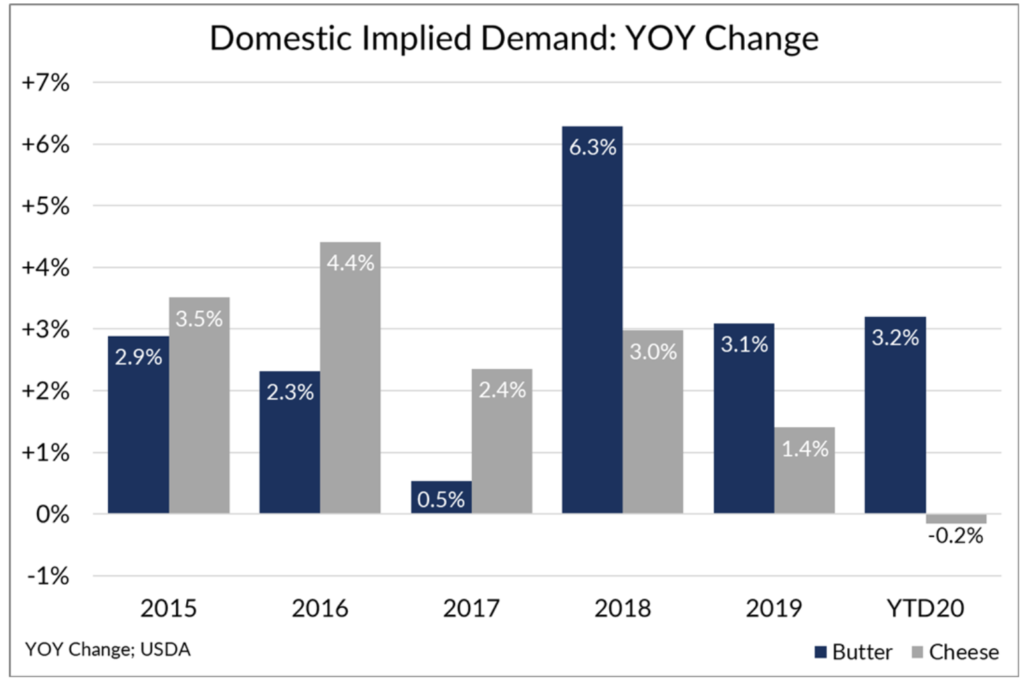 Quick Bites: Domestic Demand
Believe it or not, for all the price volatility, all the record ups and record downs, overall domestic cheese demand has not changed much from year-prior levels.
Year-to-date through September, implied domestic cheese consumption was running 0.2% behind prior year levels. That's the equivalent of more than nine truckloads of lost cheese demand per week versus 2019.
Despite strong retail sales and a lot of USDA buying, losses in food service continue to take a big bite out of overall cheese use. Before the pandemic, sales into food service accounted for almost half of domestic cheese use, and any slip in the industry's recovery over the next few months could weigh on total demand.
Butter demand is faring better, with implied consumption year-to-date through September running 3.2% ahead of 2019 levels. That's an additional 30 truckloads of butter use per week. A near 30% increase in retail sales year-to-date – according to scanner data – has visibly helped to offset declines in food service and institutional demand.
Weak wholesale butter prices heading into the holiday season are encouraging retailers to run more aggressive promotions. In early November, USDA reported 38% more stores running ads on butter at a 6% price discount versus last year. That will keep butter demand resilient into year-end.
Today's Special
Across the country, restaurants are facing yet another blow with new limits on how late they can stay open or whether they can open their doors to diners at all. What could rising COVID-19 cases and new restrictions mean for the U.S. food service industry?
Since April, restaurants have made tremendous strides to build back revenue. The latest Retail Sales data from the Census Bureau shows Food and Drinking Place sales down just 14% year-over-year in October – steady with September yet up from -53% at the April lows. Reports suggest that quick-service restaurants (QSRs) are helping to spearhead the rebound, with data from Capital One pointing to a 5% bump in sales through October. Meanwhile, casual and fine dining continue to lag.
Why the difference between the segments? It comes down to how people access food. This has clearly been a big year for streaming services and TV trays, and restaurants that have been able to capitalize on off-premises sales – primarily QSRs – are winning stomach share. According to a study from the NPD Group, third quarter digital restaurant orders – that's through mobile apps, texts, or a web browser – saw a 138% increase year-over-year. Orders from takeout, delivery and drive thru, meanwhile, jumped by 22% from Q3 2019. On-premises business, a cornerstone of casual and fine dining restaurants, dropped 62% over the same period.
The industry is definitely in better position to weather another storm, with operators making investments in enhancing their off-premises capabilities. According to a study from Datassential, more than 70% of restaurants now offer takeout, while nearly 35% have the ability to deliver. These investments and changes in restaurant operations will undoubtedly help to offset in-restaurant dining losses.
If you're interested in learning more about the changes in the restaurant industry during 2020 and the potential impact on dairy going forward, download a free copy of the Blimling Breakdown.
Something Sweet: USDA Minute