Read the latest issue of The Dairy Bar, a bi-weekly report from IDFA partner Blimling and Associates, Inc., a dairy research and consulting firm based in Madison, Wisconsin. The Dairy Bar features spotlight data, key policy updates, and a one-minute video that covers timely topics for the dairy industry.
October 21, 2020: The Dairy Bar: Holiday Promotions Heating Up, Milk Production Jumps 2.3% from 2019, and September Retail Sales Blow Expectations Out of the Water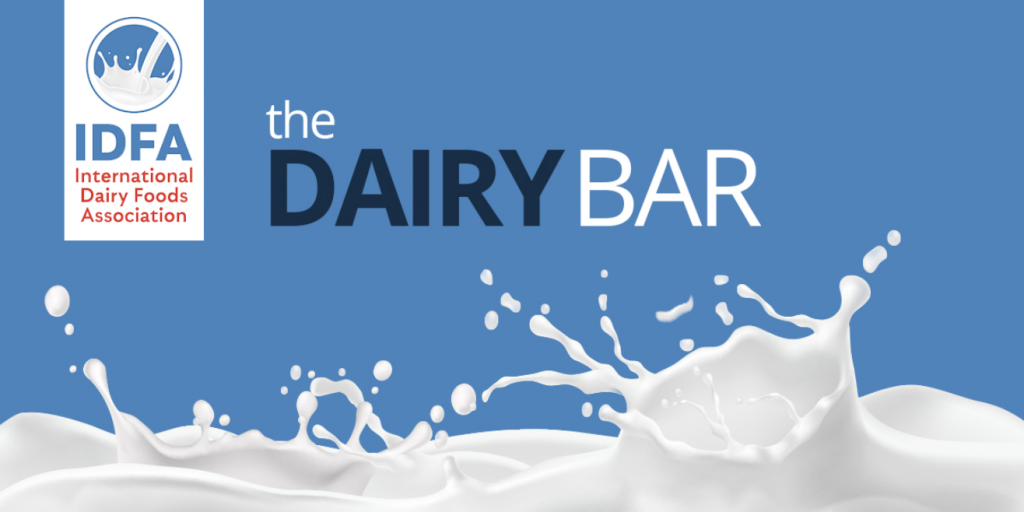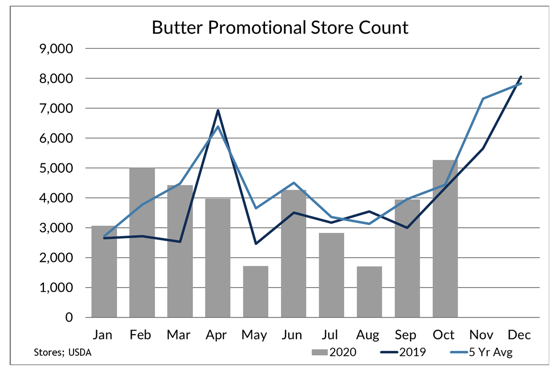 Quick Bites: Holiday Promotions Heating Up
It's no secret that this holiday season is going to look a whole lot different than normal. But what about retail promotions? Thanksgiving is just five weeks away and this is the time of year that retailers start accelerating promotions.
According to USDA data, in a typical year, butter promotions increase by 65% (store-count basis) between October and November, while average prices drop by about 30 cents. This year, with prevailing CME butter prices down sharply from prior year levels, stores may amplify advertising. Already in the first few weeks of October, 21% more stores were running ads at 44 cents behind last year's levels.
Cheese promotions don't usually change as dramatically, with just an 11% bump in the number of stores running ads on eight-ounce chunks between the third and fourth quarters. And, unlike butter, spot cheddar prices remain at historically high levels, perhaps trimming the amount of marketing dollars to go around this season.
Recent data suggests consumers are pulling back on the number of grocery trips per week and limiting the variety of stores they visit. Those shifting buying habits may push some retailers to go all-in with ads on dairy to help draw in customers.
Today's Special
That's a lot of milk! U.S. September milk production jumped 2.3% from 2019 – the biggest year-to-year increase since March. Increased cow numbers helped to drive growth with 5,000 head added to the herd between August and September, taking U.S. cow numbers up to 9.366 million head.
While milk production increased across the U.S., growth was particularly impressive in California with output up more than 3% year-over-year. That gain comes despite a 4,000 head decrease in cow numbers from September 2019. Milk output per cow increased by an impressive 3.5% year-over-year, even coming off weeks of hot temperatures and lingering poor air quality conditions due to fires.
A new Michigan cheese plant may be helping to stir up growth in the Mideast.Production increased by 4% year-over-year, aided by a 12,000 head bump in cow numbers. Output in the Midwest, meanwhile, jumped by more than 2% from 2019.
Generally favorable margins at the producer level are sending growth signals to many producers. Current Dairy Margin Coverage program estimates based on futures suggest that margins will land somewhere around $10.25 per hundredweight on average in 2020 – up more than 60 cents from last year. And those margin estimates do not include direct payments from the government. Margins for 2021, meanwhile, are tracking around $9.30 per hundredweight.
Strong farm balance sheets will likely support sustained growth well into 2021, but there's still one key unknown: Production caps. Some regions – like the Northeast and Northwest – are already seeing growth rates moderated by production caps, and reports suggest handlers in other key production areas could be putting the framework in place.
Something Sweet: Retail Sales and Inflation