Read the latest issue of The Dairy Bar, a bi-weekly report from IDFA partner Blimling and Associates, Inc., a dairy research and consulting firm based in Madison, Wisconsin. The Dairy Bar features spotlight data, key policy updates, and a one-minute video that covers timely topics for the dairy industry.
October 8, 2020: The Dairy Bar: Consumer Holiday Spending Prediction, U.S. Dairy Exports On a Roll & Boost to Sales in China Fueling U.S. Whey Exports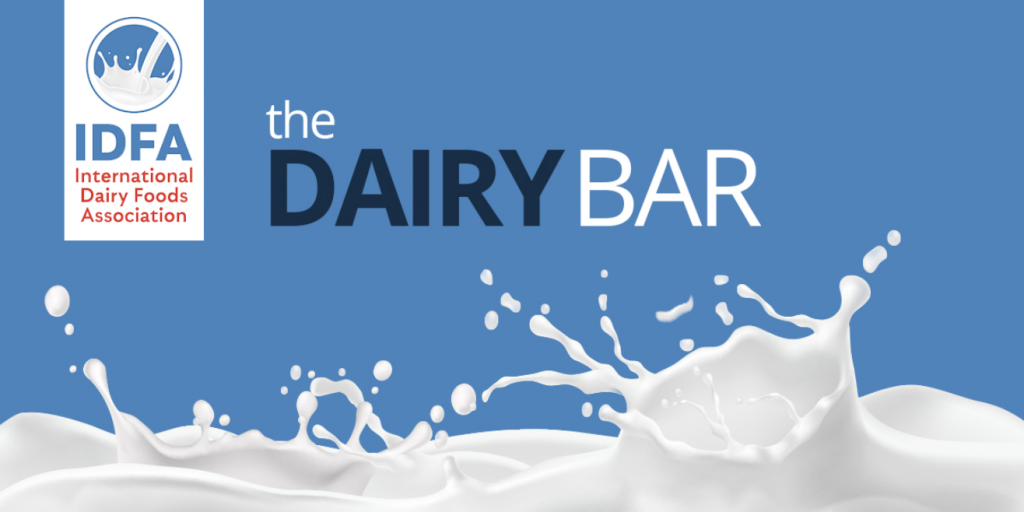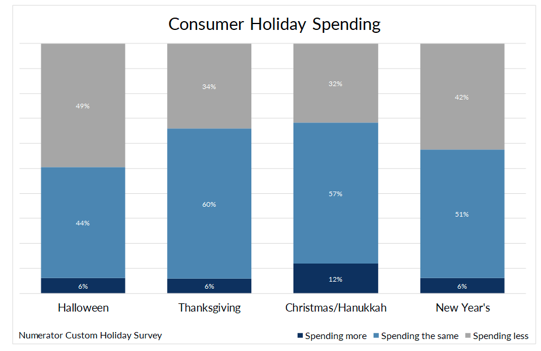 Quick Bites: Quick Bites: How do Consumers Spend in a Pandemic?
Cooler temperatures typically bring anticipation of holiday fun – delicious baked goods, trips to grandma's house and festive parties. But with persistent cases of COVID-19 weighing on the economy, employment, spending and travel, it's likely 2020 celebrations will look different.
Big holiday gatherings with the family will likely be muted. A majority of Americans – 65% – plan to limit their celebrations to immediate family or members of their households, according to a report by Numerator. For others, Zoom might be a new addition to the dinner table – 18% of respondents plan to take their celebrations virtual.
What does that mean for holiday spending? In a study conducted by Morning Consult, 33% of respondents said they plan to spend less and save more this holiday season. That's due in part to financial worries – 26% said they're concerned about the current economic downturn, while 20% are nervous about their personal finances.
Consumers also plan to shift the way they shop. E-commerce is set to shine, with 57% of survey-takers planning to make purchases online and have items delivered to their doors. For those heading to brick-and-mortar stores, 53% said they plan to avoid popular shopping times and large crowds.
It's too soon to tell how a shift to smaller gatherings and less out-and-about shopping impacts dairy, but a Morning Consult survey showed 64% of consumers plan to spend less on snacks, food and/or beverages this holiday season.
Today's Special
U.S. exports are on a roll in 2020. USDA data points to an 11% bump in U.S. dairy exports on a dollar basis year-over-year in August, marking the fourteenth consecutive month of growth.
Milk powder exports are leading the way. NDM/SMP shipments reached 153 million pounds in August, rising 35% from 2019. That took export sales year-to-date through August up to 1.22 billion pounds, a 29% increase year-over-year and accounting for 72% of NDM/SMP production so far in 2020. This uptick in volume comes despite a 15% slump in shipments to Mexico year-to-date. But expansion into Southeast Asia, the Middle East and North Africa has picked up the slack. Supported by shifting trade policy dynamics and a push to build inventory amidst COVID-19 uncertainty, U.S. sales to Southeast Asia jumped 76% year-over-year to 511 million pounds. Volume to MENA nearly tripled to reach 73 million pounds. U.S. NDM/SMP exports will likely remain on favorable footing heading into year-end with competitive values and a weak dollar encouraging buyers to keep their eyes on U.S. product.
Cheese exports outperformed expectations in August with 68 million pounds shipped, up 17% year-over-year.That helped push year-to-date cheese exports to 558 million pounds, 3% higher on the year. Unlike NDM/SMP exports, cheese sales to Mexico have stayed positive in 2020 with outbound shipments through August reaching 152 million pounds, up 14% over 2019. There's a similar growth story playing out in South Korea, where shipments through August reached 116 million pounds, up 15% year-over-year. U.S. cheese export opportunities may begin to face headwinds into year-end as uncompetitive and exceedingly volatile prices push importers to look elsewhere.
A big boost in sales to China is fueling gains in U.S. whey exports this year. August shipments topped prior-year levels by 54%, taking year-to-date shipments to 303 million pounds, up 29%. Exports to date account for 46% of dry whey production in 2020 – up from 35% in 2019. China's hog industry is the driving force behind sales growth in 2020, with shipments reaching 130 million pounds through August, up 157% year-over-year. Continued rebuilding of the country's herds will keep the flow of exports moving through the end of 2020.
For more information on U.S. trade and trade policy, please contact Becky Rasdall, IDFA's VP of Trade Policy and International Affairs at BRasdall@idfa.org.
Something Sweet: China Whey Update