Read the latest issue of The Dairy Bar, a bi-weekly report from IDFA partner Ever.Ag. The Dairy Bar features spotlight data, key policy updates, and a one-minute video that covers timely topics for the dairy industry.
The Dairy Bar: High Interest Rates Cool Off Housing Market; Restaurant Sales Up Amid Grocery Prices Hike; and the Dairy Promotions Minute!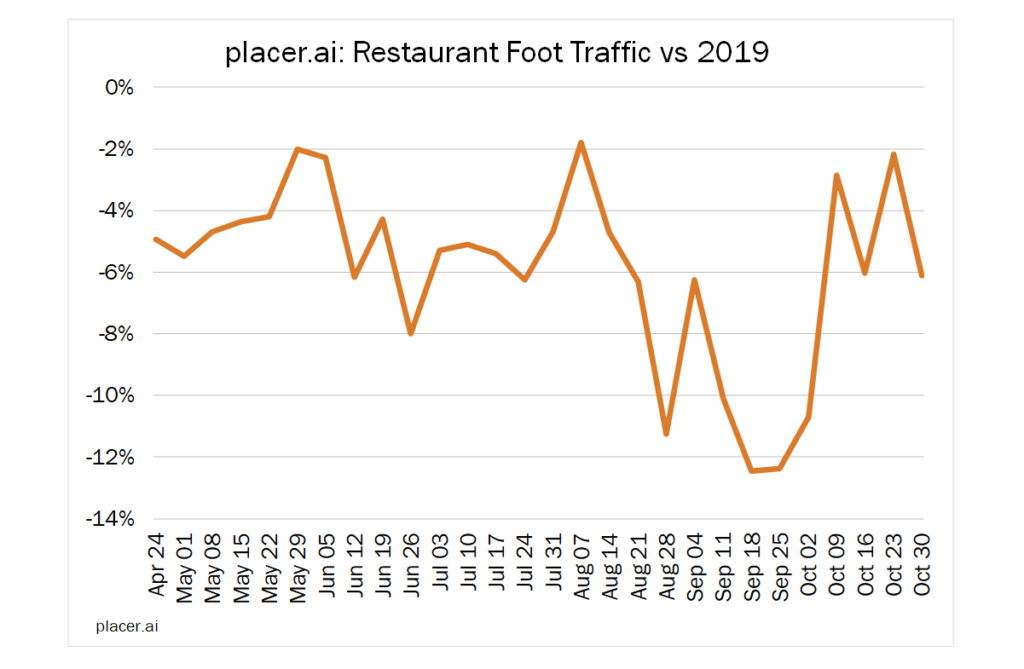 Quick Bites: Gather 'Round the (Restaurant) Table
Even as consumers grapple with rising menu prices, grocery store prices are going up even faster. So maybe it shouldn't totally surprise you to hear that restaurant activity remains reasonably strong. According to BlackBox Intelligence, same-store restaurant sales rose 5.2% year-over-year in September, following an increase of 5.3% in August.
Foot traffic, however, continues to struggle, declining more than 5% versus 2019 during the first four weeks of October, per data by placer.ai. BlackBox Intelligence also reported same-store traffic growth fell 3.6% on the year in September.
But guest counts improved during the third quarter among quick-service and family-dining outlets, suggesting consumers are "trading down" to less expensive eateries. A report by PopMenu also found 27% of diners are eating more fast food this year due to rising food costs.
While inflation and labor issues continue to weigh on restaurant operators, many expect strong sales during the holidays. According to data by SpotOn, 60% of independent and small-chain owners have a positive outlook for the holiday season. That's likely due to analysis like the American Express Travel report, which found 72% of consumers expect to visit restaurants during the holidays.
Today's Special
Home prices and buying activity are cooling amid higher interest rates. In September, new home sales dropped 10.9% on the month and -17.6% year-over-year. Sales of existing homes also slipped 1.5% from the month prior and -23.8% versus last year. Unlike earlier this year, that wasn't due to a lack of inventory. Existing homes reached 3.2 months of supply, while new home inventories hit 9.5 months.
Americans are also building fewer homes, with housing starts down 8% on the month and -7% from the previous year in September. Less activity, along with higher mortgage rates, is causing a decline in sentiment among homebuilders. The National Association of Home Builders/Wells Fargo Housing Market Index, which measures housing market conditions, dropped eight points in October from the month prior.
As buyers pull back, home prices are easing. The S&P CoreLogic Case-Shiller National Home Price Index, which measures prices across major U.S. cities, fell 1.1% between July and August. That was the second consecutive month-over-month drop and the largest decrease since December 2011. Existing home prices also declined 2% on the month in September but remain 10% above prior-year levels. New home prices rose 8% on the month and +14% on the year.
Recent rate hikes may cool activity further in the months ahead. The Federal Reserve last week announced an interest rate increase of 0.75 points, its fourth boost of that size in 2022. After the announcement, Chairman Jerome Powell said additional increases are likely ahead as the Fed works to rein in inflation.
Something Sweet: Dairy Promotions Minute