IDFA recently welcomed a new Gold Business Partner in Elopak, a leading global supplier of carton packaging and filling equipment in the liquid food industry.

Elopak brings freshness to North American customers in both chilled and aseptic liquid dairy products. Our packaging solutions use renewable, recyclable and sustainably sourced materials. Our iconic Pure-Pak® cartons stands for fresh, natural, good for me and good for the environment, while delivering safety and convenience.
CHOSEN BY PEOPLE, PACKAGED BY NATURE
As a worldwide maker of carton-based packaging, Elopak is committed to remaining our customers' partner and the consumers' favorite, through relentlessly developing new solutions for an expanding range of packages. Applying market-leading technology, skills and natural material sourcing, we always aim to provide the highest quality products that leave the world unharmed. We do this by creating sustainable packaging solutions which empower consumers to make environmentally conscious choices. Sustainability is our guiding principle and we want to play a leading role in our industry for reducing carbon footprint, food waste while delivering the Science Based Targets in line with the Paris Agreement.
Pure-Pak® cartons provide a fresh, natural and convenient alternative to plastic bottles.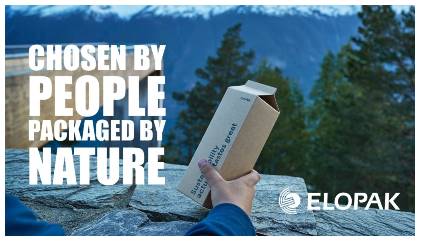 Elopak Americas
3720 Av. des Grandes Tourelles,
Boisbriand, QC J7H 0A1 Canada
Company Website: https://www.elopak.com/
Company Contacts:
Lionel Ettedgui – EVP Region Americas lionel.ettedgui@elopak.com
Paul Nantel – VP Marketing & Strategies paul.nantel@elopak.com
Julia Viter – VP Sales julia.viter@elopak.com