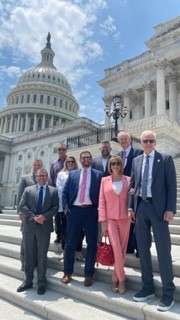 Representatives from IDFA member companies flew into Washington, D.C., this week to meet with Members of Congress and their staff to advocate on key dairy industry policy priorities like workforce issues, supply chain challenges, and improving trade access for dairy exporters. The group also showcased the entire ice cream industry at IDFA's 38th Annual Capitol Hill Ice Cream Party.
Over two days, the group met with U.S. Sens. Tom Carper (D-DE), Mike Crapo (R-ID), and Tommy Tuberville (R-AL); U.S. Reps. Jodey Arrington (R-TX-19), Kat Cammack (R-FL-3), Josh Harder (D-CA-10), Kevin Hern (R-OK-1), and Ronny Jackson (R-TX-13); and Andrew Petrisin, Ports and Supply Chain Advisor at the U.S. Department of Transportation.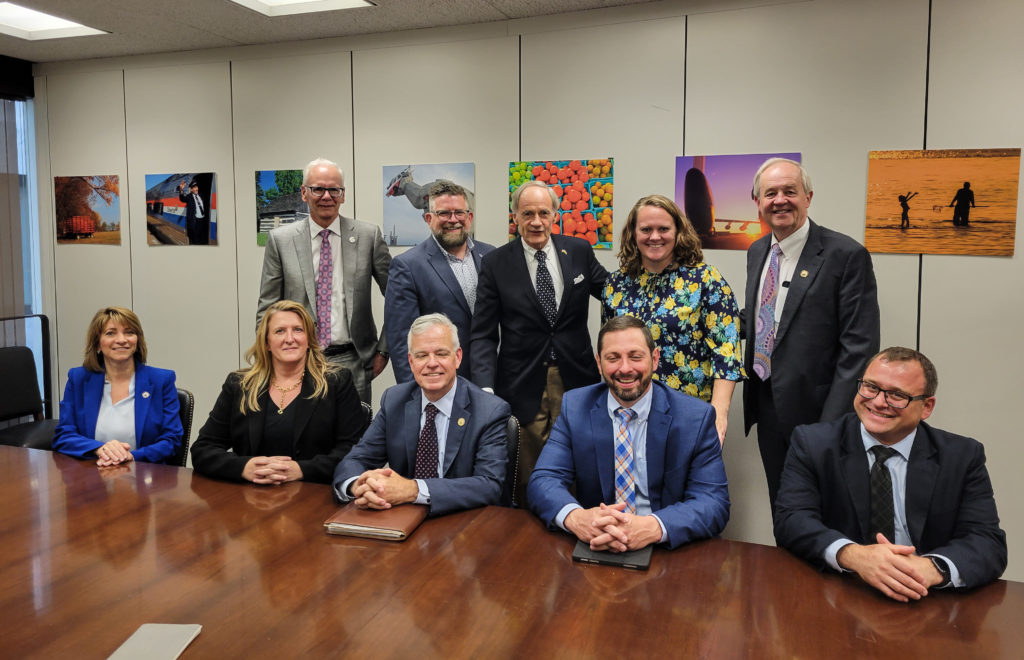 In between meetings, the group hosted an Ice Cream Social in the U.S. Capitol for members of Congress, attracting 10 U.S. Senators and 5 U.S. Representatives, including:
Majority Leader Chuck Schumer (D-NY)
Sen. John Barrasso (R-WY)
Sen. John Boozman (R-AR)
Sen. Sherrod Brown (D-OH)
Sen. Kirsten Gillibrand (D-NY)
Sen. Mazie Hirono (D-HI)
Sen. Amy Klobuchar (D-MN)
Sen. Ed Markey (D-MA)
Sen. Jerry Moran (R-KS)
Sen. Mitt Romney (R-UT)
Rep. Virginia Foxx (R-NC-5)
Rep. Doug LaMalfa (R-CA-1)
Rep. Tracey Mann (R-KS-1)
Rep. Carol Miller (R-WV-3)
Rep. Claudia Tenney (R-NY-22)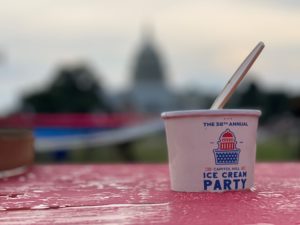 They then went outside of the U.S. Capitol to support IDFA's 38th Annual Capitol Hill Ice Cream Party - an essential summertime event for thousands of members of Congress, their families, Capitol Hill staff, and many other special guests since it began in 1983. IDFA members donated more than 200 3-gallon tubs of ice cream and 750 novelties for the event, which also featured sustainable cups and utensils to put a focus on the industry's sustainability goals.
The June 2022 fly-In participants included: Bruce Daily, CEO, All Star Purchasing; Anne Divjak, Vice President, Government & Industry Relations, Dairy Farmers of America; Heather Draper, Director, The Ice Cream Club, Inc.; Rich Draper, CEO, The Ice Cream Club, Inc.; Mike Dudas, Director of Procurement, Schuman Cheese; Dan Gayford, Vice President, Americold; Rick Pedersen, President, Ornua N.A.; and Rick Schau, Vice President of Supply Chain, Wells Enterprises.