Flavors
Vanilla continues to be America's flavor of choice in ice cream and novelties, in both supermarket and foodservice sales. This flavor is the most versatile, mixing well with toppings, drinks and bakery desserts.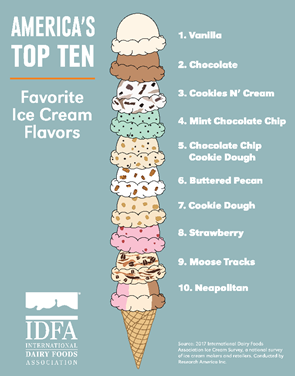 America's top 10 favorite ice cream flavors:

Vanilla
Chocolate
Cookies N' Cream
Mint Chocolate Chip
Chocolate Chip Cookie Dough
Buttered Pecan
Cookie Dough
Strawberry
Moose Tracks
Neapolitan
However, ice cream flavors are only limited by the imagination. Manufacturers, scoop shops and chefs constantly come up with new and exciting flavors for their customers.
Here are a few:
Lavender Coconut, Black Sesame
Bourbon Crunch
French Toast Bacon
Earl Grey Tea and Shortbread Cookies
Spicy Caramel and even pop rock candy and popcorn flavored treats.
Here's a full list of flavors ice cream makers and retailers have told us are their most "daring and creative."
New Product Trends
While the majority of ice cream sales have long been regular-fat products, ice cream manufacturers continue to diversify their lines of frozen desserts in order to fit into various lifestyles.
Respondents in IDFA's 2017 survey of ice cream makers and retailers identified six top trends guiding their product development efforts:

Clean labeling
Natural products
Gourmet and indulgent
Nostalgic and comforting
Convenience or on-the-go
Health and wellness products
Consumers still look for an indulgence when eating ice cream. Therefore, ice cream manufacturers make sure to offer a full selection of premium and super-premium products in innovative flavors and with such mix-ins as cookies, brownies, candies and cake.
Innovation and Technology
Listen to what these ice cream innovators have to say about what ice cream hits the market.
The winning ice cream products in IDFA's annual Innovative Ice Cream Flavor Competition in 2018 were Signature RESERVE Brazilian Guava Cheesecake ice cream, Spicy Mango Raspberry Fiesta ice cream and the Pomegranate, and Sweet Potato Medley Bar. But don't go looking for Spicy Mango Raspberry Fiesta just yet. It's a prototype, and we hope it hits shelves soon.