Ice Cream Production
Most ice cream is made March through July. July is the busiest production month for ice cream makers.
About 6.4 billion pounds of ice cream and frozen yogurt were produced in the U.S. in 2019.
The ice cream industry has a $13.1 billion impact on the U.S. economy, supports 28,800 direct jobs, and generates $1.8 billion in direct wages, according to IDFA's Dairy Delivers®.
The majority of U.S. ice cream and frozen dessert manufacturers have been in business for more than 50 years and many are still family-owned businesses.
Ice Cream Marketing
Families are the primary customer group for ice cream retailers.
Ice cream marketing is primarily done on a local or regional level.
Two-fifths of ice cream makers are seeing an increased demand for premium ice cream versus 17 percent seeing an increase in gelato demand followed by 15 percent for sorbet. Demand for low-fat or non-fat ice cream ranked the lowest at just 4 percent.
Ice cream makers and retailers say the Great Lakes region (Illinois, Indiana, Michigan, Ohio, and Wisconsin) is the most successful ice cream market.
Ice Cream Sales
In 2020, ice cream makers in the U.S. churned out just over 1 billion gallons of ice cream, up 6% from 2019.
In the first five months of 2021, hard ice cream production ran 4% ahead of 2020 levels.
Through the first six months of 2021, retail ice cream sales (grocery) continued to flex their muscle and were slightly behind (-2%) the same period from a record 2020 and well above 2019, according to IRI data.
From March through May of 2021, sales of frozen novelties like fudgesicles and ice cream bars were running 24% ahead of the same period in 2019.
Fortune Business Insights estimates the global ice cream market will reach $91.9 billion in 2027, up from $70.9 billion in 2019—a 30% jump in less than a decade due to the world's craving for ice cream.
Consumption
The average American consumes approximately 23 pounds of ice cream and related frozen desserts per year.
Regular ice cream is the most popular category of frozen desserts.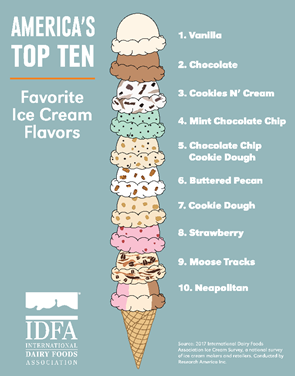 America's Favorites
America's top 10 favorite ice cream flavors:
Vanilla
Chocolate
Cookies N' Cream
Mint Chocolate Chip
Chocolate Chip Cookie Dough
Buttered Pecan
Cookie Dough
Strawberry
Moose Tracks
Neapolitan
America's favorite novelty products are: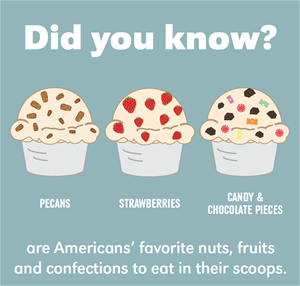 Sandwiches
Mini cups
Sticks or pops
Cones
Bars
Retailers say premium ice cream is most popular with their consumers, while ice cream makers say regular ice cream, usually sold in stores, is most popular with their consumers.
Pecan is the most popular nut flavoring, and strawberry is the most popular fruit in ice cream.
Candy and chocolate pieces are the most popular confections in ice cream.
Waffle cones and sugar cones tie for most popular containers.