Ice Cream Production
In 2022, ice cream makers in the U.S. churned out 1.38 billion gallons of ice cream.
The ice cream industry has a $13.1 billion impact on the U.S. economy, supports 28,800 direct jobs, and generates $1.8 billion in direct wages, according to IDFA's Dairy Delivers®.
The majority of U.S. ice cream and frozen dessert manufacturers have been in business for more than 50 years and many are still family-owned businesses.
The busiest months for ice cream production are March through July.
Ice Cream Marketing
Families are the primary customer group for ice cream retailers.
Ice cream marketing is primarily done on a local or regional level.
While ice cream makers say they are seeing increased demand for non-dairy ice creams and plant-based ingredients, consumers rank these at the bottom of the list for most-consumed types of ice cream and frozen desserts.
Premium and regular ice cream is 80% of the market, according to ice cream makers.
Two-thirds of ice cream makers say they already use or plan to incorporate more sustainable packaging solutions.
Fortune Business Insights estimates the global ice cream market will reach $104.96 billion in 2029, up from $71.52 billion in 2021—a 46% jump in less than a decade due to the world's craving for ice cream.
Consumption
The average American eats roughly 20 pounds of ice cream each year, or about 4 gallons.
Regular ice cream is the most popular category of frozen desserts.
America's Favorites
IDFA in 2022 partnered once again with Research America, Inc. to survey America's love for all things ice cream and frozen desserts.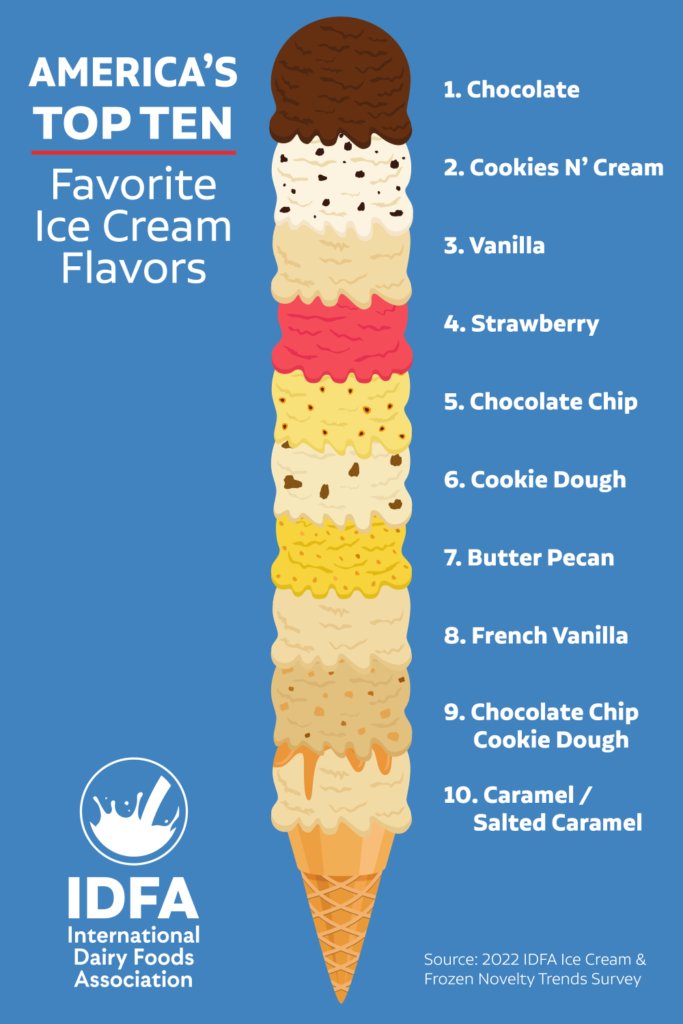 America's top 10 favorite ice cream flavors:
Chocolate
Cookies N' Cream
Vanilla
Strawberry
Chocolate Chip
Cookie Dough
Buttered Pecan
French Vanilla
Chocolate Chip Cookie Dough
Caramel / Salted Caramel
What type of container do consumers prefer?
Waffle cones beat out sugar cones 32% to 12% among consumers, but 37% of consumers prefer to eat their ice cream out of a bowl.
What type of toppings do consumers prefer?
Chocolate is the most popular topping sauce, beating caramel 26% to 18%. Nuts and sprinkles are the most popular dry toppings, 15% and 14%, respectively.
Which nuts do consumers prefer?
Among nuts, pecans beat peanuts 24% to 18% among consumers.
Ice cream makers and scoop shops report the same ranking.
What is the most popular fruit included with ice cream?
Strawberries, at 48% of consumers. Bananas ranked second at 36%.
What is the most popular confection included in ice cream according to ice cream makers?
Cookies take the top spot (46%), followed by candy/chocolate pieces (27%) and brownies (19%).
When and how often do consumers eat ice cream?
73% of consumers consume ice cream at least once per week and 2 out of 3 consume ice cream in the evening.
Where do consumers buy their ice cream?
84% prefer to purchase ice cream at the grocery store and eat it at home.
When purchasing ice cream, what size container do consumers prefer?
Almost half of consumers prefer half-gallon containers for ice cream from a grocery store; 23% prefer a pint.