To succeed and thrive in the complexity of today's environment, companies need to reimagine their approach to leadership and organization. A rapidly growing group of vanguard companies is doing so, and achieving remarkable results. These companies' approaches collectively represent a paradigm shift from traditional approaches, including: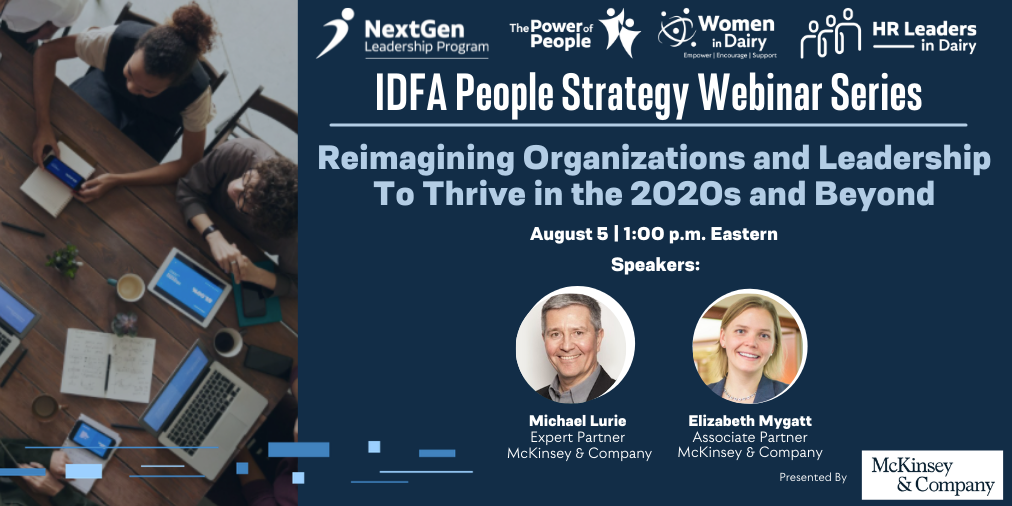 · Beyond financial impact to holistic impact
· Beyond hierarchy to networks
· Beyond deliberate execution to emergent evolution
· Beyond concentrated value capture to distributed value creation
· Beyond effective management to conscious leadership
Each of these organizations applies these principles in different ways and to different extents, so while there are consistent patterns there is no standard recipe in the traditional sense. Rather, leaders must study practices in a wide range of organizations, and then test and explore what works and makes sense in their context.
This webinar is part the IDFA People Strategy Webinar Series, a series focus on the dairy industry's most critical resource – it's people. The series is open to IDFA members. More details and registration information will be added closer to the event date.
To learn more about the IDFA People Strategy, visit IDFA.org/people.
Presented By

Speakers
Registration
Members: Free
This webinar is available to IDFA members only. If you have any questions about membership, please email membership@idfa.org.
Questions: If you have questions or need assistance with the registration process, please contact IDFA at 202-737-4332 or registrar@idfa.org.