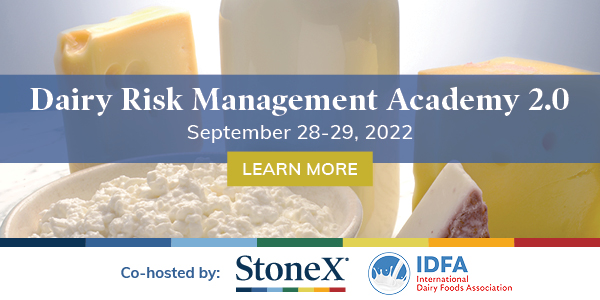 Dairy is a volatile industry. From widespread disasters to government intervention, market swings are a regular occurrence.
However, with the right risk management tools and strategies, dairy professionals can make smart decisions that minimize market risk exposure, take advantage of favorable market prices, and prepare for adverse market prices.
The Dairy Risk Management Academy is a risk management conference for professionals in the dairy industry. Whether you've never hedged your prices before or you are a market veteran, you'll discover new learning opportunities and inspiration. Attendees will also earn up to 6 NASBA CPE credits.
Topics:
How to utilize futures, options, and spot trading
Which powerful tools could help analyze global dairy markets
How to cross-hedge and use additional offerings to mitigate risk
This program expands on the topics that were presented in the Dairy Risk Management Academy. We'll be covering more advanced topics, building on the content covered in the previous event to give you an opportunity to take the next step to advance your knowledge.
Schedule:
September 28-29, 2022
12:00pm - 3:00pm EST each day
Registration:
Member: $399
Non-Member: $499
Registration Assistance: Katie.Springer@StoneX.com
NASBA CPE Credit Questions: Dustin.Winston@StoneX.com
Cohosted By: