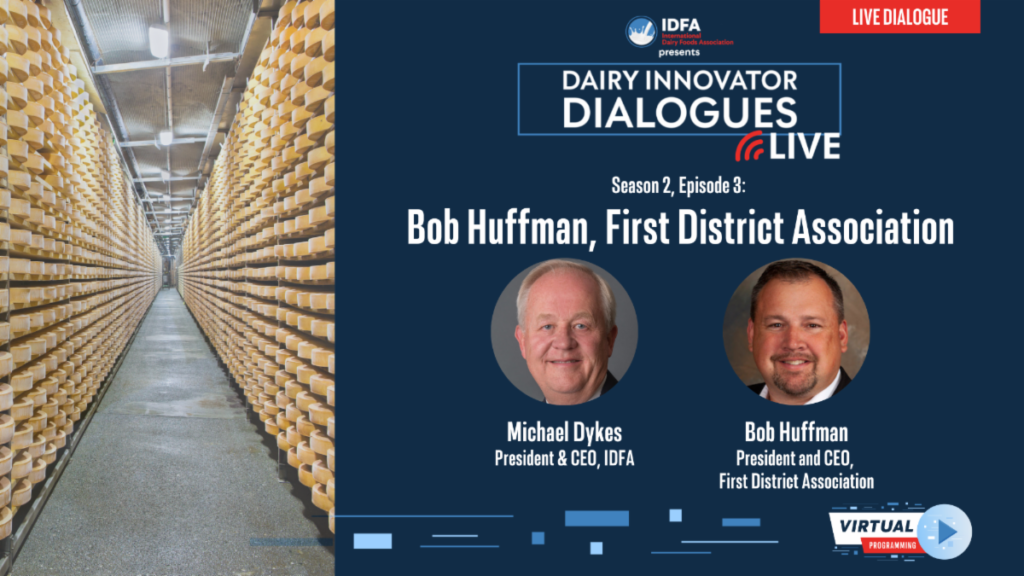 Dairy Innovator Dialogues LIVE Season 2 continues in December with a special session featuring Bob Huffman, president and CEO of First District Association.
Join Huffman and IDFA President and CEO Michael Dykes for a 60-minute, interactive discussion and learn what it's like to operate the largest single cheese manufacturing processing line in America. Huffman and Dykes will talk about innovation from farm to table in the dairy sector, sustainability and nutrition benefits of dairy, and where Huffman sees potential growth for the cooperative.
Bob Huffman has 13 years of progressive dairy industry operations management experience in businesses large and small and all aspects of milk intake, block and barrel cheese and whey operations. Previously he served in various roles for Dairy Farmers of America, including his last as Vice President of Manufacturing Operations for multiple plants across the United States.
IDFA members are encouraged to attend this special session. Please send your questions for Mr. Huffman in advance to dairydialogues@idfa.org. IDFA will also reserve 15 minutes for audience Q&A.
Featuring
Hosted By
Registration
IDFA is offering this session of Dairy Innovator Dialogues Live free to IDFA members.
Questions: If you have questions or need assistance with the registration process, please contact IDFA at 202-737-4332 or registrar@idfa.org.