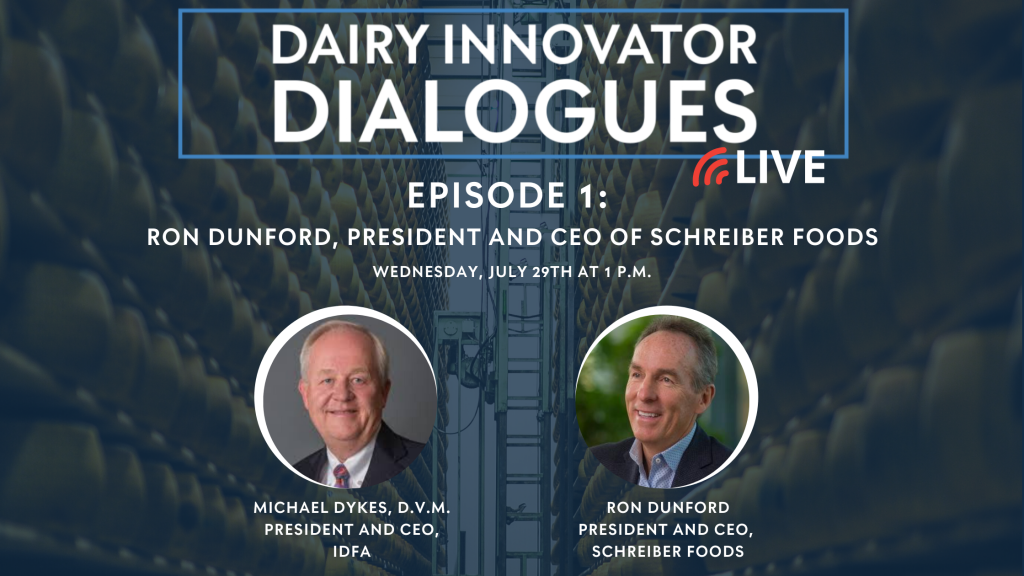 IDFA's Dairy Innovator Dialogues series has gone live! Join us monthly as we go behind the scenes with today's most respected and innovative dairy leaders.
As host of the series, IDFA President and CEO Michael Dykes, D.V.M., will explore with leaders how the U.S. dairy industry has responded to significant disruption caused by the COVID-19 pandemic, how companies are applying data and technology to solve multiple challenges, leading in sustainable business practices, and connecting with consumers at a deeper, more meaningful level.
Please join IDFA's Michael Dykes on Wednesday, July 29th at 1 p.m. Eastern for a live, 60-minute question and answer session with Ron Dunford, President and CEO of Schreiber Foods. Mr. Dunford was named President and CEO of Schreiber Foods in March 2019 after serving in a variety of leadership roles with the company since 1996. He has 35 years of experience in the dairy industry and today leads one of the most forward-thinking, multinational dairy processors in the world. Schreiber Foods has more than 8,000 employees across the United States, Europe, India, Mexico and South America, and specializes in making customer-branded dairy products such as cream cheese, natural cheese, process cheese and yogurt.
IDFA members are encouraged to attend this special session. Please send your questions for Mr. Dunford in advance to dairydialogues@idfa.org. IDFA will also reserve 15-minutes for audience Q&A.
Registration
IDFA is offering this session of Dairy Innovator Dialogues Live free to IDFA members.
The webinar registration fee is based on membership. If you have any questions about membership, please email membership@idfa.org.
Questions: If you have questions or need assistance with the registration process, please contact IDFA at 202-737-4332 or registrar@idfa.org.